Earlier this week I woke up to a couple of e-mails of readers unfortunately confronting much higher rents.  "My landlord suddenly hiked up the rents by 10 percent!"  This seems to be a common trend for 2012.  Especially in locations with investor and flipper activity, many are realizing that they can yield higher rental rates or simply sell the house in the current environment.  As the housing bubble burst, more and more Californians became renters thus increasing the supply of those looking for units available for lease.  In LA and OC rental construction has been nearly non-existent so supply is limited.  Many are simply confronting higher rents in the face of stagnant incomes.  Some stories talked about how owners were increasing rents by up to 20 percent in key areas.  Yet I have heard very little stories like this for the Inland Empire or the Central Valley.  Let us look at the trends that hit in 2012 for California real estate.
The decline of homeownership
The California homeownership rate peaked right along with the housing bubble: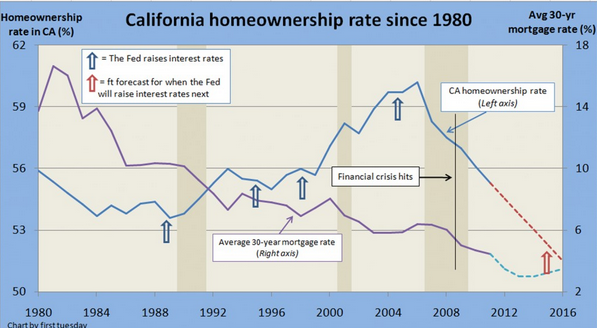 The current homeownership rate is now back to levels last seen in the mid-1990s (right back where inflation adjusted incomes are landing).  As discussed in an earlier article, many middle class Californians have left the state from 2000 to 2010.  What you have is foreign money coming in and also, at least since the bubble burst, Wall Street investors coming in buying property.  Most of the population gain was not because of domestic migration in the last decade which is interesting.
To compensate for this, the Fed has pushed mortgage rates to record low levels to sustain high home prices.  The core reasoning here of course is to help banks offload inflated properties to the market.  Clearly high home prices do not benefit a society with stagnant incomes and misallocated capital from other more important and productive sectors of our economy.  I noted this many years ago when you had physicists and engineers running off to Wall Street to trade derivatives (still is still going on) and working class Americans suddenly putting on a suit and hocking mortgages back to each other (this industry has been chopped largely because the government is the only mortgage player in town today).
REO as resales
Another key change is the number of REO re-sales.  This has sharply decreased in the last couple of years: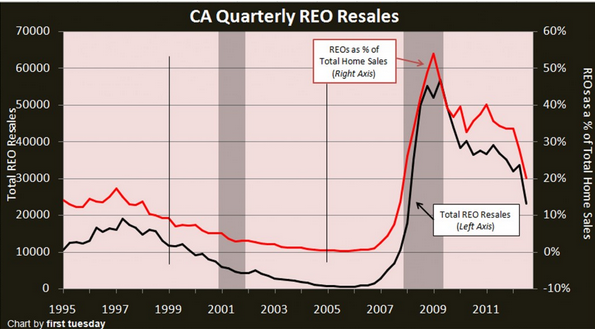 Where in 2009 over 50 percent of all sales were REOs that number is now down to roughly 20 percent.  This is certainly higher than the 5 to 7 percent "normal range" but it is moving in that direction.  This has also contributed to the median price surging because REOs typically sell for sharper discounts.
Rental prices sharply up
With very little supply of rentals, rent prices started moving up in 2011 and up sharply in 2012: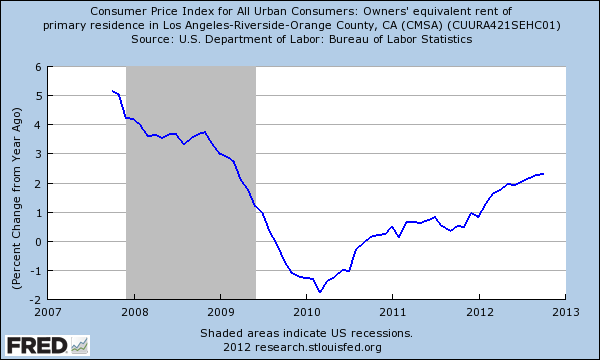 Rents are now increasing at 2 percent year-over-year while household incomes are stagnant.  So this also ties in with why many middle class Californians have left.  People are left with the choice of contributing more of their disposable income to rental housing, buying, or leaving.  Over the last decade at least with domestic data, many have left.
Rental Vacancy down
As demand for rentals has picked up, rental vacancy rates are sharply lower: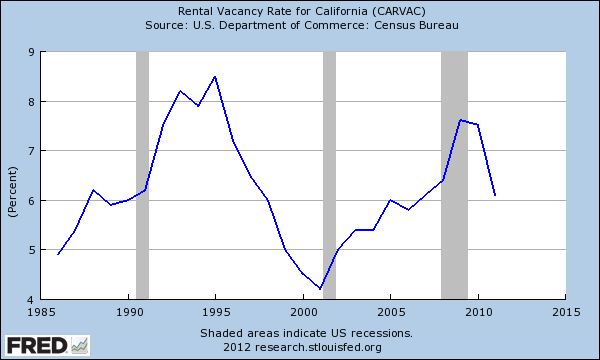 Also, in the last couple of years Wall Street investors are buying large blocks of homes in more depressed areas and converting them to rentals.  This might also be another reason why rental prices in the Inland Empire are more stable.  These investors took these REOs and actually added to rental supply.  In key areas of LA and OC many are buying (foreign) and flipping.  This doesn't actually increase supply but lowers it.
Home prices overall
Although it would seem that prices are simply flying upwards, the trend is modestly up when we look at things in perspective: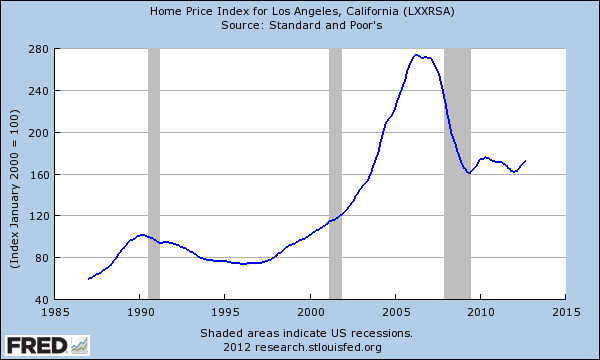 The above includes Orange County as well.  These are large and diverse counties.  Keep in mind the move up is coming with maximum leverage FHA loans and historically low rates.
Last five years for home prices
In the last five years the LA/OC repeat sales index saw this: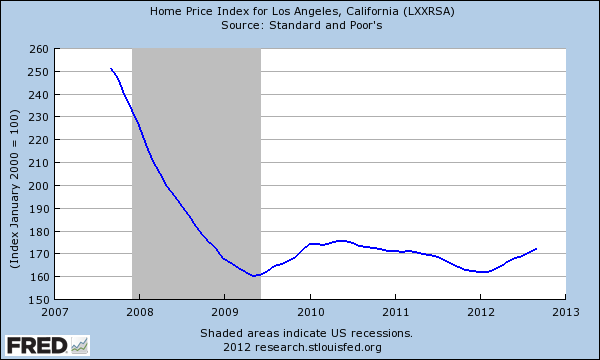 You can see the tax credit boost of 2009 into 2010, it waned into 2011 and now prices are up because of record low interest rates.  Nowhere along this path did we see household incomes move solidly up.
Home prices move up in 2012
The result of lower interest rates, foreign demand, and maximum leverage loans caused this to happen: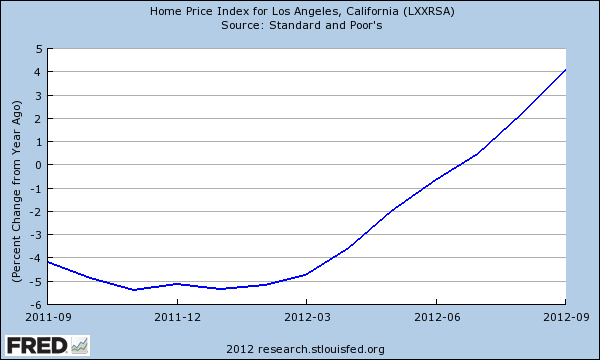 Home prices are now moving up at a rate of 4 percent per year.  Home prices are still down 36 percent from the peak but are now up 6.8 percent from the trough.
Housing starts low
You would think this new resurgence would cause housing starts to surge.  To the contrary, we are still near the lows of the crisis: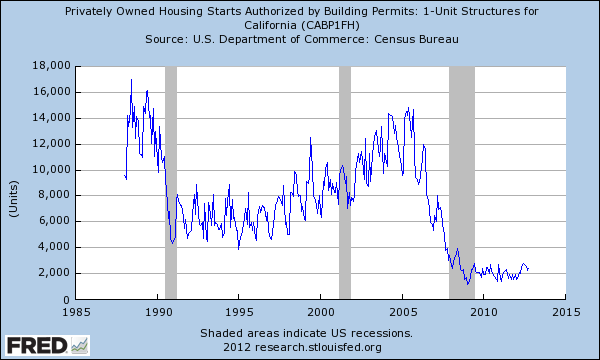 So you have no new supply coming online and you have these groups competing with one another:
-Foreign money (targeted to key markets like Irvine, Pasadena, etc)

-Wall Street money (distressed properties to rent and higher end properties to flip)

-Individual flippers (largely focused in hipster areas to make a quick buck)

-Middle class homeowners (largely using big loans to leverage up)

-Renters (competing with lack of new supply and higher rents)
At the core, household incomes are not going up.  The Fed is largely concerned with boosting the housing market not to help homeowners, but to provide banks an exit for their toxic loans during the bubble.  They do still exist with over 5,000,000 distressed homes still lingering (the Fed balance sheet is also close to $3 trillion and we have little idea what is in there).  Let us not forget that 5,000,000 Americans have already experienced foreclosure.  The bill will come due however.  As we mentioned, it is now much more expensive to go with the popular FHA insured loan product and it looks like MIP will become permanent in 2013.  The mortgage interest deduction is now being openly discussed and certainly, it would make sense to cap this out since why are most middle class Americans subsidizing say a Bill Gates with a million dollar mortgage when they, with their say $100,000 mortgage are not even going above the standard deduction?  We are even hearing rumblings about Prop 13.  Remember that chart above?  California is largely returning to a 50/50 renter state.

Did You Enjoy The Post? Subscribe to Dr. Housing Bubble's Blog to get updated housing commentary, analysis, and information.