The predictions for the 2010 California housing market are rolling out in mass.  Predicting the future is never easy or even possible in many cases.  I am reminded of the Black Swan events in Nassim Taleb's excellent book where extraordinary events shake up years of imagined stability.  The real estate bubble is a perfect Black Swan event.  Sure we had mega regional housing bubbles like Florida in the 1920s but the generation that vividly remembered that event is no longer with us.  Why was real estate a Black Swan?  Well it falls into the category of stability simply because of a long history of gains.  Yet this does not imply continued gains.  One powerful catchphrase during the bubble was, "housing values have never gone down on a nationwide basis."  This was true until it wasn't.
Manias of this magnitude do not happen often.  We have examples in history like Tulip Mania in Holland during the 1600s, the South Sea Bubble, and more recently the technology bubble.  Yet in many previous bubbles the events were largely localized to a group, city, or country at best.  This massive housing bubble went global reaching cities like London, New York, Sydney, Tokyo, Barcelona, and Los Angeles.  The amount of money involved is also historical.
But to predict the future of housing values is now largely thrown into a game of speculation.  And this is a new twist.  It was largely assumed that housing for nearly a century tracked inflation.  Yet during the past decade, because of the mania people started concocting wild stories as to why real estate was appreciating in the double-digits year after year.  The "New Normal" was constant double-digit returns.  An astute reader sent me over the California Association of Realtors' prediction for 2010.  He also managed to pick up a few of their previous predictions.  I have compiled some of the data on the chart below for easy reference: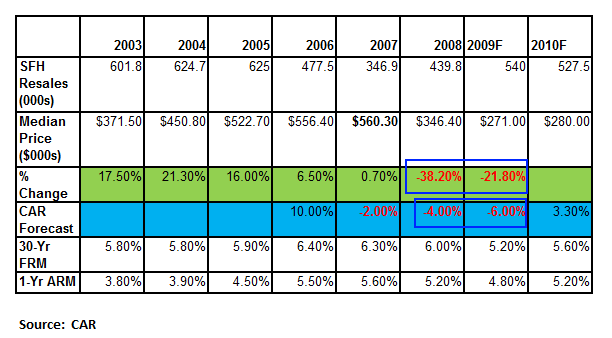 The green row is the actual price drop for each year.  The blue row is the CAR forecast for each year.  What the above should tell you is that one massively bad year can wipe out years of steady gains.  In 2006 the CAR forecasted a 10 percent increase and the market went up by 6.5 percent.  Not bad but understated the actual gain.  This is when the median California home was selling for $556,000.  The next year it predicted a price drop of 2 percent but the market nudged out a 0.7 percent gain reaching its annualized peak of $560,000.  Then the market imploded.  The CAR's forecast for 2008 was a drop of 4 percent when in reality the market lost 38 percent.  This is how off this one year prediction was:
CAR Forecast
$560,000 x 0.04 = A drop of $22,400
Actual Price Drop
$560,000 – $346,400 = $213,600
That is a massive miscalculation.  This is like saying tomorrow is going to be a sunny day but in reality having a category 5 hurricane hitting.  You can have 10 years of sunny days but one massive hurricane will wipe all of those days out.  You would think that people would be more cautious the following year with their predictions.  Let us see how it did the following year:
CAR Forecast
$346,400 x 0.06 = A drop of $20,784
Actual Price Drop
$346,400 – $271,000 = $75,400
That is a sizeable difference in my book.  Given that the median U.S. household income is $50,000 making this kind of prediction error is rather large.  Of course the 2008 forecast was off by nearly $200,000.
Now why is the above important to analyze?  Price is hard to predict because markets are largely unpredictable.  But there is one thing that is certain in bubbles when they pop.  Prices collapse.  California has many wildcard factors like shadow inventory, option ARMs, and failed moratoriums hitting the market in 2010.  What impact will this have on price?  Price predictions in a bubble are nonsense because they follow no logic or economic fundamentals.  Prices will go as high as the speculation and gambling gene will allow people to go.
So what else do we know?  Look at the chart above one more time.  Look at the 30 year fixed rate mortgage.  It was extremely stable even during the peak years.  That is because in California much of the price inflation came from Alt-A and option ARM products.  These items are now gone for the most part and option ARMs are now banned.  FHA insured loans are now taking over the market because of the low 3.5 percent down payment but there seems to be a cap being hit at roughly $300,000.  Why?  Because incomes simply cannot support any higher prices.  Take a look at the 30 year fixed mortgage history: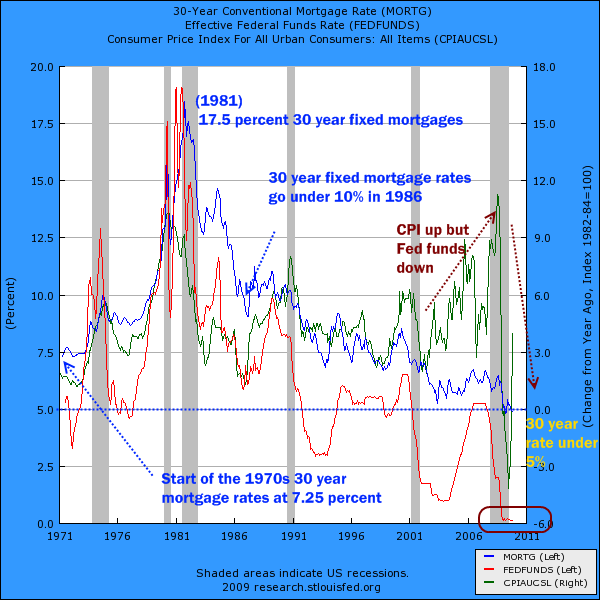 Now the above chart shows another Black Swan event hitting with mortgage rates touching a 17.5 percent high in 1981.  Did people see this coming in 1977, 78, or 79?  Probably not if they were being honest with you.  Right now people are assuming mortgage rates will stay artificially low just because they have been low for a decade.  But right now the only reason rates are this low is because the Federal Reserve has bought up over $1 trillion in mortgage backed securities.  Can the Fed keep this up?  It can only keep this game going as long as foreigners keep buying up our debt but the U.S. dollar's wild swings show a major event is bound to happen.  When?  Who really knows but this path is unsupportable.
And now, the high end market is facing major pain.  Take a look at mortgages that are $1 million or above: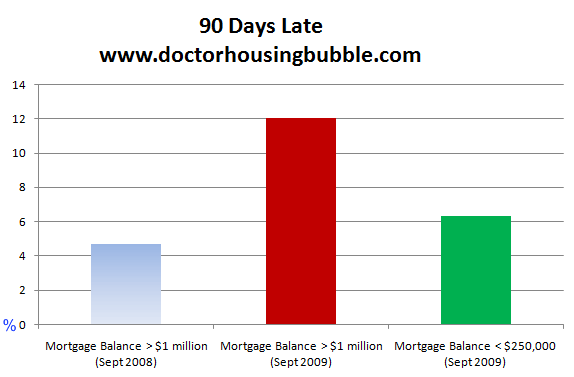 12 percent of mortgages with a balance of $1 million or more are now 90 days late.  Last year, this number was 4.7 percent.  If we look at mortgages with a balance of $250,000 or less we find that 6.3 percent are in distress.  Now this is a stunning piece of data.  You would logically think that those with higher mortgages would have lower distress rates simply because they have higher incomes.  But the math at least with monthly cash flows is simple.  Spend less than you earn.  If you bring in $25,000 a month and spend $30,000 you will have problems.  Now if you bought a $2 million home that is now worth $1.25 million, will you continue to pay?  Many of the California option ARMs and Alt-A loans are connected to these high priced properties.
And as you would probably figure out on your own, a loss on a million dollar loan takes a bigger hit than a $100,000 loan:
"(Bloomberg) Luxury home prices probably will drop another 5 percent before reaching a bottom in September 2010, according to Sam Khater, senior economist at First American.
Those declines may lead to losses on jumbo mortgages that dwarf the "haircut," or discount to full value, that banks take on short sales or foreclosures of moderately priced homes, said Rodriguez, the agent with JM Group in Miami.
"When the bank takes a loss on a $3 million property it's a lot bigger than the loss on a home with a $150,000 mortgage," Rodriquez said."
This market is completely stalled.  Even with FHA insured loans going up to $729,750 that is not enough for some of these million dollar toxic loans.  And why should it even go higher?  The median price nationally is $173,100.  The only reason to increase anything is to allow the upper crust to have another exit hatch (as if they need another one after the massive banking bailouts).
And the economy of California is still in shambles.  The current employment situation is deeply troubling: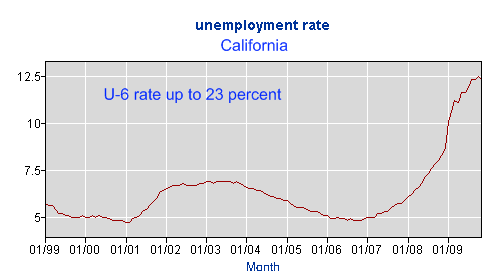 This is really where I find it hard to see any major price jumps for California housing.  How can we predict housing gains when unemployment is still near its peak?  Also, we have a $21 billion budget deficit starring at us squarely in the eyes.  What that means is higher taxes or more cuts.  Either way, this will be a drag on the economy.
The fact of the matter is housing prices in California are still too high relative to the actual economy.  Those spiking million dollar loan delinquencies basically means we are moving onto the next phase of this bursting housing bubble.  The mid tier will also take a hit.  But to try to put an actual price is more for entertainment value.  As you can see from previous forecasts use them at your own peril.  The California housing market is as volatile as a chemistry set and 2010 is sure to bring us things that we simply have no way of forecasting.
Did You Enjoy The Post? Subscribe to Dr. Housing Bubble's Blog to get updated housing commentary, analysis, and information.