California is a land of booms and busts.  Generations ago gold rush fever brought many to speculate and gamble for future glory.  In the 1900s the promise of uninterrupted sun and great weather lured families to the area.  This trend has only magnified with global forces becoming so dominant and people fully connecting and thinking alike on the technological hive mind.  In other words, people are seeking the same goals and dreams.  People also love speculating on real estate.  Language is hardly a barrier when documents can be translated in the click of a mouse button.  California housing is leaving many middle class families behind as the state gentrifies dramatically.  Reports are very clear, and that is only one out of three California families can actually afford to purchase a home at today's prices.  Yet the market is attracting investors from all across the country and world.  People are willing to leverage their income with low interest rates and funnel upwards of 50 percent (or more) of their household income into real estate.  What is interesting is that in many "prime" areas housing prices are inching back close to their former peaks.  Yet working class areas, only a few miles away from these markets are still years away from reaching their former peaks.  California is a magnifying glass to the slow erosion of the American middle class.
Prime areas reaching peaks while other areas crawl out of recession trough
As mentioned in a previous article, housing is an odd industry where prices are set at the margins.  In the US, we have 81 million single family homes.  From the latest figures we have something like 2.2 to 2.5 million homes available for sale (existing and new homes).  What this means is that at any given point we have roughly 3 percent of all existing inventory on the market for sale.  This is nationwide.  In some prime markets, you have even lower percentages and this drives up prices especially if speculation is running wild.
Zillow has some great reports on markets across the US.  Let us look at a few Southern California cities in terms of the latest housing figures: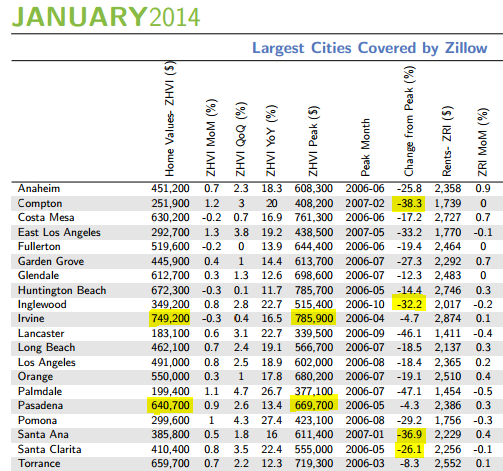 Source:  Zillow
This chart is very telling.  First, you'll notice that places like Irvine and Pasadena are only 4 percentage points away from reaching their previous peaks hit in 2006-07.  These markets pull from local investors, global investors, flippers, Wall Street, and of course professional families.  But take a look at areas like Compton (still off by 38 percent from the peak), Inglewood (off by 32 percent), Santa Ana (off by 36 percent), and Santa Clarita (off by 26 percent).  Santa Ana is only a few minutes away from Irvine but this is like comparing two different worlds.  Of course the majority of people by definition live somewhere in the middle and that is why looking at household incomes is important.  Yet these are unlikely to be the current buyers.  Over 30 percent of California buyers for close to half a decade are coming from big money investors.  Many are stretching out with FHA insured loans but this is likely to be in more working and middle class neighborhoods.  Talking with colleagues in the industry they mention that FHA in prime areas is virtually a no-go for buying with sellers.
People might look at a home value of $749,200 in a place like Irvine and scratch their heads.  But with ARMs, interest only loans, and dual income families people are willing to stretch to buy.  Investors of course are willing to go deep into the game.
Yet we may be seeing a slowdown here, even in prime areas.  For example, in Irvine inventory hit a low of 400 late in the fall and is now at 620 (up 55 percent).  You'll also notice that month-over-month prices dipped which is telling but then again, your typical California family is not going to swing a $750,000 home.  Which is really the big divide happening across the US, a gutting of the middle class.
Homeownership not available to everyone
I made the argument close to a decade ago that homeownership was not always the best option.  For most parts of the US, owning may be a good option (when the median home price is $190,000) but in high cost areas the math isn't so simple.  Renting may make a lot more sense for those starting a career and looking for mobility for work.  Yet young Americans are facing a very tough economic climate.  Beyond the economics, the homeownership rate has fallen dramatically in California: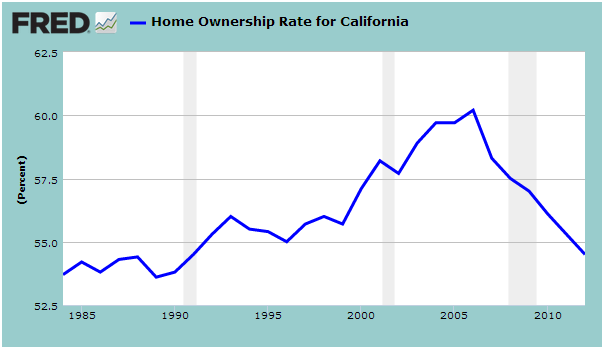 Even before the bust, the homeownership rate was already trending back to where it was in the late 1980s.  Not much has changed since.  In fact, with high levels of investors buying properties and lower sales figures, this trend is likely to continue.
For many families, the quick run-up in prices in 2013 has completely shut them out.  We are now seeing investors slowing down given that good deals are harder to find.  Some are venturing into lower priced areas but you also deal with lower incomes.  This may matter if you are looking at hiking rents or trying to flip to an actual potential long-term homeowner.
Housing starts and future trends
Even if housing were to erase the gains of 2013, California has essentially shut out a good number of middle class families from owning.  The market has hit a turning point recently: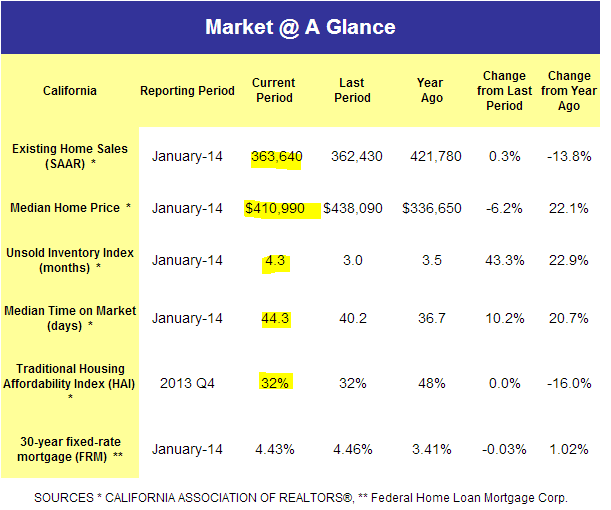 You'll see that across the state, year-over-year prices went up 22.1 percent but fell 6.2 percent over one month.  Inventory is up 22 percent from last year and time on the market is up 20 percent as well.  More to the point, sales volume has fallen by 13 percent even in the face of rising prices.  At current price levels in more selective markets, you really have to be upper middle class to wealthy to own a home.  In fact, you will likely need to be in the top 15 to 10 percent of household income (meaning a household income of $150,000 a year is the minimum to play the game without leveraging your entire future on real estate).
California is largely leaving a good portion of the middle class out of the homeownership race.  This trend looks to be the case for years to come.

Did You Enjoy The Post? Subscribe to Dr. Housing Bubble's Blog to get updated housing commentary, analysis, and information.