The California housing bubble is still running roughshod over the economy of the Golden State.  Bubbles of this magnitude take years and even decades to filter through the system.  Even after a sizeable price decline many areas stubbornly remain in housing bubbles like a pouting child.  As we have learned even with the financial firepower of the Federal Reserve home prices will fall to a level supported by local family incomes.  The reason is obvious although severely underreported.  Local area households need to pay for their home through the income their household generates.  Given the state of the California economy with a headline unemployment rate of 12.1 percent and an underemployment rate closer to 23 percent household earnings simply cannot support current home prices in many cities.  Now that people are looking at housing with a surgeon's perspective instead of a Nothing-Down-Hawaiian-Shirt state of mind, we still have a way to go until we reach any semblance of a normal market.  Let us look carefully at the overall picture here and see where we stand today.
California home ownership – making too many renters into home owners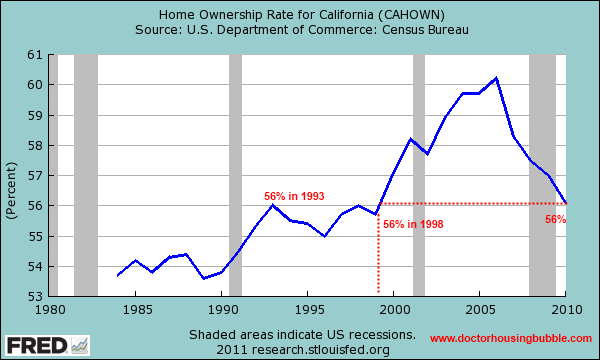 One of the most obvious problems with the California housing bubble was that too many households fit to be renters were lured into home ownership with nothing down, liar loans, Alt-A products, and other toxic leverage items like option ARMs.  In short, an artificial bubble market was created.  At the moment we are painfully separating those that should rent and those that can adequately support their mortgage payment.  By the way, there is nothing wrong with renting but you won't hear this on the mainstream media and last time I checked, there was no powerful renters lobby.  In California you have many area code and zip code chasers that have beer incomes trying to live in champagne neighborhoods.  Take a look at the chart above.  The California home ownership rate is now back to levels last seen in 1998 and 1993.  The Census data released in September only goes back to the end of 2010 so with all the current foreclosures going on, it is likely we are lower as we write this article.
This data without context may not be so useful.  So let us look at the population increase over this decade timeframe:
California Population
2000:                     33.8 million
2010:                     37.3 million
Over this period the California population increased by 10.27 percent to be exact.  So you would expect that home ownership would track a similar rate of progress:
Owner-occupied housing
2000:                     5.5 million
2010:                     6.9 million
This is an increase of 24.89 percent!  In other words there was a giant push to home ownership over this timeframe that simply did not coincide with population growth.  Interestingly enough, renter growth did track this figure rather closely:
Renter-occupied housing
2000:                     4.9 million
2010:                     5.5 million
The above shows an increase of 11.82 percent which is more in line with population growth.  The economy today is much worse than it was in 2000 so it is likely the home ownership rate will continue to move lower while the number of renters stays steady or increases (remember you have many households doubling up).  We have discussed the low tier market movements versus higher priced markets.  Places in the Inland Empire for example may be closer to nominal bottoms while areas like Pasadena and Santa Monica may only be entering the early stages of the second phase of their correction.  This data is rather clear when we segment out home prices by levels.
Low, mid, and high tiered home prices
Case-Shiller provides tiered home prices for metro areas and this is useful to see why some areas are still solidly in bubbles.  The Case-Shiller Los Angeles data includes Orange County as well:
This is where you really see the multi-level correction.  If you look at the sub-$303,000 part of the market this segment is down 52 percent from the peak.  Take the market in between $303,000 and $496,000 and you see this range has fallen by 40 percent.  But if you look at the upper tiered market, homes above $496,000 you will notice that prices are only off by 28 percent from the peak.  Some may speculate that this is occurring because these homes are simply more valuable.  I have repeatedly shown and data backs this up that banks are more reluctant to foreclose on higher loan balances.  The shadow inventory in places like Beverly Hills is full of million dollar homes where people are making no mortgage payments.
When I look at the above what I see is a few things that coincide with reality:
-Banks were quick to move on lower priced foreclosures.  This explains big movements in the Central Valley and Inland Empire of California.  It also explains the glut of foreclosures in Nevada, Arizona, and Florida.

-Banks hoped that after half a decade of government bailouts and fleecing of the public, that somehow the mid and upper tier of the market would recover and they would be able to unload the properties.  Today is here and home prices are moving lower.

-Banks now have to move on these properties.  Losses have been mounting with missed mortgage payments and banks are slowly realizing that home prices may never come back to peak levels.  At the moment, the market is looking more like late 2008 when deflation was the fear.
Now think this through for a second.  Say a bank has a mid tier place with a $4,000 mortgage payment on it (PI).  The place is underwater by $200,000.  The bank can take the home over and sell the place and realize the $200,000 loss as it marks it to market.  Or the bank can leak $4,000 a month ($48,000 a year) in missed payments.  Your break even date quickly closes however.  Banks now are losing more money here on lost opportunity cost.  That is, they could have sold at market four, three, or even two years ago and taken in a new borrower that would be paying on a mortgage at market rates.  Instead, you have banks hoping (wishing) for more bailouts.  Do you think the nation is eager to bailout California homeowners with $500,000 and routinely higher mortgages?  Many Americans are struggling with mortgages of $100,000 so there will be little sympathy in this regard and rightfully so.
California home prices continue to make post-bubble lows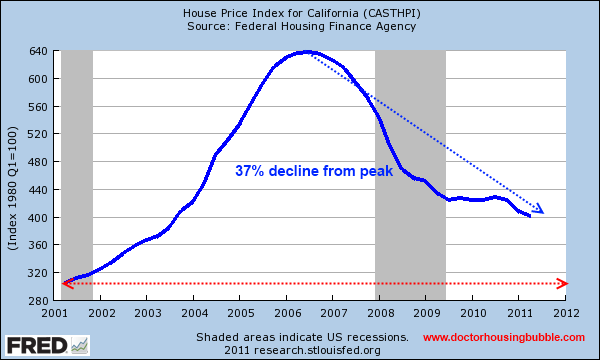 A few years ago I mentioned that California would face a lost decade in home prices similar to what occurred in Japan.  That diagnosis has now come to date.  Sure, we have many dramatic differences with Japan but our real estate markets, especially in California, share very similar patterns in regards to the bubble bursting.  Home ownership rates are now back to levels of 1993.  Unemployment is extremely high because hundreds of thousands of Californians shifted into careers that were only designed for a once in a lifetime bubble.  Those high incomes addicted many who hope that a housing bubble is just around the corner.  They project their dreams of Alan Greenspan onto Ben Bernanke and pretend that somehow this new magician will magically create another housing bubble.  How can he?  There are no more investors (pawns) that slick Wall Street bankers can unload CDOs, MBSs, and other toxic waste onto.  The name of the game is de-leveraging and some upper tier markets are going to get rocked in the next few years.
Shadow inventory declines but not in high priced markets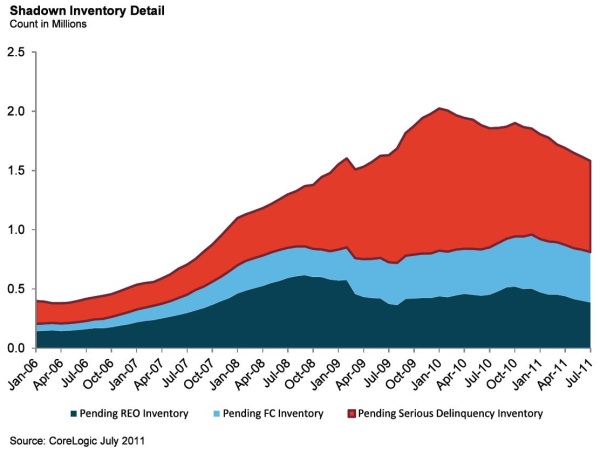 As we discussed previously, the shadow inventory is declining nationwide but there is a big difference between a $50,000 condo in Las Vegas selling versus a $5 million Beverly Hills home now selling for $3 million.  The bank takes a $50,000 hit in the condo while the upper tier home will eat up $2 million (the equivalent of 20 condos).
Let us look at a perfect example of this.  We'll look at the 91436 zip code in Encino.  The MLS lists only 6 foreclosures for this market.  What does the shadow inventory show for a zip code with a median home price of $1.1 million?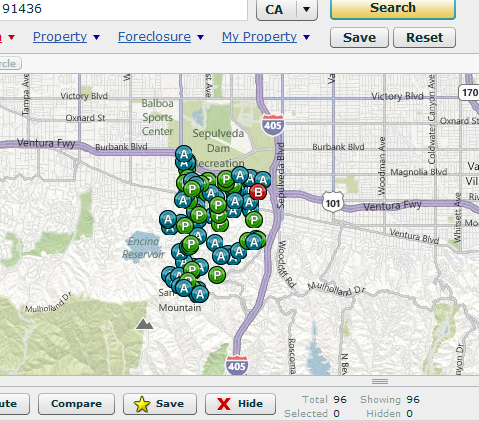 Looking at the data on these homes I see many with estimated values of $2 to $3 million.  Some markets in California are going to face some dramatic price drops in the years to come.

Did You Enjoy The Post? Subscribe to Dr. Housing Bubble's Blog to get updated housing commentary, analysis, and information.