California in its infinite wisdom is allocating $200 million in tax credits for home buyers.  This is a very generous credit since existing home owners can use the $10,000 credit on a new home and new buyers can use it on either an existing home purchase or a new property.  And for a limited time, you will be able to combine the California tax credit with the expiring $8,000 federal credit (if you close escrow between May 1st and June 30th) for a stunning $18,000 reduction in taxes.  But of course, most typical families will not use every penny of this credit and it is really a boost to a segment of our population that is doing better in this economic crisis (maybe we want to look at the 15 million unemployed first?).  Do we also need to point out that California will now have $200 million less to plug the $20 billion budget gap?
From the way the bill is posted, it looks like any unused funds will not rollover.  So say you are a family in the Inland Empire looking to buy a home for $200,000 and make $70,000 a year: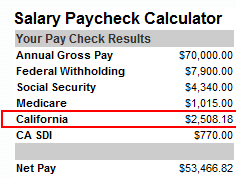 The tax credit is actually spread out over three years with a maximum allowance per year of $3,333.  So in the case above, it would not use the entire amount and whatever is "leftover" expires and does not rollover to the next year.  So in essence for the above, the person is getting a $2,500 incentive to buy a home.  This will of course lower tax revenues to the state for three years but apparently a $20 billion budget deficit means we can give out $10,000 tax credits like candy.  This is also similar to an option ARM in a weird way.  If you talk to a tax professional, they may recommend you adjust your withholdings and you will likely get $200 more per month in take home pay.  But what happens after year 3?  In reality, you will need to make more than $80,000 a year or more to reap the entire benefit if you are married and $60,000 if single.  If you happen to close between May 1st and June 30th you can also add in the federal credit to reduce your fed income taxes since the national government is flush with money as well.
For all the nuances and legal language, this is misdirected policy and a large waste of money.  This is not a good step in balancing the budget or putting our overall economy on the right track.  And on Tuesday Southern California home sale data was released and shows a market that is heavily dependent on government subsidies and investors: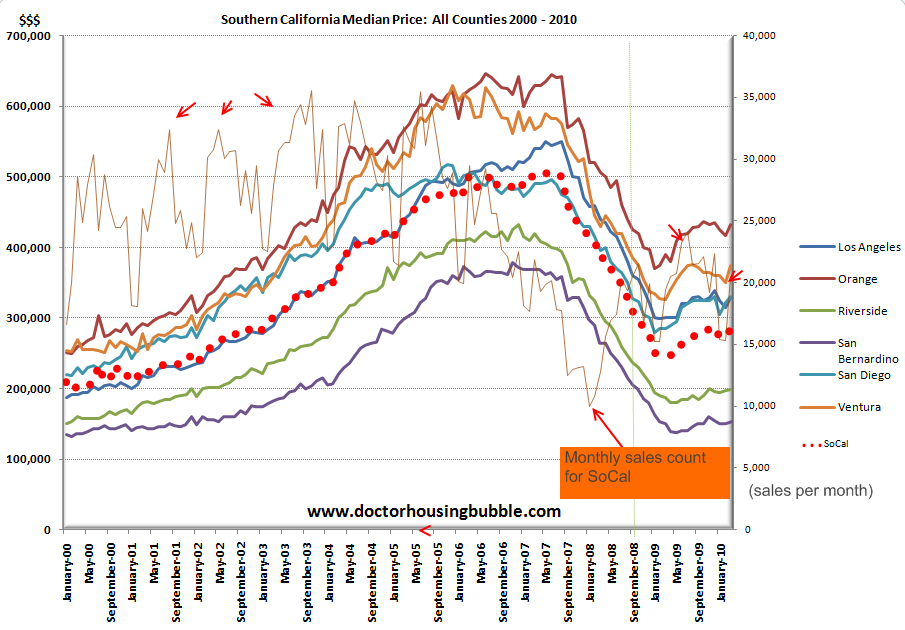 The median price in all SoCal counties went up for the month yet sales are still off of their bubble highs by large amounts.  You would expect stabilizing prices with so much money being thrown into the market but the details are more troubling and show this may only be temporary.  Nearly 40 percent of homes purchased in Southern California were with FHA insured loans.  Using the $285,000 median home price that means someone looking to buy would only need $9,975 as a down payment.  And from recent data most that use FHA insured loans are going with the absolute minimum amount (this has also contributed to booming delinquencies).
Ironically even the government websites tell us a general rule we already know and that is you should not take on a mortgage that is 3 times larger than your annual household income: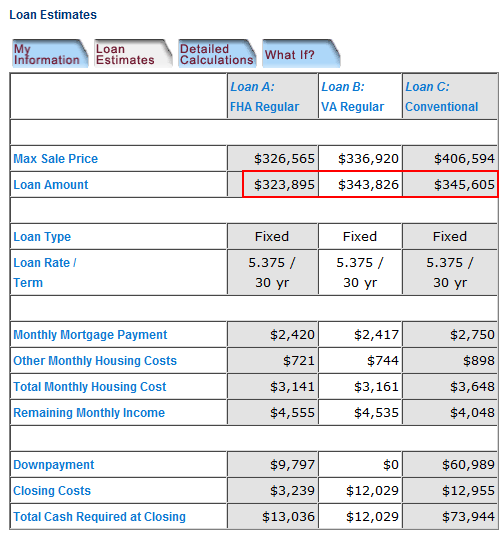 The above data is based on a household income of $100,000.  As we have pointed out in certain cities this ratio is completely out of whack.  It'll be interesting to see what happens once government programs start pulling back.
So last month, roughly 40 percent of all home purchases in SoCal were FHA insured meaning absolutely rock bottom down payments.  Another 27 percent were all cash buyers and I would imagine many are buying out in areas like the Inland Empire as investors.  Most are looking to flip and this game is getting thin because the rental market is flooded in these areas.  Investors are not looking to hold and are aiming to find a diamond in the rough, shine it up, and make some money on it quickly.  This is the bulk from what I have seen.  We do have cash flow investors in California but not many.
Looking at the typical mortgage payment we have to ask some questions however: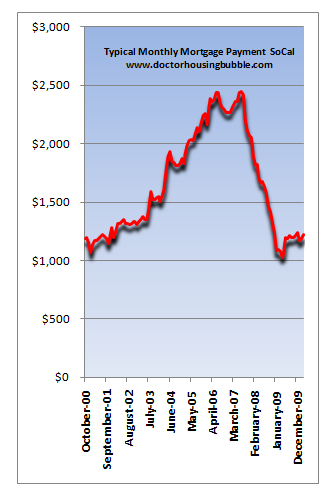 The typical monthly payment for those with a mortgage last month was $1,220.  This tells us a couple of things.  First, those that sell and have some equity use this to buy another place and pay down the new mortgage of the new home.  Also, recent buyers with FHA loans are paying the minimum 3.5 percent down payment but are likely buying in lower priced areas.
Right now the market is being artificially propped up like a mannequin with all the following programs:
-1.  $8,000 tax credit
-2.  Federal Reserve juicing the mortgage markets (artificially low rate)
-3.  New state tax credit (many will buy now so they can close escrow in May and June and double up the benefit between the state and federal tax credits)
-4.  Massive amount of distress sales (nearly 4 out of 10 were foreclosure resales)
The above are not signs of a healthy market.  I think many in Southern California still remember the $505,000 median price for the region so $285,000 must seem like a bargain.  But there are many factors that won't remain for long.  Can interest rates remain this low in a market where risk is exploding?  Just look at Greece and what happened to their interest rate.  You think California is in better shape?  Just look at what is happening in L.A. right now.  They are fighting because tax revenues are extraordinarily weak.  The $200 million tax credit will run out quick.  Are we going to do this over and over in the face of a $20 billion budget deficit?  You have to remember that the state lags the general economy one or two years.  How?  Take for example property taxes on homes that are now priced at much lower levels.  In other words, we are building in lower tax revenues to adjust to the new reality and these are slower to react compared to general market sentiment.
I still look at the 12.5 percent headline unemployment rate and this gives me pause when looking at the housing market.  Even if the private sector starts hiring (this isn't happening yet) the state and local governments are already looking to cut (or raise taxes).  We'll have to find $200 million from somewhere else because we've just allocated that amount for people to buy more homes that they were probably going to buy anyway.
Did You Enjoy The Post? Subscribe to Dr. Housing Bubble's Blog to get updated housing commentary, analysis, and information.