One of the major signs of a tipping point in real estate includes rising inventory, falling sales, and a resistance to higher home prices.  California has reached this level.  Affordability is a major challenge with only one out of three families able to afford the median priced home in the state.  What is interesting is that for regular home buyers, the modest rise in interest rates essentially slammed the breaks on the price rise momentum.  Home prices in California have remained in a tight range since June of 2013.  Sales have fallen and the year is starting off with a nice little return of inventory to the market.  This is good news for potential buyers assuming they even have incomes to support current home prices (which the affordability measures show they cannot without added leverage).  Investors continue to be major players here but they have showed some slight pullback as the easy gains are now harder to find.  Beyond the coast, California has plenty of land to build but we see building permits at near all-time lows.  Is California built out?
California builders not taking the chance
The difference between the massive run-up in price from 2013 versus say that which occurred in 2005, 2006, and 2007 is that builders are betting on this price rise as an anomaly.  For example during the boom days we were seeing privately owned housing start permits hitting a range of 12,000 to 14,000 as measured by the US Department of Commerce.  Today it is near the 3,000 range.  This is a big difference.  If these price increases were organic, as in regular families buying homes based on incomes you would see more builders building out in places like Riverside and San Bernardino.  Yet they are not.
Take a look at permits being issued on privately owned 1-unit structures: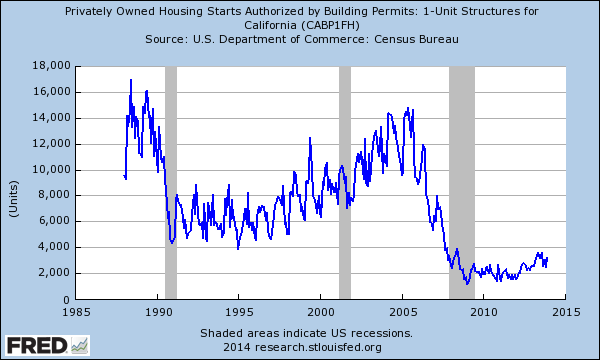 Privately owned housing starts have fallen 78 percent since 2005.  Are we not adding more people?  Didn't home prices surge by 20 to 30 percent in California in various markets?  The problem with the current boom is that it is based on manipulated supply, artificially low rates, and massive demand from investors.  Take one or two of these items away and the market slows down.  It has and we have proof with the modest rise in interest rates from last summer.  Now we are seeing what happens when some investors begin to pullback.
The affordability question in California
The problem with having a boom and bust market in California is that it forces a winner versus loser situation on families merely looking for homes.  Instead of having housing as a small part of the economy and focusing on more important job creating sectors in places like California, housing has become the modern day gold rush.  People try to get rich quick and see real estate as the perfect vehicle.  These dramatic shifts do not bode well and you see this with massive amounts of young adults living at home or with roommates with little prospect of purchasing a home.
There are a few major changes occurring in the market that are worth exploring: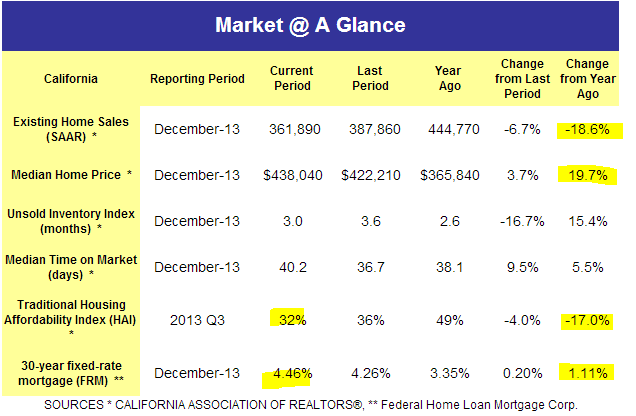 Let us go line by line here on the highlighted points.
Existing home sales:  Existing home sales are falling strongly.  A 20 percent year-over-year drop when prices are up tells you something is changing.
Median home price:  A near 20 percent year-over-year gain in home prices with no real income gains is telling.  Speculation is at play here.  This time it isn't small time players going in with NINJA loans but big Wall Street banks leveraging the Fed's low rate environment to snag real property.
Traditional housing affordability:  This has dropped by 17 percent in one year largely because of price gains and interest rate moves.  Only 32 percent of families in California can actually afford a median priced home.
30-year fixed rate mortgage:  A 4.46 percent mortgage is still a steal.  But this is a 33 percent move up from the lows reached last year.  Since many Californians live by an "all hat and no cattle" philosophy many now cannot afford to buy (hence the drop in existing sales as investors also wane).
Investors have had a good run at it since 2008.  Yet their game is one of margin and gains are now harder to make.  You need additional suckers to unload to.  Regular households are largely unable to save a good portion of money and even households with good incomes have bad spending habits.  Just look at the number of leased foreign cars on the freeways.  The stock market is also modestly correcting but you see how quickly things can change because people assume the current situation is normal.  Nothing is normal about 20 percent annual price increases when incomes remain stagnant.
2014 is likely to be the year of a tipping point.  You still see delusional SoCal sellers thinking peak prices are back once again.  Some are getting fools to bite but it seems like the supply of fools is shrinking as well.  The fact that builders are not out building also tells you something in spite of the big spike in home prices.

Did You Enjoy The Post? Subscribe to Dr. Housing Bubble's Blog to get updated housing commentary, analysis, and information.