Foreclosure sales usually come at a deeper discount than non-distressed home sales.  For many years, the mixture of foreclosure sales and non-distressed sales was distorted especially in California where the housing market faced a deep correction.  The peak occurred in early 2009 when 58 percent of sales were foreclosure re-sales (today it is down at 13 percent).  This past year or so, foreclosure re-sales became a tiny portion of total sales so the median price reflects a much higher price because of this shfit.  For example, the median price is up 28 percent according to the California Association of Realtors or 22 percent according to DataQuick.  The Case Shiller, a better measure has price up over 10+ percent which is still very strong.  This is an unbelievable pace and is clearly unsupportable.  I think that goes without saying but what will be interesting moving forward is how year-over-year data will be impacted as the shift in the selling mixture will start to emerge.  So where did all the foreclosures go?
Foreclosures
In California foreclosure filings are down 45 percent year-over-year but are up 13 percent over the last month:

The notice of default is the first stage of the process.  This is usually sent out after three missed payments but in California with the California Homeowner Bill of Rights, this process might be delayed even further.  In California the time to foreclose is about 300 days (almost one full year).
The bailout of the banking industry was under the pretense that it would help the average homeowner.  What is interesting, is that we are now subsidizing the foreclosure process for many of these homes to be sold to investors.  In California, roughly one-third of home sales for the last couple of years have gone to investors.  HAFA (Home Affordable Alternative Program) has made the process of selling distressed homes much easier via short-sales and deed-in-lieu of foreclosure.  Take a look at where most of this has occurred:

42 percent of all HAFA activity has occurred in California.  This has not come at a low price:

What is troubling about this is that many regular homeowners would like to buy these homes if they were actually on the market.  In fact, many would pay fair market value if these homes made it to inventory in a more normal fashion instead of going through the labyrinth of government programs and bank alternative-accounting standards.  Instead, these large cuts in balances are feeding into the investor frenzy.  The end result is a dragged out foreclosure process and the market suffers with a lack of inventory.
You don't think inventory is low?  Take a look at this: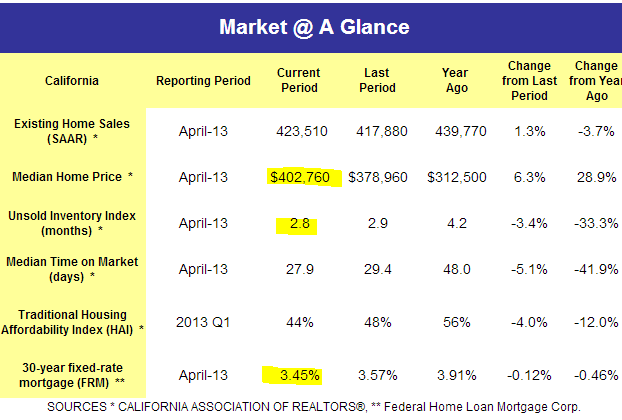 California only has 2.8 months of inventory.  This is incredibly low.  The median price according to CAR is now over $400,000 and the current 30-year fixed rate mortgage is hovering around 3.45 percent.  A healthier market would have six months of inventory.  Anything below and you are in a seller's market and anything above and you are in a buyer's market.  Anyone shopping for a home today can clearly tell that this is a seller's market.
The massive price gains are coming because of low inventory, low interest rates, and high investor demand.  California has added about http://www.doctorhousingbubble.com/renting-generation-homeownership-rates-by-age-ownership-rates-renters/1 million more renters since the peak in the housing bubble and rental supply has increased in places like Sacramento and the Inland Empire.  Take a look at the rental vacancy rate: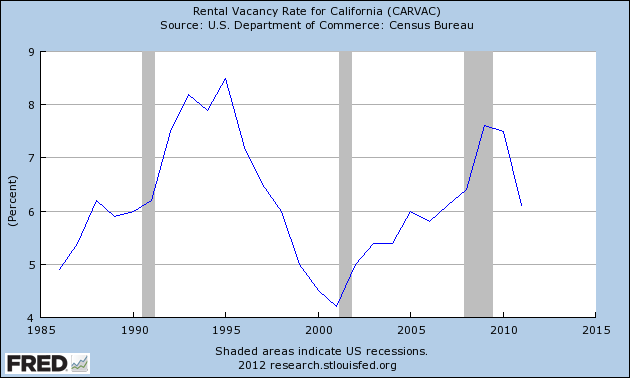 Affordability isn't all that great when home prices are going up 20+ percent each and every year with no subsequent gains in household incomes.  Unless mortgage rates can go into the 0 to 1 percent range, we might be tapping out on this for leverage.  With inflation at about 3 percent and mortgage rates at around 3.45 percent, this is virtually free money.  The Fed wants you to spend and they want you to spend it on housing.  With the amount of inventory on the market and investor demand, get those personalized letters ready and keep those family photos handy because sellers are in the driver's seat in today's market.

Did You Enjoy The Post? Subscribe to Dr. Housing Bubble's Blog to get updated housing commentary, analysis, and information.