Since Governor Schwarzenegger took office in October of 2003, he rode in promising no tax hikes and sent a very unpopular vehicle fee out the door along with Gray Davis. He has faced issues with budget delays but nothing like the current short fall. The Governor announced plans for declaring a fiscal emergency in January since the state's budget deficit has grown from $10 billion to $14 billion:
"SACRAMENTO, Calif. – Gov. Arnold Schwarzenegger said Friday he will declare a "fiscal emergency" in January to reduce an anticipated $14 billion budget deficit, pressuring lawmakers to fast-track spending cuts and other solutions.
The Republican governor has signaled that he wants to cut spending across the board in state programs, while Democratic leaders have said that both spending reductions and tax increases need to be considered.
It will mark the first time the Republican governor has used the "fiscal emergency" authority that he asked voters to approve in a 2004 ballot measure."
The deficit is deep enough to cause serious cutbacks and potentially a reneging on his promise of no tax hikes. During the past four years, the California real estate market has been on an incredible appreciation journey. California construction has also been booming and employment in the financial field has provided high paying salaries for people to spend on local commerce. How much of the Governor's recent success has been skill based and tact and how much was centered on being at the right place at the right time? Sometimes it is important to acknowledge reality. As the famous late night real estate guru Tom Vu once said, "Do you think these girls like me? NO, they like my money!" In fact, it is hard not to like someone when everyone is swimming in a rising golden sea of housing equity.
Yet there are ominous signs now showing through the states economy. The financial and political wizards tried their best to build a fortified wall against the toxic credit pool, but it appears that the damn has now broken and is spilling all over the lands of this country. California, which seemed reluctant until this year to recognize any housing depreciation is now being swept up in the disastrous financial mismanagement of the current decade. It was only a matter of time until the mountain of debt struck the most prosperous state in the nation.
In this article, we will examine the pillars of the California economy and dig deep into the trends that are causing this budget shortfall. We'll look at automobile sales, construction, and unemployment numbers. The grease of the California economy is drying out and causing the system to come to a screeching halt. The state with a vehicle obsession needs a jump start.
California Unemployment
The current contraction in construction and financial services has hit the golden state particularly hard. Unemployment in the state has increased almost 1 percent since last year going from a low of 4.7% in November of 2006 to our current 5.6% in October of 2007. During this same timeframe, the U.S. unemployment rate has held steady at 4.5% in October of 2006 and is currently running at 4.7%.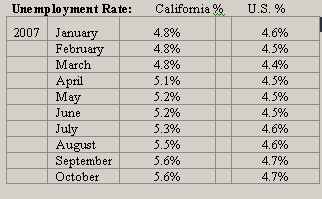 Clearly the impact is being faced disproportionately here in the state because of the heavy reliance on the housing and mortgage industries. This will also have an impact on the state's bottom line since someone that isn't working will not be paying any state income tax. They will also hold back from purchasing homes.
California Construction
Building permits are a good leading indicator because before you build any future homes, you first need approval. The current permit numbers are abysmal in California dropping an astounding 42% from last year for single unit construction. Approval for single unit permits is at a 12 year low.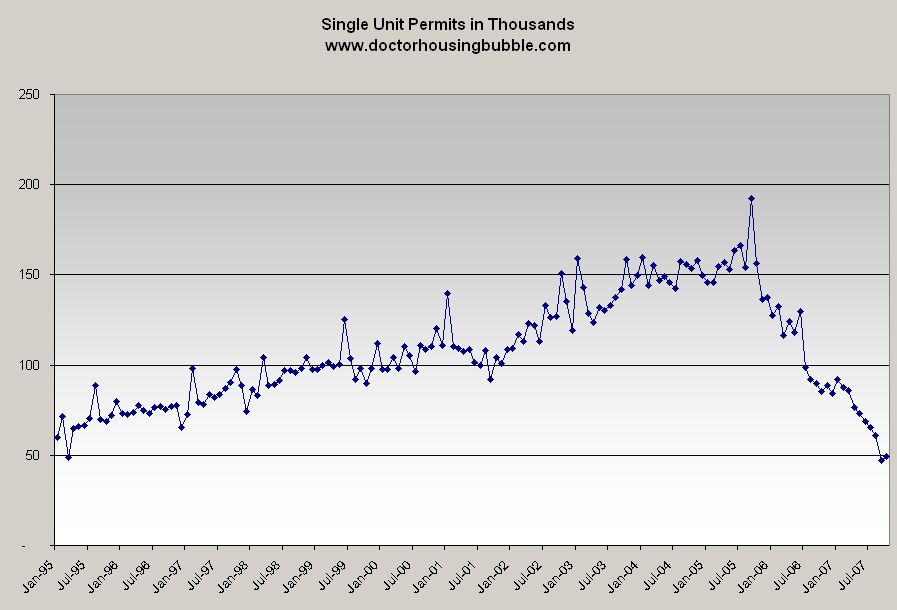 Keep in mind the last time we had numbers like this we were at the end of a bursting housing bubble in California. With sub-prime resets and the incredible number of option ARM mortgages in the state, we are in for a few tough years. The jobs that are being lost in construction are appearing in the sharp rising unemployment numbers. There is also a direct impact on spending cut backs and loss of a tax base for the state.
Foreign Trade through California
There was a time in the not too distant past when imports and exports to the state were relatively even. We've been running trade imbalances since the 1970s but never has the percentage been so drastic. Take a look at data from 1993-2006: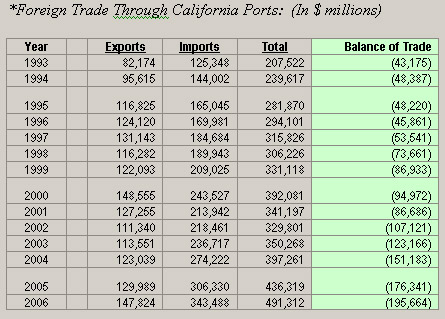 What these numbers show in a very direct way is what every member of the state already knows. That is, we are spending a lot more than we are producing. Take 1993 for example. In 1993 we were importing 52% more than what we were exporting. In 2006, the imbalance leaped to an astounding 133%. This cannot go on forever and the insatiable consumer appetite will affect our foreign trade partners. For all the talk that a lower dollar will make our goods more lucrative, it doesn't hold much water since we don't have that many goods to export and their own growth is very dependent on our spending.
California's World Ranking
California has the 8th largest Gross Domestic Product in the world: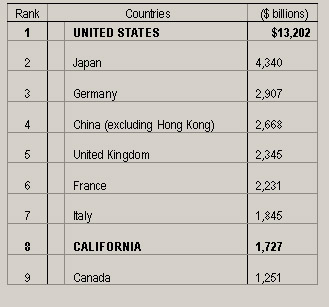 California represents 13 percent of the U.S. GDP so any impact here will create large shockwaves throughout the nation. With that in mind, California also has the largest nominal amount of any state with sub-prime, interest only, option ARM, and other exotic mortgage products. With a median home price of over $500,000 and the advent of no money and very little money down products, you can imagine how much equity is about to slip away if it hasn't already. A large portion of our economy revolved around construction and all things real estate so this contraction will hit our bottom line. But looking at the list, many of these places have asset and credit bubbles too. It will be interesting to see how the numbers play out in the next few years.
Auto Sales
Auto registrations are a good way to keep track of new automobile sales. I think this will be another casualty of the credit debacle. After all, car dealers wouldn't survive without financing and financing wouldn't survive without easy credit. Now that easy credit is slowly going away auto sales are starting to feel the pinch here in the state. Take a look at the trend for auto registrations: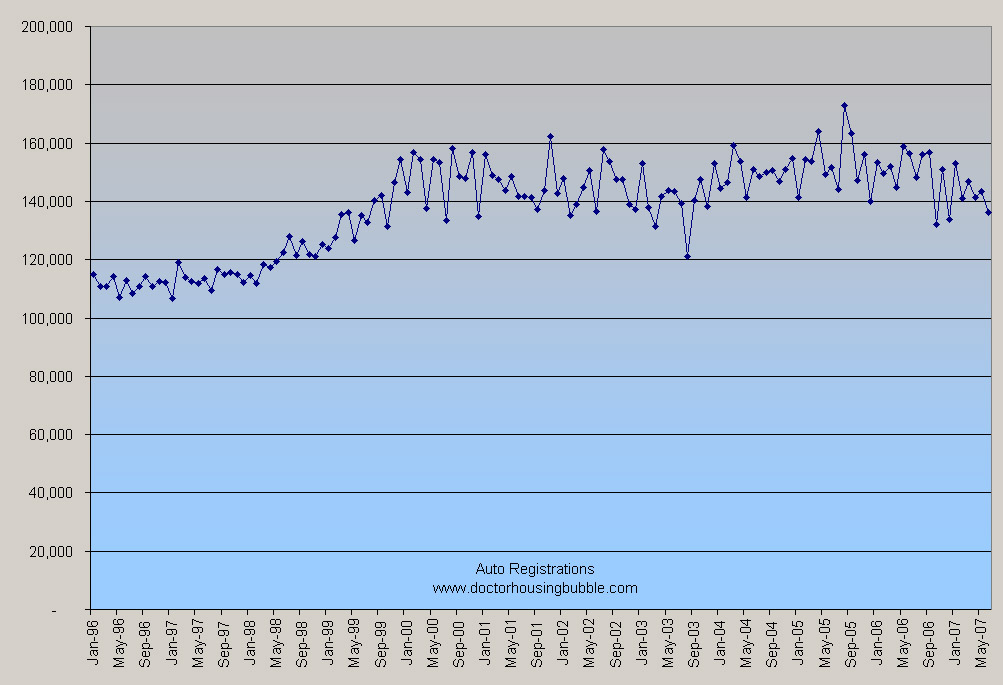 Couple of things to notice. First, you'll notice the amazing jump starting in 1997. Coinciding with the real estate bubble it appears that we also had an auto bubble. The numbers hold steady from 2000 all the way to 2006. The only difference this year is that the numbers did not have their spring and summer jumps and we are entering the slower selling seasons of fall and winter. What happened to real estate in California is happening to auto sales; I've examined this seasonal selling trend for housing before. Aside from all the car commercials about people giving $50,000 cars as Christmas gifts (with a nice monthly payment) December isn't a hot selling month for cars. You normally see an uptrend during the spring and summer months. This is California and you need the hot rides for the sunny weather. The data only goes up till June of this year so I'll keep my eyes peeled on this sector since it misses the current credit crunch.
California Dreaming
California has many challenges facing its economy and the Governor is going to have his work cut out for him. In the October budget highlights the opening paragraph on the economy states:
"The slumping housing sector continued to weigh on the national and California economies in the first eight months of 2007, slowing job growth and dampening retail sales."
That is succinct and to the point Governor.
Did You Enjoy The Post? Subscribe to Dr. Housing Bubble's Blog to get updated housing commentary, analysis, and information