There seems to be a divergent amount of information flowing out of the California economy.  The headlines seem to indicate stabilization for the economy yet tax receipts are well below estimates and the unemployment rate is back to 11 percent.  The lower tax receipts and weak employment market guarantee a tax measure on the ballot for November.  We keep hearing about the lower available inventory of homes for sale yet the distressed pipeline is still high.  Half of home sales last month in California came from the foreclosure pipeline or from short sales.  The perception is always that California has a large number of wealthy households (according to the Franchise Tax Board 14.7 percent of households make more than $100,000 a year).  Given real estate prices in many areas, this is not enough income to justify prices.  Californians have also been using FHA insured loans enjoying them like candy although they have now become much more expensive.  The story of course is much more complicated then what headlines portray.
New home permits up but will construction follow?
Permits for new housing units have started to move up.  Yet this is only a first step since the true measure of a recovery will come from actually hiring construction workers to complete the project.  The growth is slight: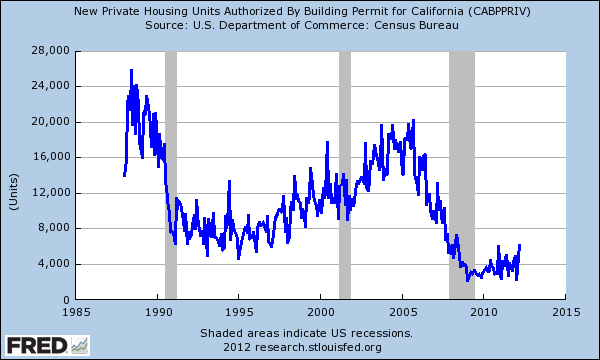 If we then look at the actual hiring, not much has changed.  I think some builders are hedging their bets here waiting to see how things trend out in the following year.  Construction employment is still in the doldrums: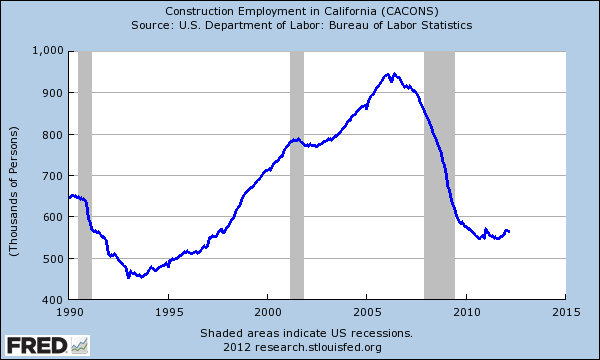 Those on the ground realize that the declining inventory isn't necessarily a sign of a booming market but one in which banks have restricted the flow of shadow inventory.  Take for example one of the biggest markets in California, Los Angeles.  Inventory has been moving lower since the peak in 2007: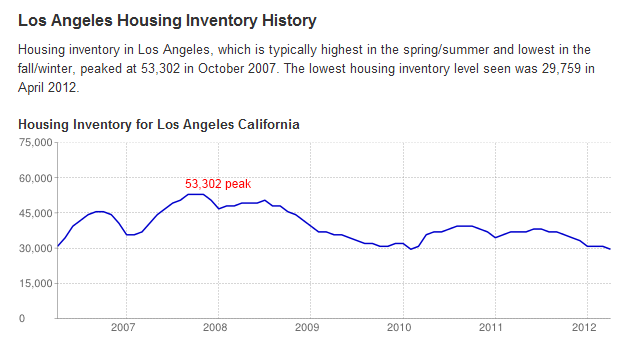 Source:  Department of Numbers
The above is only for Los Angeles.  If we look at the entire county, we will find 27,000+ non-distressed properties listed for sale.  The pipeline is also moving slightly up as lenders become more comfortable moving inventory:

Yet distressed properties are still a big player here: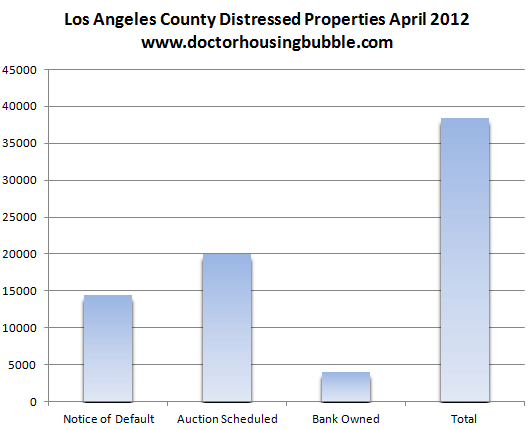 Over 38,000+ properties have a notice of default filed, are scheduled for auction, or are bank owned in LA County.  Since people seem to think that these are only broken down fixer uppers with small mortgages, I decided to run a query on those 38,000 homes.  How many have loan balances above $400,000?  Try 16,000+.  How many have loan balances above $500,000?  Try 9,000+.  There is a large number of quality homes in which people are living in properties without making a mortgage payment.  So the low visible inventory is partly an illusion of a successful housing market.  Couple this with low mortgage rates and low down payment FHA insured loans and you can see why a false sense of recovery has taken hold: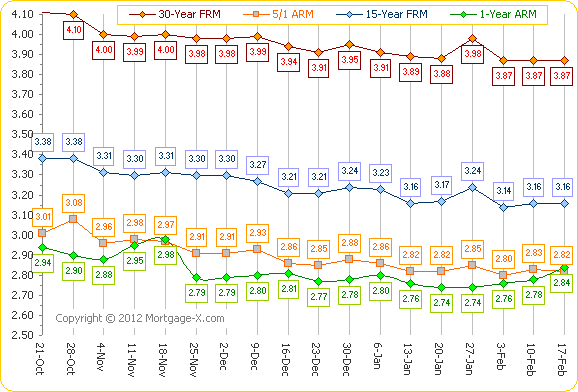 Source:  Mortgage-X
Part of this equation will get more expensive as FHA insured loan defaults soar and mortgage insurance premiums have increased sharply this month.  This will take one to two quarters to show up in the home sale data.  There is little doubt that this will impact first time home buyers.  The above low mortgage rates are simply artificial with the Fed buying time but this cannot go on forever and massive levels of debt reach tipping points as we are witnessing in Europe.  So the plan is for the Fed to buy up trillions of dollars more in mortgage backed securities just to keep home prices in California inflated?  I doubt it.  Prices nationwide are already starting to make sense with current market figures.
The government, both local and federal is going to get hungry this year and deficits do matter.  The mortgage interest deduction has been on the table for the last year.  I doubt it will go away but there is no reason for it to subsidize inflated states like California where a million dollar home can garner massive tax benefits to a high income buyer while most homeowners around the country gain very little benefit since the standard tax deduction usually trumps out the interest on a standard mortgage.  I've noticed that the Franchise Tax Board is now going to come down heavier on Mello-Roos since many Californians are writing this off as a deduction even though it is not.  The seeking out of dollars is becoming stronger because government balance sheets are not looking good.  The housing market is largely being held up by smoke and mirrors.  Lower inventory in other times would signify a healthy market but today it is hard to call what is going on with housing a market.
I think a good number will dive in during the next few months just like they did two years ago with the tax credits.  Since then home prices have fallen further and better quality inventory has entered the market.  The push now to buy is the fear of lower inventory and the case example of bidding wars.  In essence, similar issues that led us into the housing bubble yet people are driven by these impulses.  Household incomes and the quality of jobs should be leading indicators of a healthy housing market and not the other way around.  Ironically some are competing with amateur investors that are overpaying for perceived cash flows.  Think about it, if incomes are stagnant and taxes are likely to go up, where will additional disposable income come from?  California is going to have a major ballot battle this upcoming November because of a poor economy and uncertain trends.

Did You Enjoy The Post? Subscribe to Dr. Housing Bubble's Blog to get updated housing commentary, analysis, and information.