California never came out of the recession.  Technically the nation has been out of recession since the summer of 2009.  If things are bad on a national level things are tragic in the Golden State.  GDP is not necessarily a solid measure of a nation's overall health especially when you have giant banks transferring trillions of dollars from taxpayers and suddenly speculating in the stock market to produce gymnastic financial movements.  GDP does not reflect the shrinking pocketbooks of most Americans which directly has an impact the price of local housing.  If Proctor and Gamble is making a large share of profits in oversea markets do you think this will help local home prices outside of a few niche markets where one percent of the nation live?  California has the second highest unemployment rate in the nation only behind the foreclosure ridden desert state of Nevada.  Looking closely at the data there is almost every piece of evidence suggesting a second storm is going to slam prices lower in the state.  Why would prices remain inflated when every other economic factor is pointing to a crushed economy and you have people in leased BMWs recycling cans to cover daily expenses?  We are already seeing weakness in high priced areas even in the middle of the hot summer selling season and with mortgage rates at historical lows.  The economic indicators are pointing to troubled seas ahead so let us start looking at why California housing is going to have a second significant correction.
Population growth a reason for high prices?
There is a misguided sense in a few groups that the population growth in California is now at levels from the 1940s or 1950s.  That is not the case.  In fact, when 2011 data comes out we will see growth muted but also, much of the trends are not positive outside of a raw number count.  We have seen higher wage jobs leave the state only to be replaced by lower paying sectors: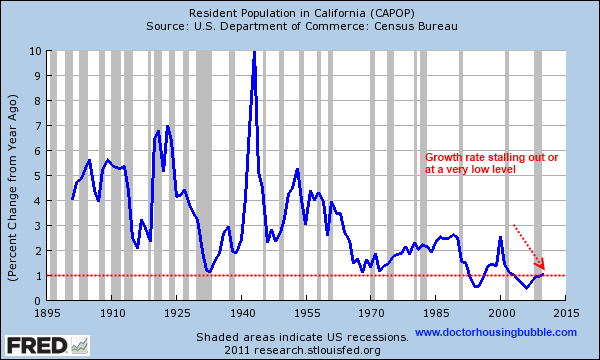 For 2008, 2009, and 2010 the population growth rate was below or at one percent per year.  The notion that California has outsized population gains to support sky high housing prices is misguided.  A large part of this growth is in the low income sector.  Do you think they are going to support bubble prices in cities like Pasadena or Culver City? It can't and it won't.  Those bubbles will burst and prices have already started falling in those areas.  Hard to tell what x-factor will break the camel's back but prices have been falling but more in a controlled fashion because of the shadow inventory.  It now appears that the government is going after big banks with something that may have teeth through the FHFA.  We shall see how this plays out and see if it isn't just another smoke and mirrors illusion.
It is abundantly clear that massive population growth is not a good reason for the argument that a new batch of residents will support high home prices in the state.  The home ownership rate is also heading back to more normal times but it is still a distance away from bottoming out: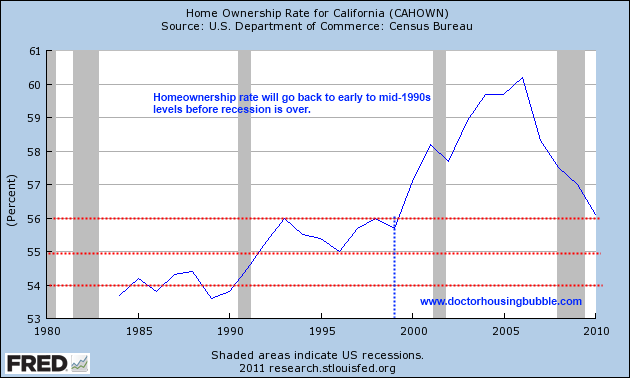 All the gains made in the last decade are wiped out like a surfer catching a wrong wave.  The home ownership rate is now down to levels last seen in the late 1990s.  I expect this rate to fall to the early to mid-1990s levels before all is said in done.  We have hundreds of thousands of homes that will be lost in foreclosure before any true bottom is reached.  The overpriced markets have people living lives of silent economic desperation only hoping that they are able to find some other sucker to unload their home to.  Their hope is largely misplaced as we are seeing from viewing macro economic trends.  The gain in home ownership rates largely came from the once in a lifetime housing bubble fueled by mortgages that would make Bernard Madoff look like an economic saint.  Short of giving loans again to anyone with a pulse, this party is done and prices need to revert to levels last seen when the mortgage market wasn't turned into a roulette table populated by snake oil salesmen.
Will California jobs and incomes support home prices?
It should be obvious that incomes and employment should be the number one driving force for home price growth.  Has California experienced more robust growth than the nation to justify higher home prices?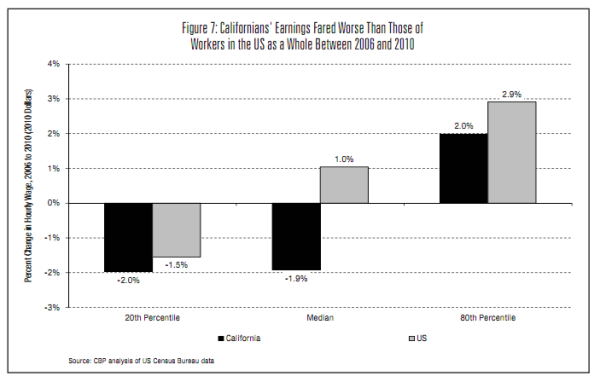 Source:  CBP
For the last half decade, the median Californians' earnings has fared worse than the nation overall!  And the nation isn't exactly doing well if you haven't noticed.  While the median earnings for the nation went up a paltry one percent in the last five years it has fallen by 1.9 percent here in California.  Yet some people keep arguing that home prices need to remain high because of wage growth contrary to the actual data.  I am convinced that you have a pocket of delusional people weaned on the housing bubble psychology that somehow can't acknowledge the fact that yes, the world is round and yes, home prices in many communities are still in raging bubbles.  All the above data and information goes against the religion they have for housing even though the evidence is almost irrefutable.  Yet these pockets are becoming smaller and smaller as a new reality takes hold.  The above chart shows that income growth isn't exactly a reason to justify higher home prices.
Let us set aside income growth for a second.  How are things going for people with any kind of job in the state?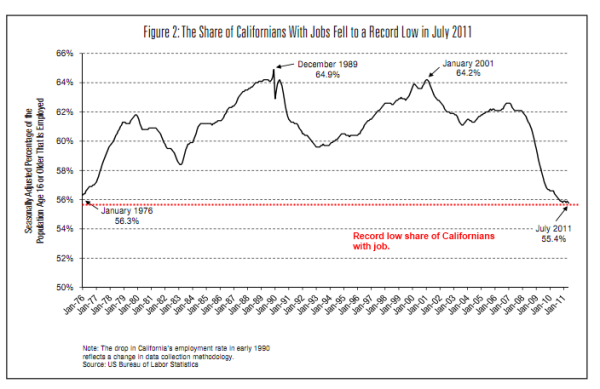 Source:  CBP
We are now at a record keeping low in terms of the share of Californians with a job.  Yet some still want to argue that home prices at current levels are justified!  California never left the recession.  In fact, the data shows we are still moving towards a trough.  So how can people argue that home prices are somehow fine or priced right when California is breaking all sorts of negative records?  The only reason we have yet to see a full correction is banking gimmicks and the procedure of leaking properties via the shadow inventory.  All this has done is to help the banks since the economic market is demanding lower prices to reflect lower incomes.  The public is taxed through high home prices by these artificial gimmicks and trillions of dollars to the largely crony banking system.  Ironically it is usually the "free market" believers that stand behind this slow-drip philosophy.  Their use of situational ethics is fascinating.  Bottom line is this can only go on for so long.  The drag on the economy right now is with the banks and real estate.  If we want to move forward we need to find a bottom as quickly as possible to get our attention back at the hard task of growing the real economy.  Sucking money from home buyers through high monthly nuts that go to banks isn't exactly a good use of funding.
The odd metrics of the current California housing market
July is usually a hot selling month for California homes.  The market is usually filled with people looking to move up to better areas in the California real estate upgrade musical chair game.  Yet even with lower priced inventory and record low rates home sales have fallen off a cliff: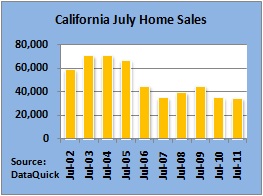 Take a look at this!  For 2002, 2003, 2004, and 2005 California home sales in July routinely hit 60,000 and higher.  For 2010 and 2011 it was a struggle to get even close to 40,000.  Last July we fell shy of the 35,000 mark.  In fact, home sales for July of 2011 look more like that of July 2007 when the market completely imploded.  Shortly after the implosion, home prices followed.  Why are we to expect any surge in home prices following this dismal summer?  People ask why is this even occurring and the answer is simple.  Look at the above charts showing the economic issues plaguing the state.  Money is scarce and access to comic book like levels of debt are no longer available.  With continuing issues in the economy this will continue to be the case.
The all cash buyer is now a large player: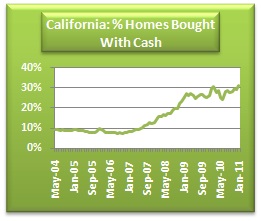 Never have we seen so many people in California purchase homes with all cash.  This is simply another symptom of a bad housing market.  You have people bottom fishing and many of these are under the impression that buying today is like buying in say the late 1990s.  Many believe a new bull market is around the corner.  Many of these buyers have gone to areas in the Inland Empire for low priced housing as a longer-term investment.  A large number of these people are naïve in the sense that managing a property takes work, time, and a solid understanding of real estate beyond the late night infomercial.  They do back of the napkin calculations like, "if I pay $200,000 for this place and get $1,500 a month then I will be doing great!"  What about vacancies?  What if an AC unit crashes?  Many of these lower priced areas have unemployment rates of 14 percent and higher with transient workforces.  These areas depend on cheap fuel.  Are we going to see cheap fuel forever?  I think we are seeing a mini bubble here with investors rushing in without knowing the full picture of what they are doing.  At least in this case, there shouldn't be any bailouts.
Almost 30 percent of all purchases in 2011 have come from all cash buyers.  Compare this to 10 percent back in 2004.  This rate should be at 10 percent or lower in a healthy market.  We do not have a healthy market at the moment.  Until these rates normalize proceed with caution.
Million dollar homes sales have also fallen from their peak: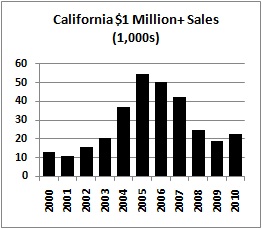 Source:  Data Quick
Contrary to myth and fantasy high-end areas are facing corrections in Beverly Hills, Manhattan Beach, and Bel-Air.  Why?  Because leverage bites on the way down at a proportion of your purchase.  If you buy a $100,000 home and it drops 20 percent you are technically out $20,000.  Say you buy a $4 million home and face a 20 percent drop you are now under by $800,000.  This is exactly what is happening.  The peak year for million dollar home sales in California was 2005 at over 50,000.  Today we are slightly above 20,000.  So much for hot money chasing big homes at the same level of the bubble heyday.
The bottom line is that home prices overall will continue to move lower in the state.  California has one of the largest amounts of shadow inventory in prime locations in the country.  The banks have tried this system for four years now and it has done nothing more than continue to pay out checks to those in the banking industry.  The bailouts were complete failures as we are seeing with income data and a sad economy.  Sad outside of those who work for finance of course since they have unlimited backups from the taxpayers.  The banking system is heavily bogged down by real estate but they want to unload properties close to peak levels to other suckers.  Yet it is becoming more apparent that those prices will never materialize.  That is why we now see more short sales and REOs hit the market as some banks get religion.  Yet the amount hitting the market is still a drop in the bucket and at this rate, home prices will trickle lower for years ahead while sucking the life out of the economy like being bit by a financial zombie.  Think about it, we are trusting the same banking system that turned housing into one large gambling parlor to handle the recovery.  What makes you think they won't rip off the public on the way down as well?

Did You Enjoy The Post? Subscribe to Dr. Housing Bubble's Blog to get updated housing commentary, analysis, and information.