It may come as a surprise to you but California is in a deep budget mess. The once rising tide of real estate has shipped off into the sunset with a one-way ticket. Last week, Governor Schwarzenegger was dealt a swift blow to his ill advised universal health care proposal. A budget analysis of the program turns out to put us deeper in the red; not exactly the place you want to be when you are unwilling to raise taxes and create programs from deficit spending. Does anyone ever wonder how we as a nation finance a war, universal health care, or a stimulus package when we are mired in debt? Here is the bottom line. We either raise taxes for these programs or cut spending (i.e., the war) to pay for future initiatives.
The governor has received decent reviews since he ousted Mr. Davis in 2003 in a total recall election. However, any of you who live in California realize that much of our prosperity has been tied directly at the hip to real estate and finance, two industries that are contracting faster than a Lamaze class. When I got out of the industry a few years ago, I realized that this trading homes like commodities game had to end soon. Little did I know how ridiculous things would have gotten. Some told me, "see how wrong you are! You got out when the going was still good! You left much money on the table." True. But much of these people are now severely in the red since the bottom of the market has fallen out for California. Timing tops and bottoms isn't an exact science. Yet anyone that has studied even at a cursory level history realizes that we were in a bubble fueled by psychology and consumer behavior.
The current governor benefited much from the epicenter of the housing boom. Folks spent like maniacs remodeling their homes thus increasing sales taxes and government cheese factories. Folks were buying and selling homes like baseball cards. People signed for $500,000 mortgages without flinching. Brokers made money and sent their cut to Uncle Terminator. Agents got a piece and off goes a piece to the Golden State. Banks, builders, construction, and all things real estate sent California's state economy into the stratosphere. But alas the game has now ended. Take a look at the projected budget: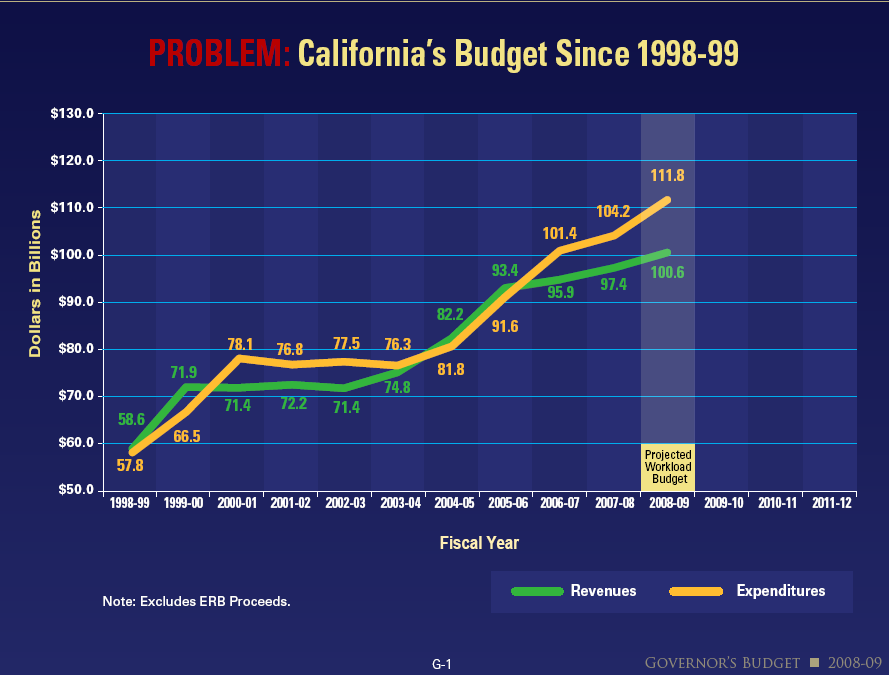 *Click for closer look at absurd spending
In the last few months the budget was revised so many times you would think you were watching the score to a live basketball game. We currently stand at a $14 billion deficit but in reality this figure can wane just as easily given the falling out of the market. How did we arrive at this point? Well look at the chart! As a state, we literally spend each and every penny we get even in good times because for some reason, we operate in this anti-saving world of zero sum budgets where you are encouraged to spend. If you don't spend, chances are your budget next year will be reduced so it gives governmental units the incentive to spend all that they got. This is fine in good years but as we all know, once the government has something it is very reluctant to let it go. The governor has proposed across the board cuts of 10 percent to many programs. Here is the Pollyanna view of how the budget would look if his plan had already been implemented: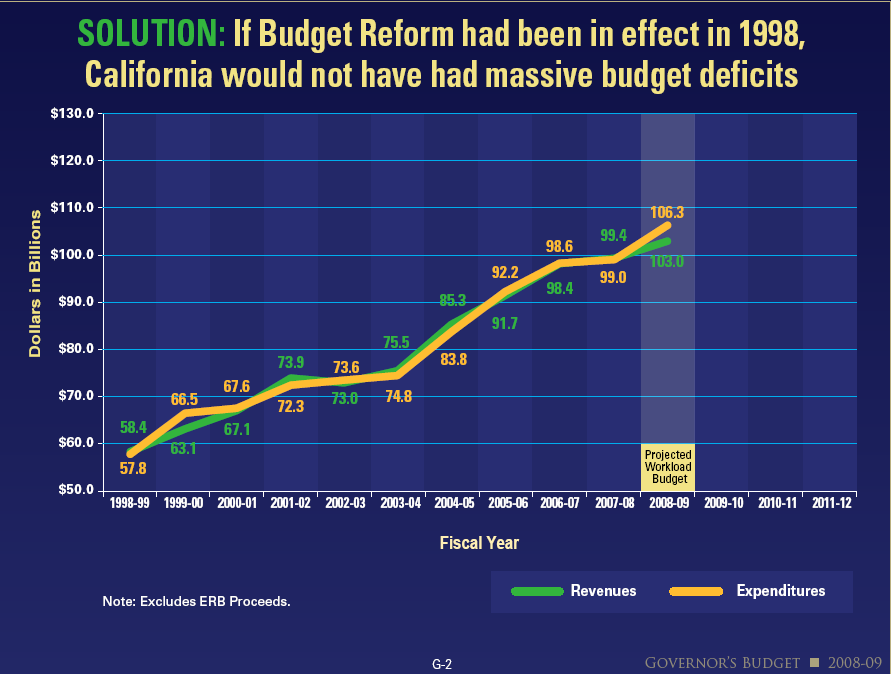 *Click for closer look at absurd armchair quarterbacking
Too bad expenditures keep on tracking revenues and never do we give surpluses a chance and 2006-2007 went off the rails into major deficits. What would you expect given Bush who just came to the table with a ridiculous $3 trillion budget? Not only has fiscal responsibility left the lexicon of government, we no longer have any restraint on spending. In fact, we have these "free-market" thinkers talking about protecting tax cuts for the top 5 percent while the remaining 95 percent of the population tries to figure out what in the world is going on. The Republican party no longer holds the fiscal responsibility mantra. So giving tax breaks to hedge funds is productive? And they seem content in keeping us overseas for decades without explaining how they will pay for it. This election is pivotal in the long-term prosperity of the country. Any of the top Republican candidates seems to be echoing a continuation of the war and we simply cannot afford it. I'll leave the philosophical and political debate out of this but economically we cannot pay for it any longer. How is tax breaks to financial engineering machines good for society especially when they come asking for corporate welfare when things get tough? That is not a free-market. But given that Bush's right hand man Hank Paulson was formerly from Goldman Sachs, need we say more?

There was quite for a few months on the economy – somehow all eyes where on holiday sales as the last bastion of hope. That is until the past few months. The credit crunch was more than a mere reaction to the housing market. It was a reaction to a consumption mentality that was miring our country and many other's into crushing debt. The reality is finally setting in that you cannot spend more than you earn. Looking at the above budget, you realize that as a state we simply cannot control ourselves. Now hard decisions will need to be made. With such a crushing amount of debt, there may be no other option but to raise taxes since cutting means eliminating jobs and currently unemployment in California is soaring. Just take a look Los Angeles County numbers:
In the last year we have jumped a whopping 1 percent and are facing a fiercer trend going forward. The way unemployment numbers are calculated, we are vastly understating the problem due to part-time workers, those underemployed, and many who simply have stopped looking for work. Many economist put too much faith on cooked numbers and don't realize shadow numbers are much worse. Like those folks who didn't take a visual tour of Real Homes of Genius in working class cities. All they needed to do was take a quick glance and would have realized that we had a major problem on our hands. But that would have burst the bubble and it was better to turn the other way and get a check in the mail at the sake of long-term stability. What of the massive decline in immigrant construction day laborers who didn't register anywhere? We can track this number by seeing the major decline in remittances. There are ways to see that the economy isn't all roses. We really have to confront the mentality that money does not grow in the California plains. That somehow, we can bulldoze strip malls and convert them into an unlimited supply of apt/condo conversions. Yet in the vein of really smart ideas, we now approach genius ideas for balancing the budget that would make MENSA members shed a tear.
Balance on Inmates and Gambling
I wish I were kidding about these proposed plans but these have been circling about. You never know the leadership or character of someone until things get tough. California only until last year, took a major hit in real estate and as it turns out we have been a one trick pony living off our ever-increasing real estate prices. Let us take a look at one proposal to help the budget:
"Here is a sample of the reaction to state budget proposals announced Thursday by Gov. Arnold Schwarzenegger, which included across-the-board cuts, early release of more than 22,000 prisoners, some fee increases and state park closures:…"
"The governor's budget recognizes that the only way to cut prison spending is to reduce the number of people in prison. The next step is to make permanent changes and to reduce the number of prisons in the state, not build 53,000 more cells as envisioned in (legislation Schwarzenegger signed last year). — Debbie Reyes, California Prison Moratorium Project."
The only way to breath is to inhale. The ocean is wet. In the world of the obvious, we are told that in order to save on prison spending we need to cut down on the inmate population. The better question should be, why in the world do we have such a large inmate population?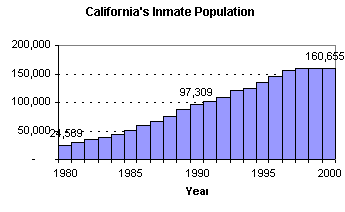 Projections go on to tell us that we can expect 193,000 inmates by 2011. To show you that politics is a fluid game, the releasing of inmates is in sharp contrast to the governor's 2006 proposal:
"In January, Schwarzenegger proposed building 83,000 more cells – some in county jails, some in state lockups – with bond sales totaling $13.1 billion. But that idea, part of his sweeping public works plan, stalled in the Legislature, and corrections officials are scrambling to create bed space."
So that 193,000 projection may never happen given that we may be letting out folks early. Another prudent idea to balance the budget. Maybe we can convert some of those strip malls into prisons? We're chasing criminals in Afghanistan and Iraq trying to capture them and here in California we are letting them out. Try figuring that one out.
Next, we have the governor campaigning for the Indian Gambling propositions 94 through 97. What do these propositions do? Well they allow for more slot machines:
Proposition 94: "Ratifies amendment to existing gaming compact between the state and Pechanga Band of Luiseño Mission Indians; amendment would permit tribe to operate 5,500 additional slot machines."
Proposition 95: "Ratifies amendment to existing gaming compact between the state and Morongo Band of Mission Indians; amendment would permit tribe to operate 5,500 additional slot machines."
Proposition 96: "Ratifies amendment to existing gaming compact between the state and Sycuan Band of the Kumeyaay Nation; amendment would permit tribe to operate 3,000 additional slot machines."
Proposition 97: "Ratifies amendment to existing gaming compact between the state and Agua Caliente Band of Cahuilla Indians; amendment would permit tribe to operate 3,000 additional slot machines."
So let me get this straight, since many people are cash strapped and mismanaging their own personal balance sheet, we want to add more slot machines in our neck of the woods to take money from people? Brilliant! Nothing says financial responsibility like slot machines. I hope we get the lucky gold miner machines because those really payout nicely and also make really cool sounds. Yes, the state gets more revenues but as we have just shown, they will simply spend it all once again. More stimulus and short-term fixes. At least one thing is being admitted at this point without any pretense; we are living in the biggest casino of them all called California.
Did You Enjoy The Post? Subscribe to Dr. Housing Bubble's Blog to get updated housing commentary, analysis, and information