Many of those calling for a housing bottom seem to ignore the state budget problems that are already showing up in California's finances.  State revenues are collapsing.  This is important to focus on because it will leave the state with a few options in remedying the deficit.  It can either raise taxes or cut spending further.  Both are bad for the overall housing market.  And housing prices have not boomed like some have claimed.  475,000 notice of defaults will be sent out in 2009, a record breaking number.  California is battling gaps in revenue even though it has some of the highest taxes in the country.
Let us first take a look at the California balance sheet: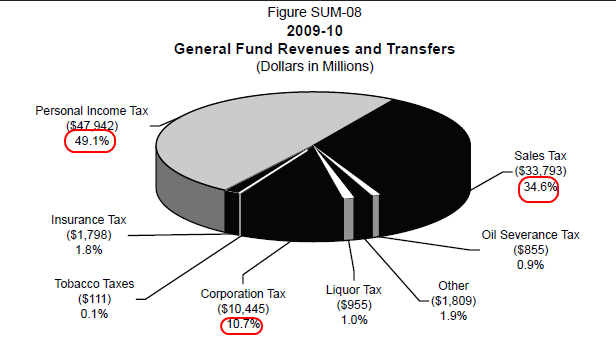 Nearly 50 percent of the revenue for the state comes from personal income tax.  Another 34 percent comes from sales taxes.  Over 84 percent of all revenue comes from sources that are affected heavily by economic downturns.  Those in Sacramento have decided to simply ignore the problem until we reach another situation where we are printing IOUs.  Yet even with the current cuts in spending we are still over historical trends: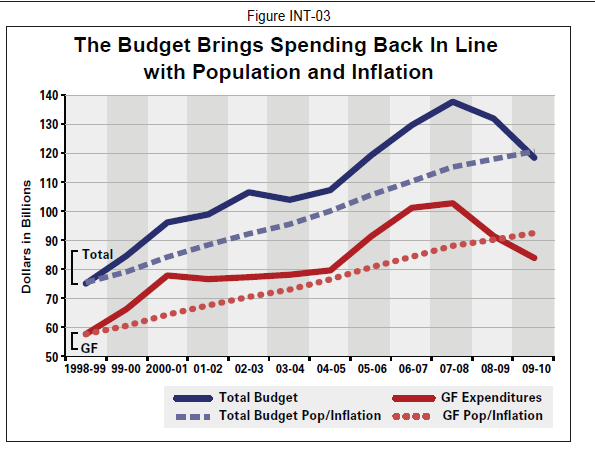 The above chart shows how the total budget exploded during the boom times.  With the bubble, there were billions in profits that should have never been there.  You had high school graduates pushing Alt-A and option ARMs receiving commissions of $10,000 to $20,000 for falsifying documents on a loan that ultimately will implode.  The state enjoyed collecting those high tax revenues and turned a blind eye to the practice.  Plus, many of these people blew all their money and the state then collected more money on sales taxes.  Each home that sold had a new higher appraisal.  How many industries do you think really had no chance of viability without the housing bubble?  We are now finding out.
California has boosted its sales tax in the past year to bridge the gap.  Has this helped?  Of course not.  California already has one of the highest state sales taxes in the country: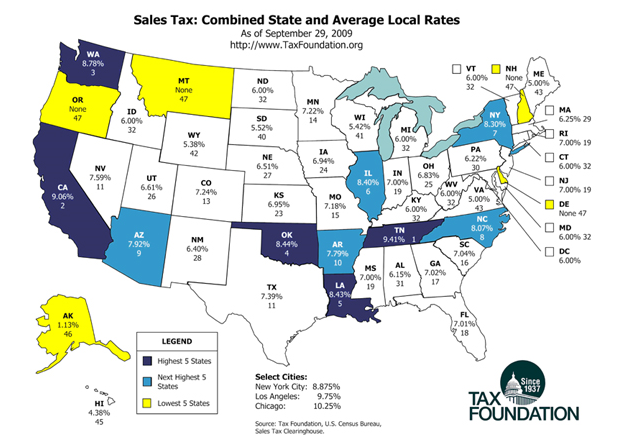 We have one of the highest sales taxes and also, one of the highest personal income tax burdens.  Los Angeles has a sales tax of 9.75 percent.  This is stunning.  I had to buy some household goods a few weeks ago and couldn't believe the $50 in sales tax being paid out.  That $50 could have been spent at a meal at a restaurant.
People then ask if employment gains didn't plug the $60 billion in budget gaps, then what did?  Taxes and cuts: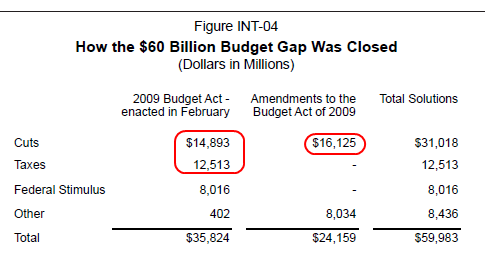 $30 billion of the budget was fixed with cuts, $12 billion in taxes, and $8 billion with Federal Stimulus.  If you think this has fixed the problem, it has not.  The above proposal came out in July and we are already off with the current estimate:

This is the latest report that came out in October and reflects revenue for the state up to September 30th.  So where did the biggest falls come from?  Personal income taxes and sales taxes.  Last year in September, the state collected $5.5 billion in personal income taxes.  This year, that number is $3.9 billion.  Keep in mind that in September of 2008 things were already bad.  The housing bubble had already popped and unemployment was already high.  Yet what you see above is a state that is having a tough time collecting revenues from typical income streams.
The California housing market still has much more pain to face based on the above.  The above data is merely a proxy for the real economy.  California revenues are declining because unemployment is high and people are being more cautious with their money.  Another good indicator is estimated tax payments.  The wealthiest Californians pay a large portion of personal income taxes to the state.  Unlike most people, they do not pay the state via withholdings.  It comes from estimated taxes: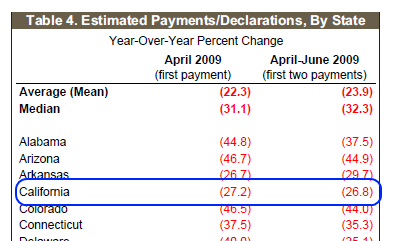 Look at it this way, if your best client is suddenly not buying as much of your goods, would you be worried?  Of course.  Many of these people make money from the stock market and ironically, unlike many average Californians, have enough losses in 2008 to carry over for a few years with creative accounting.  But more importantly in terms of home buying, unemployment and underemployment is at 23 percent: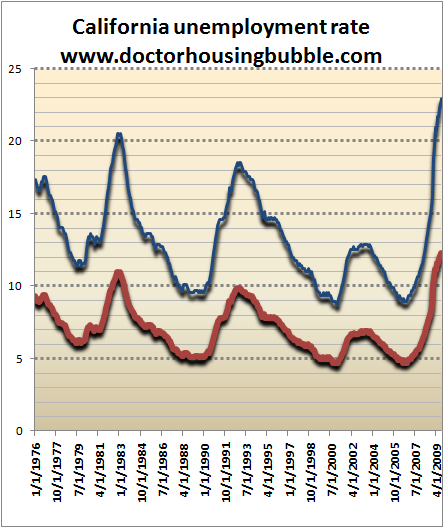 Someone that is unemployed is not paying personal income taxes.  Someone that is unemployed does not have the same disposable income as someone with a job.  There goes your personal income tax and sales tax.  Your two biggest income streams are still near the bottom.  In addition, people have seen their pay cut.  Take for example someone that was used to selling $600,000 homes and receiving a commission on that. Now, they might need to sell three $200,000 homes for the same amount.  Bottom line is a large part of the above revenue stream was temporary and is never coming back.  The U.S. Treasury and Federal Reserve are trying to revive parts of the housing bubble with the $8,000 tax credit (a 4 year old got a credit and millions of dollars are under fraud investigation), Fed buying GSE MBS to buy down mortgage rates, and allowing banks to do whatever they wish with the foreclosure process.  Yet prices are not booming back.  Have sales increased?  Yes.  But the question is how sustainable is this path without the real economy?  Those arguing for a bottom are so one sighted about their analysis that they miss all of the above!  The state is still showing symptoms of a patient in intensive care.  Revenues are falling not because the economy is healthy, but because it is poor.  Yet the current solution to the problem is flood the housing market with money?  Two years and nothing yet.  Who is really being helped here?
And spare us the notion that everyone is making $250,000 a year (by the way, that is what you would need to safely buy the once median price home of $600,000).  In fact, this warrants putting a chart together: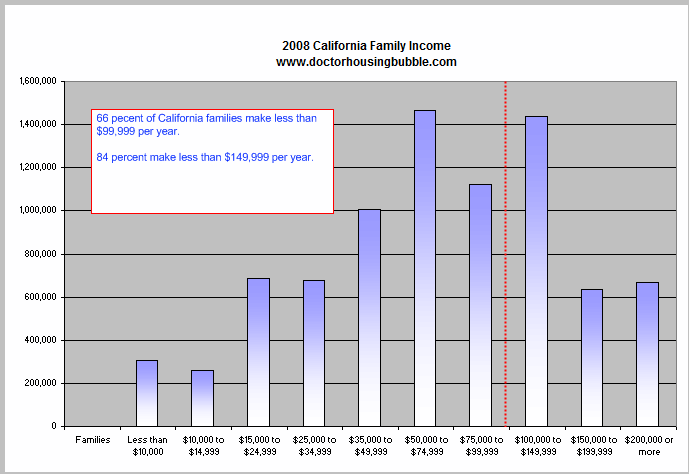 So if this is the income distribution, how in the world did the median home price in the state approach the $600,000 mark?  When you can make things up on mortgages like Alt-A loans and option ARMs, you can leverage yourself to whatever your heart desires.  If income is being made up, then there is no restraint on the bubble. The only restraint is how much the criminal mortgage broker is willing to put on the gross income line.
California's Future?
A recent survey shows that people are planning on spending less this holiday season.  This does not bode well for the sales tax California depends on.  And even though the stock market is up, like we have mentioned, many wealthy individuals have creative accountants that can game the system so the state shouldn't expect a 60 percent bounce in revenues from this group even though the market has gone up this much.  Why?  Because job hiring is still missing on the radar screen.
Some are viewing housing as the proxy to a recovery.  They see sales stabilizing and moving up and prices pulling back from the cliff and all of a sudden project this data onto the overall economy.  Yet they fail to realize the incredible subsidies that are floating in the housing market.  The $8,000 tax credit, historically low interest rates brought on by the Fed, a glut of low priced homes, investors desiring to be the next Rich Dad, and this notion that housing gave us the go-go 2000s so it will also lead us out.  That is the problem.  This obsession with housing.  Why not give tax credits for job creation?  Or what about lowering interest rates on SBA loans so people can start businesses?  Of course, the housing shills only care about and focus on housing with their one track mind.
They fail to see that housing will not lead us out of this recession.  It has to come from other industries.  California has a fleet of delusional realtors and brokers just itching to get back to 2005.  They fail to see that 23 percent of people are unemployed and underemployed or that the state is back in a billion dollar budget deficit.  Rome is burning but they continue to play on their housing fiddle.
We will be dealing with another budget deficit soon.  This is in the cards.  And it is only a matter of time that the federal government raises taxes.  This is inevitable.  You can't run trillion dollar deficits and expect the U.S. dollar to remain strong.  So we know where this is heading.  So much money spent on the banks and housing.  What a waste.  We could have spent the money on targeted job creation and housing would have fixed itself on its own.  Instead, we have handed out approximately $13 trillion to the banks and Wall Street through giveaways and backstops.
You still believe that what is good for Wall Street and Banks is good for the average American?  Well the data above shows us it is certainly not good for California.
Did You Enjoy The Post? Subscribe to Dr. Housing Bubble's Blog to get updated housing commentary, analysis, and information.