On Friday the Governor gave a grim overview of the problems faced by California.  The California budget is facing a $19.1 billion short fall ensuring a long and drawn out summer of politics and financial hocus pocus.  The Governor even made a brief comparison to Greece for all of those who can't connect the dots and figure out that having too much debt is a bad thing.  Too much debt is what built the California housing bubble.  Alt-A and option ARMs still languish out in the market.  Even the boogeyman of toxic loans is being dwarfed by the problems in prime mortgages.  Fannie Mae and Freddie Mac keep issuing quarterly losses and going back to the government well.
People look at the jump in home sales last year for California and attribute this to a recovery: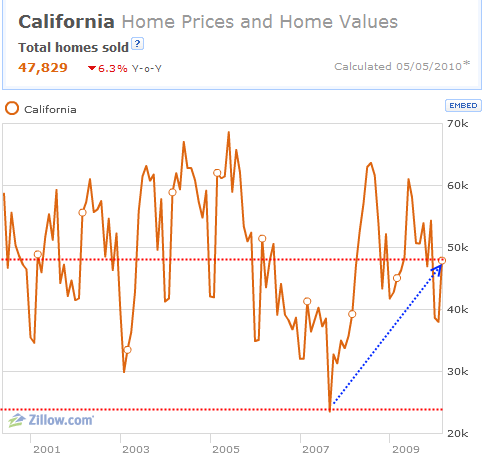 Without a doubt, we are no longer scraping the bottom that we faced back in 2007.  Yet this in no way reflects a healthy market.  For 2007 and 2008 nearly half of all California home sales were foreclosure resales.  Even today, 40 percent of all California homes sold in the last month were foreclosure resales.  This is not the makeup of a healthy market.  The jump in sales came because of a few artificial stimulants:
–HAMP and banks holding off inventory
-$8,000 government tax credit
-Federal Reserve keeping mortgage rates low by buying up $1.25 trillion in mortgage backed securities
-Crash in home prices
And home prices are still at the bottom on aggregate: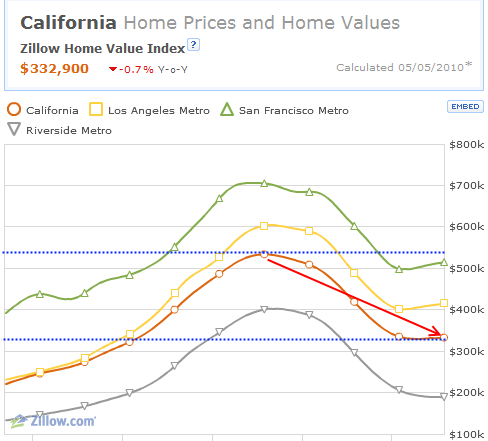 So why hasn't the massive jump in sales caused prices to rise accordingly?  Because lower prices are the direct reason for more sales (plus the large amount of foreclosure resales).  Yet many of the temporary gimmicks have seen their day.  For example, inventory is now making its way onto the MLS at a steady pace: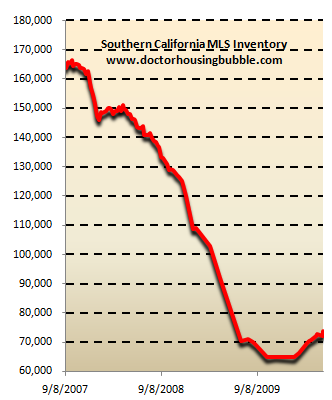 Inventory keeps moving up from the bottom although we know that banks have enormous amounts of mortgages that are problematic.  One third of California mortgages are underwater.  That gives us approximately 1.7 million homes that are underwater in California.  Foreclosure resales are not a healthy part of the market.  Just look at this chart: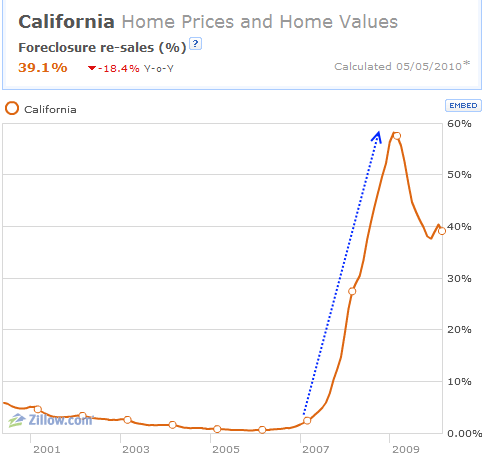 We have no historical comparison for this.  Foreclosures are always part of any housing market but they are usually a tiny number of homes.  Even today after trillions in banking bailouts we are still seeing record amounts of foreclosures.  Nationwide the number is still elevated: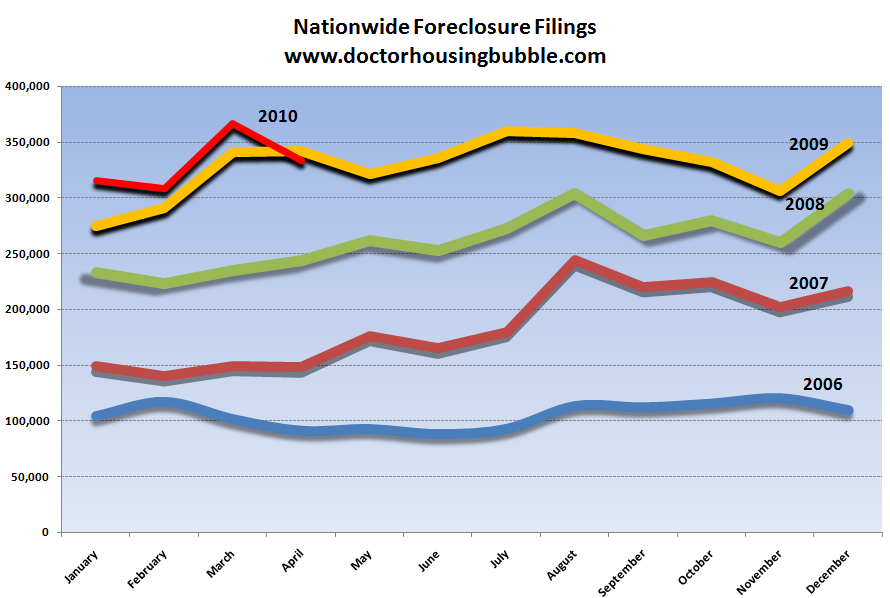 We are heading for 3.5 to 4 million foreclosure filings this year and this is all occurring with every imaginable government program as well.  Why hasn't it worked?  Because the economy is still in the dumps for most Americans.  What use is it having a low interest rate if you lost a job or had your wages cut back?  A principal reduction does little if you have no work.  I've been arguing for a few years that the bailouts were focusing on the wrong issue first.  Instead of focusing on banks and Wall Street, we should have focused on solidifying the employment market for most Americans.  The two are absolutely interlinked.  In California, the last ten years have been all about real estate.
The Governor's budget always optimistic in projections, has double-digit unemployment until the end of 2011: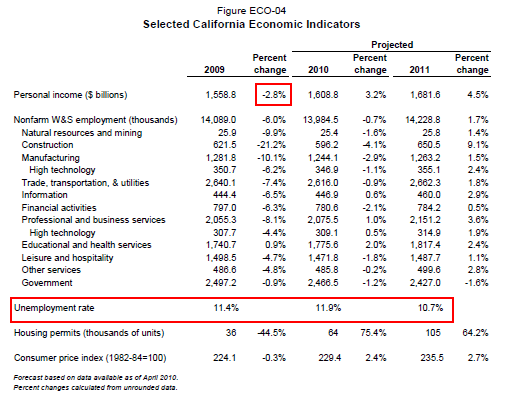 How does this bode well for housing?  People keep wondering why home prices are stagnant or falling in many areas.  This is occurring because home prices can only sustain what local incomes can support.  That was the flaw of the housing bubble in the first place.  The large mortgages allowed one giant game of musical chairs where home prices simply kept going up but in reality, incomes had no way of supporting growing home prices.  Even today in many cities in California you have mini housing bubbles.  People buy with the same expectations they had during the decade long bubble.  That has worked in the last year but with every government support measure in place.  As I talk with people today I would summarize the situation as cautious.  The vast majority of Americans don't follow the housing market that closely.  Even those in the housing industry trying to pump up prices have hard times justifying prices.  "Prices will go up because real estate always goes up."  I'm not sure if they're trying to convince me or each other.
Deep budget cuts ripple through an economy.  The pain will come months after the cuts take place.  You start seeing a class division in California take place.  The housing markets that have taken the worst hits have been in lower to middle class areas.  These areas have seen local governments decimated.  So wealthier areas get smaller and more selective since there are fewer places to hide.  But to think that people can go into a tiny niche and forget the rest of the state is the same logic of what occurs in places like Brazil where the wealthy focus on their own well being while the rest of society is left to fight for scraps.  Yet is this what we want?  America is built on a foundation of a solid middle class and that has been eroding for years.  Growth came after World War II from the ability for average families to purchase a home that was affordable with a 30 year fixed mortgage and our ability to produce goods for the world and ourselves.
In the last decade, California has witnessed what happens when you give Wall Street free access to impose its will on the market.  Wall Street devised the most obnoxious toxic mortgage waste and had an army of mortgage brokers and agents doing their dirty work for years.  These people convinced themselves that they were doing "the right thing" because after all, it was the borrower who signed the mortgage.  I'm sure the giant commissions helped.  Would they be doing this "right thing" if they got $8 an hour for helping homeowners purchase a home?  Of course not.  Yet many of these people now realize how expendable they are to Wall Street.  Investment banks are back to betting on the next hot thing with bailout money and churning out giant profits creating bubbles in other sectors.
"It is difficult to get a man to understand something, when his salary depends upon his not understanding it!"
I find it appropriate to quote Upton Sinclair who had a run with California politics before and during the Great Depression.  We have to create an economy that depends on building and producing things.  Right now what we have is an economy that allows Wall Street to siphon off true value and funnels it to a very few at the top (even if it requires bailouts).  Then you have a crony government sector that basically does Wall Street's bidding when it comes to writing laws.  Is it any wonder that many Americans in recent polls are now favoring a system that goes beyond two parties?
I doubt we'll see any stability in California housing for years.  In some markets, purchasing a home is putting a bet on the housing bubble returning.  Other markets have prices getting closer to more reasonable fundamentals.  But until we start seeing solid employment growth for one year, then all of the supposed gains are merely an illusion.
Did You Enjoy The Post? Subscribe to Dr. Housing Bubble's Blog to get updated housing commentary, analysis, and information.