As many of you are well aware of, the California budget is facing a drastic short fall. This isn't anything new since we as a state always seem to have very little problem spending any money that comes into the revenue base. The problem that occurs is one that involves lack of planning. During the good times, we do not save any excess and as all economic cycles end, we enter the famine stage after feasting and gorging at the buffet of revenues. The past decade has hidden a lot of wasteful spending spurred by fiction based income. What we will be facing as a state is an enormous reduction in personal tax revenues because even the 2007 tax year will not completely reflect the entire picture. The credit crunch hit us in August and many counties in California did not hit peak prices until August and even September. What this means is that we will once again not see the entire collapse that occurred in the forth quarter since the first 8 months of the year were still seeing credit bubble spending. First, it will help to take a look at revenues: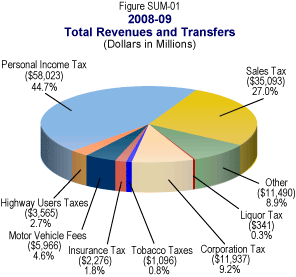 Total Revenues and Transfers – 2008-09
*Dollars in Millions
Personal Income Tax

$58,023

Sales Tax

$35,093

Corporation Tax

$11,937

Other

$11,490

Motor Vehicle Fees

$5,966

Highway Users Taxes

$3,565

Insurance Tax

$2,276

Tobacco Taxes

$1,096

Liquor Tax

$341

Total

$129,787
You can already see the problem with the above projections. First, the two largest components which are personal income and sales tax, both vary greatly depending on the economic climate. We already know that unemployment particularly in California is jumping and real estate is declining at an unbelievable pace. We saw a 16 percent drop, a $92,000 nominal drop for Los Angeles County, from the $550,000 peak we reached in August of 2007. This drop is unprecedented both in speed and amount. Orange County is now off by $120,000 from its peak reached in 2007. With rising unemployment, it will be hard for people to pay income tax. And given that many of the high paying jobs in real estate and finance are now coming to a screeching halt, that means that these areas will be contracting for the foreseeable future. Also, we know that the wealth effect will take a major chunk out of the sales tax revenues because people that feel poorer because of real reasons (loss of job) or perceived reasons (less value in home) will both compound to drive revenues even lower.
Last week in Sacramento, politicians once again proposed to borrow and push the problems further into the future. It is a short term fix before the late spring budget comes out but doesn't come close to addressing the true problems we will face. So where is all the above revenue going?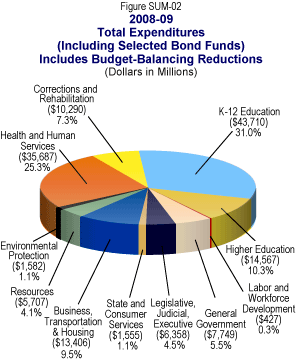 Total Expenditures (Including Selected Bond Funds)
*Dollars in Millions
K-12 Education

$43,710

Health and Human Services

$35,687

Higher Education

$14,567

Business Transportation & Housing

$13,406

Corrections and Rehabilitation

$10,290

General Government

$7,749

Legislative, Judicial, Executive

$6,358

Resources

$5,707

Environmental Protection

$1,582

State and Consumer Services

$1,555

Labor and Workforce Development

$427

Total

$141,038
With the above, we have an $11.25 billion budget short fall. But really look at some of those expenditures. If we think much of our problems are being caused by rising unemployment, our labor and workforce development funding allocation is pathetic. Even with higher education, you know the place we need to train our future engineers and maintain our competitiveness in the globe, that amount pales to the first top two expenditures. Some areas such as general government, legislative, judicial, and executive spend about $14.1 billion. Isn't that the size of our current short fall? Either way, you would think that a state pulling in $129 billion a year would have enough to stay afloat but apparently this isn't the case.
If we look back at our revenue sources, the first three top money generating areas are extremely sensitive to market changes. So the upcoming recession is going to carve into these areas significantly and we can all assume that these projections are Pollyanna given that the bursting California real estate bubble only arrived in 2007. All we need to do is look at Florida and double the impact: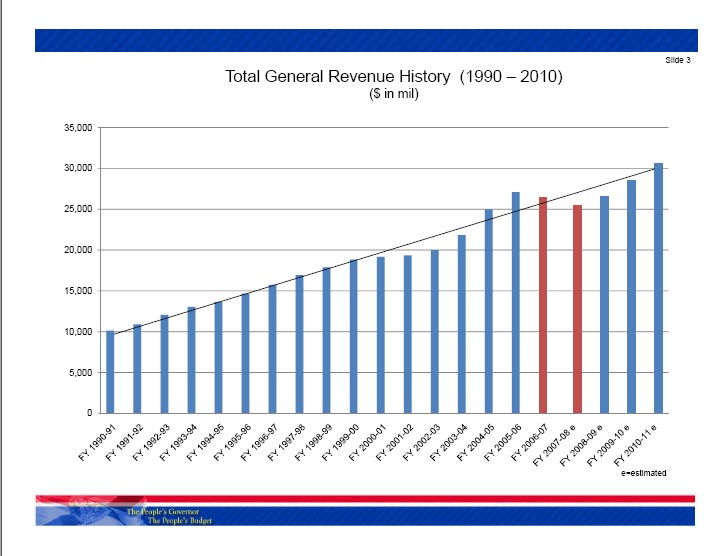 I love these charts that never show negative growth for more than one year. What is the reason for the all of sudden jump to the green in 2008-09? If we are to look at previous recessions, once the recession is official, say the first quarter of 2008, the effects of even a mild contraction will last 2 to 4 years; 2 years from the last recession in 2001 to 4 years to the one in the early 80s. This recession has the makings of something even larger than the 1980s recession so why are we to expect that we will be out of the woods this year? Again, these projections keep looking at massaged data that won't materialize and after tax season, local municipalities will quickly realize that they are short on funds.  With so many Real Homes of Genius in the state, I'm sure there won't be many more foreclosures.
Did You Enjoy The Post? Subscribe to Dr. Housing Bubble's Blog to get updated housing commentary, analysis, and information