The California housing market faces additional headwinds in the next few years.  Lower prices have lured many investors and first time buyers into markets like the Inland Empire where prices in the $150,000 to $200,000 range seem to be drawing strong interest for valid reasons.  Yet sales volume across the state is still anemic and mortgage rates have never been lower.  FHA loans are now a giant player in the market requiring very little money down.  These factors are only one side of the equation.  If we look at figures for household income, job growth, demographics, and more distressed inventory making it to market there is considerable pressure on home prices for the next year at least when it comes to mid-tier markets in California.  2011 showed a strong price drop in mid-tier markets in California while the lower range held steady.  There are a few big factors at play in the housing market, one local and one federal that are simply unsustainable.
The manic budget of California
California has a tax structure that favors boom times but contracts heavily when recessions hit.  California heavily relies on income, sales, and corporate taxes and these are heavily volatile during periods of economic distress.  For those of you following the saga, California still faces massive deficits:
"(State Controller) The State ended last fiscal year with a cash deficit of $8.2 billion. The combined current-year cash deficit stands at $21.6 billion.  Those deficits are being covered with $15.2 billion of internal borrowing (temporary loans from special funds) and $6.4 billion of external borrowing."
Last month revenues came in $146.3 million below projections.  If things are booming wouldn't you think tax receipts would be higher?  Apparently something in the math isn't computing here.  California has one of the lowest property tax rates in the entire nation.  Since housing is politicized by the Federal Reserve and the financial industry, states with budget short falls are looking at other options.  The Fed has done everything it can to control interest rates: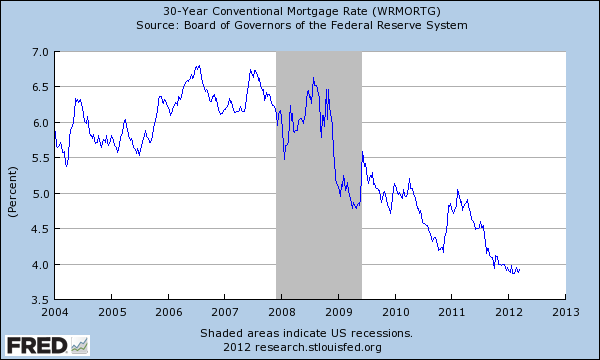 So far it has succeeded at pushing rates to artificially low levels but this has come at a heavy risk for future generations (i.e., potential future home buyers).  4 percent is comical and unsupportable given the debt climate we are living in.  If you think the private market is buying this up just look at where mortgage originations are coming from: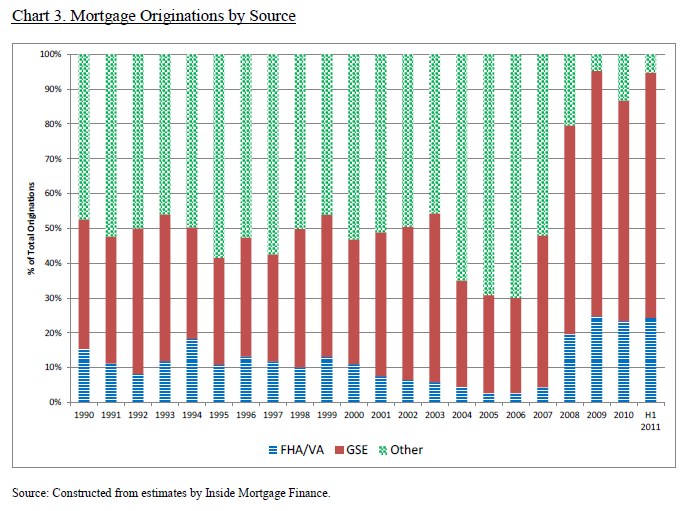 More recent data shows that the mortgage market is virtually 100 percent driven by the government.  FHA insured loans that now make up over one-third of all loans are now facing record default rates.  In other words, this is another unsupportable path.  Debt piled on top of debt.  Would you lend out $500,000 to someone at 4 or 4.5 percent for 30 years and only require a 3.5 percent down payment?  Of course not and banks are not either and that is why we have a chart that looks like the one above.  Just run the numbers on a $500,000 loan going from 4 percent to a historically low 6 percent.
At 4% the principal and interest is:           $2,387

At 6% the principal and interest is:           $2,997 (25% increase)
The low interest rate becomes more of a leverage tool on more expensive markets.  But how long can this last?  The chart above with a very short timeframe shows that this is anomaly.
Back to the budget property taxes are back on the radar.  California obviously has a problem with the budget process: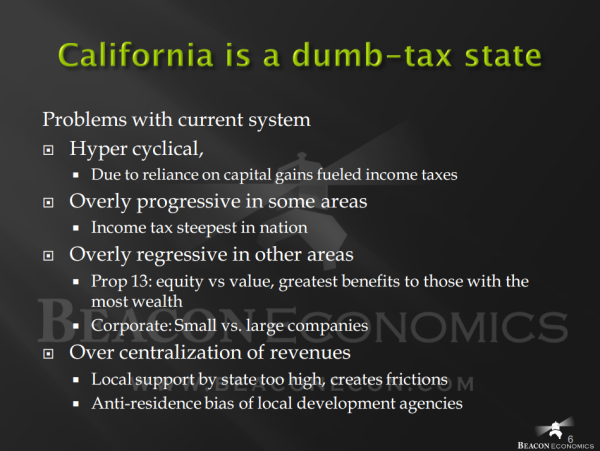 Source:  Beacon Economics
The above assessment on California taxes by Christopher Thornberg is correct.  California has a very high personal income tax but is regressive when it comes to property taxes.  This is simply a reality.  Yet more and more we are hearing the subject of property taxes come up.  The California budget process will be back on the radar again this year and people can count on that.
One thing is certain and that is the public in general is frustrated with the political process.  When politics boils down to frustration people will vote more with their own interests in mind, more so than other years.  Now playing to the home owner crowd is good politics nationwide but not necessarily in California:

California at 56.1 percent has one of the lowest home ownership rates in the country.  Keep in mind of those 56.1 that "own their home" roughly 30 percent are underwater. Now federal policy can push for subsidies to home ownership but some states clearly differ in property taxes.  Just as a frame of reference, here is some data on property taxes on various states: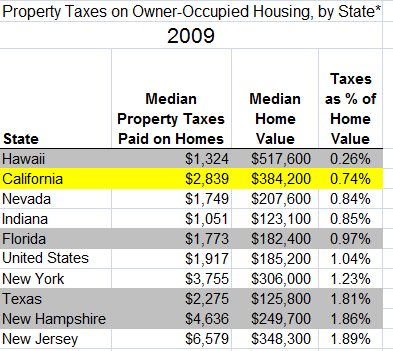 California has one of the lowest property tax rates in the entire nation because of Prop 13.  I pulled a few markets for comparison here.  The above data is from 2009 and the current median price for the state is $239,000.  It is unlikely that anything will change this year, but the fact that property taxes are subject to debate in California is showing that a cash starved state is touching a third rail of politics.
What does a normal market look like?
You have to realize that a foreclosure is typically a rare event outside of once in a generation housing bubbles.  The fact that we have millions of homes in the foreclosure pipeline tells you that many are unable to meet their financial obligations.  Most data suggests that the bulk of these people are unable to support their mortgage because of lack of resources (i.e., insufficient income).  If we want to look at foreclosures over time we get a better picture:

The normal rate of foreclosures at any given time is below one percent.  Keep in mind the above does not highlight homes likely to enter the pipeline but actual foreclosures.  In California even last month over half of all sales transactions came from the distressed pipeline.
Lower prices, artificially low rates, favorable property tax rates, and distressed inventory leaking out still cannot make home sales surge: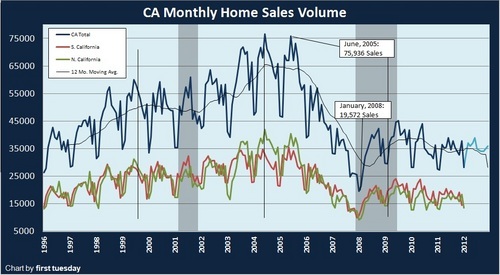 So what will a normal market look like?  A normal market will be one where half of the sales are not part of the distressed pipeline (a mulit-year trend).  A normal market will have a background foreclosure rate less than one percent.  A normal market will not have the government originating 100 percent of mortgages.  The fact that home prices in mid-tier markets are still moving lower shows us that volatility in this segment of the market is still a trend for 2012.  Many that bought in the last few years think that home prices will surge miraculously without income growth.  To the contrary, there are more potential risks:
-Sub-4 percent mortgage rates (how long will these last?)

-Low property taxes

–FHA insured loans (costs will be going up because of default rates)
In other words leverage is extremely high right now.  Given the massive budget short falls, enormous government debt, and stagnant wages why would home values appreciate anytime soon in inflated California regions?  The answer to that was seen in 2011 when mid-tier markets fell by over 5 percent.  With banks putting out more short-sales and foreclosures expect a similar trend in 2012.

Did You Enjoy The Post? Subscribe to Dr. Housing Bubble's Blog to get updated housing commentary, analysis, and information.