The second wave of foreclosures is now selectively hitting higher priced regions in California.  Some areas remain more resistant to price adjustments but given underlying fundamentals, it is merely a matter of time before they face price adjustments as well.  The California economy has shown no sign of recovery so to speak of a real estate rebound is premature at best.  The real problem with the current market is the amount of artificial and shadow inventory competition with MLS properties.  I'm not convinced that the public is fully aware of the enormous amount of shadow inventory.  Even if the best case scenario occurs and we have a trickle of properties for years, this assures either stagnant prices or even lower prices for many cities.  Why?  For the most part, these homes are massively overpriced so when sold, will show a dip in price and this will reflect in the Case-Shiller repeat home sales figure.  The median price is subject to more volatile sales in the short run.  As long as you are aware of these points, you can use both to determine market trends.
Take for example the Calabasas community in Los Angeles County.  The current median price is $1.025 million which is down a stunning 43 percent from one year ago.  This is a prime area and home to toxic mortgage ex-superstar Countrywide Financial.  Prime areas and mid-tier areas are now starting to look like more shaky areas back in 2007 before they hit major pangs of price adjustments.  Today we'll look at Calabasas and La Mirada closely to see what is occurring in prime and mid-tier markets.  Today we salute you Calabasas and La Mirada with our Real Homes of Genius Award.
Buying time in Calabasas
Our first home leads us to Calabasas.  The above home is not on the MLS.  It is currently in the pre-foreclosure stage which as we all know, can drag out like a boring movie the way current banks operate.  Now this is an interesting property to analyze.  This place has one sale point in public history data:
Sales history:
June 2006:           $2,172,521
When we look at the sales history, it looks like prudent lender Wells Fargo went near 100 percent financing on this place: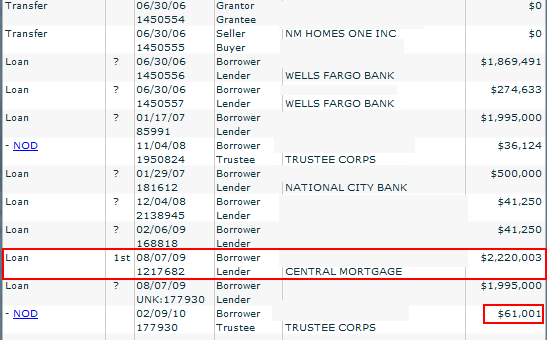 When you get to see data like this you can really understand the insanity of California housing.  These kind of active loans show us why banks are still delusional just like sellers back in the days of Alt-A and option ARM financing.  Look at the history carefully.  A notice of default was filed back in November of 2008 meaning at least 3 payments had been missed at that point.  Go back three months and what do we find?
Listed for sale:
August 2008:                      $3,275,000
So while these homeowners were in the process of getting a NOD, someone actually listed this place for a 50 percent increase from the purchase two years ago!  This is the kind of mentality in California that has led the state to the current fiscal disaster point.  Expecting a profit of a million dollars just for sitting in a place that you missed payments on!  Hard work at its finest.
As you can see from the loan history, Central Mortgage actually places a $2.2 million mortgage on the place in August of 2009 which makes absolutely no sense given the track record here.  Either way, it should come as no shock that in February of this year another NOD for $61,000 was placed on the home.  The carousal has been going on since August of 2008.
Look at the metrics for this area and you can see why there will be many more problems ahead:
Calabasas median home price:                                                   $1.025 million
Calabasas median home price/sq. ft:                                      $387
Calabasas Foreclosures on MLS:                                                                1
Calabasas distress shadow inventory:                                     173
The home is listed as having 4,800 square feet and has 6 bedrooms and 6.5 baths.  Highly unlikely it will fetch anything above $2 million.
La Mirada foreclosure and shadow foreclosure
La Mirada is certainly no Calabasas but it isn't a massively hard hit area like the Inland Empire….yet.  As much as people don't want to believe that major price declines can occur, they are happening.  The current median price for La Mirada is $380,000.  This is a far cry from the $578,300 peak reached in 2007.  But even with that major price adjustment, the problems are only starting to creep forward.
Even at the current median price of $380,000 it is too expensive since the median household income is $77,000 (and this is based on 2007 data which is inflated).  And the argument of a large renter population doesn't really apply for this area: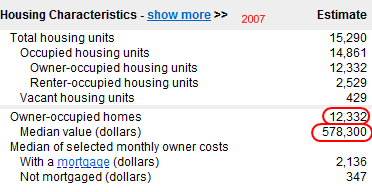 Source:  Census
Since roughly 17 percent of housing units are occupied by renters, we get a good sense of the actual homeownership market here.  We know incomes will fall in this area once we get new data but even with the current price, it is inflated.  Even if we use a high 4 times median income metric prices need to fall by a large amount:
$77,000 x 4 =      $308,000  (a decline of 18 percent from the current price level}
Let us look at our first foreclosure example that is listed on the MLS: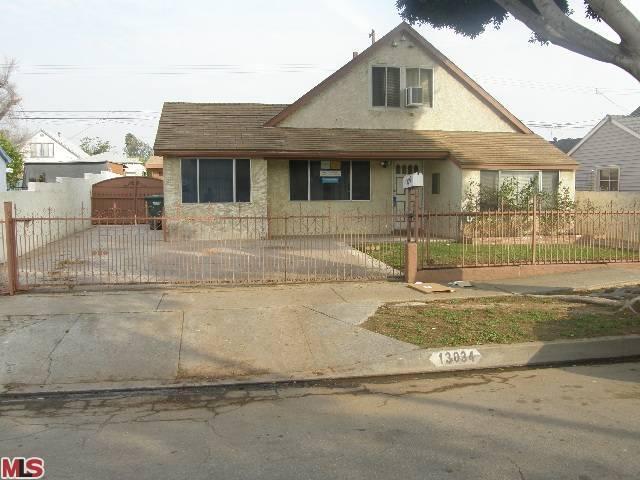 Sales history:
October 1988:                    $132,000
February 1998:                  $146,545
March 2004:                       $350,000
According to the ad, this is a "perfect starter home" and "needs work" so who really knows how the inside looks.  Either way, you can see the sales history above.  But in the data we find the history of a previous bubble in California.  The home sold for $132,000 in October of 1988 and then sold for $146,000 a decade later!  A 10 percent increase over 10 years!  So much for rushing out to buy a home because of being priced out.  Think prices can't move sideways in California?  Here is the proof.  Of course in March during the delusional days this home sold for $350,000.  This is a 4 bedroom and 2 baths home listed at 1,741 square feet.  A place like this back in 2004 – 2006 would have been snatch up in days.  Now it sits for 115 days on the MLS with price reductions galore:
Price Reduced: 03/19/10 — $374,000 to $349,900
Price Reduced: 04/20/10 — $349,900 to $329,000
Price Reduced: 05/26/10 — $329,000 to $299,900
Someone actually listed the place for $374,000!  After that absurd attempt, it was set at a breakeven price of $349,000.  Clearly that didn't work and now we are down to $299,900.  Apparently dropping the price by $74,000 in 3 months is the name of the game now.
Yet this home has competition just a few homes away: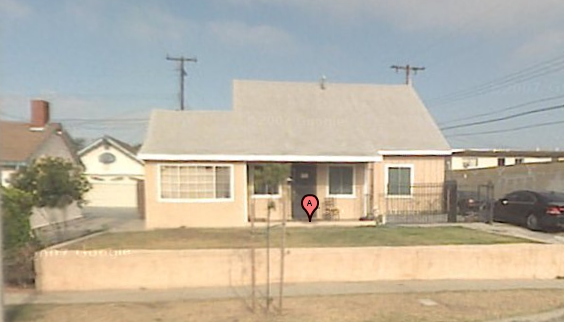 This home is 1 minute away yet doesn't show up on the MLS.  Now the home that isn't on the MLS is a 4 bedroom and 2 baths home listed at 1,110 square feet.  It is scheduled for auction on June 15, 2010 which is coming up next week.  If we look at the data, we see some familiar action:

Home was purchased for $525,000 back in 2006 with 100 percent financing just like the Calabasas home.  $500,000 or $2 million it didn't matter when Alt-A and option ARM products were raging like wildfire.  Of course, this home is now in foreclosure and schedule to hit the auction block soon.  Do you think the bank will recover any of that money when a bigger home just a few homes away is selling for $299,900?
This isn't some past event or rehashing of history.  This is the market as of today.  These are the properties out there for sale.  And you think things are recovering?  Today we salute you Calabasas and La Mirada with our Real Homes of Genius Award.

Did You Enjoy The Post? Subscribe to Dr. Housing Bubble's Blog to get updated housing commentary, analysis, and information.