If you happen to stumble upon the Governor's website, you will see a ticker showing the number of days that the legislature has failed to act.  We are now approaching day 100 and there is another number just below the day showing how much money has been squandered by this boondoggle.  So what is the solution to the massive California budget deficit?  Secret closed door meetings!  This is their idea of "democracy" in action.  See, our dysfunctional state government needs a basic lesson in negotiations and compromise.  First, even I realize that I won't get everything I want in life.  Heck, I think most of you who interact with the world and people understand that.  Yet our state politicians operate in a parallel universe where everyone gets what they want and money never runs out.
"(LA Times) Reporting from Sacramento — Under the gilded dome of the state Capitol, the Cone of Silence has descended. A veil has been drawn. Secrecy has prevailed as the wizards have labored behind the green curtain to find a way out of California's $42-billion budget hole.
Gov. Arnold Schwarzenegger and the top four legislative leaders have again been meeting behind closed doors as California teeters at the brink of fiscal insolvency. Rank-and-file lawmakers, special interest groups and the public have been shut out of the bargaining process. There have been no public hearings, no chance for input — and that has some folks riled."
Now the rubber is meeting the dreaded road.  So the solution has now shifted to backroom negotiations since that is the only way things will move.  One side is adamant about no tax hikes yet doesn't have the guts to publicly bring the axe to tens of thousands in a state with unemployment already nearing double-digits.  They just keep uttering this tired old mantra with no real solutions.  The other side is not helping either.  They want to keep running up massive deficits and fail to realize that our current economy is now in a different world.  They want to maintain the same spending yet fail to realize that the sources of revenue have dried up.  It would appear no one wants to make the hard decisions and that is why our state has now resorted to backroom dealing.  Bottom line, our budget deficit is so bad that we can all expect tax hikes and spending cuts.  We knew this years ago but everyone wanted to believe in the housing bubble fairy and based their future expectations on this obviously flawed model.
If you had asked people back in early 2008 if they envisioned people moon walking away from their mortgages in mass, they would have said that you were out of your mind.  Yet they are.  If you had asked people back in late 2007 if California housing could fall 50 percent in one year, they would have thought you mad.  50 percent is already here.  With all that is going on, we've almost forgotten about the source of this dismay, the housing market.  Let us take a look at some data: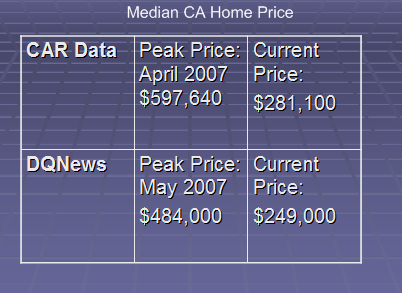 Even with the above data sources, we are looking at 48 to 52 percent drops from the peak back in 2007.  It is interesting that both data sources had wildly different peaks (a difference of $113,640 while the current median price is only off by $32,100.  It would seem that we are converging to a single data point.  The crashing housing market has affected the California economy profoundly because our state arguably had the biggest bubble of them all.  A $600,000 median home price for a state with a median household income of $60,000?  There was no happy ending to this story.
Let us do a quick check on the overall California housing market.  For the latest month of home sales we see that 37,836 homes sold in the state.
Monthly Sales:             37,836
Percent previously foreclosed:            57.5%
December 2008 Data
Notice of Defaults:     42,290
NTS:                            27,598
REO:                           19,561
Total:                          89,449
Bottom line is more and more troubled assets are hitting the market at the most inopportune time.  Keep in mind we are only at the beginning of the massive pay option ARM fiasco that will hit in full force in 2009.  So prices will be coming down further and are still in line with my bottom call of summer of 2011.  This wasn't some random made up number, I picked this date because this is the time we should be washing out the last wave of the option ARMs from the market.
What many pundits fail to factor in is the shift in psychological calculus hitting the state.  I don't go around preaching doom and gloom all day and that is why I use this blog as a spot to discuss these issues.  Yet I can't tell you how many people now come up to me and ask me, "what is going on with the economy?" or "I just don't see how we will get out of this."  This was unheard of even last year.  In fact, I think I am now the optimist.  Look, things will get bad but we will come out of this.  Yet many of these people are still fixated on the notion of those sky-high bubble home prices that we saw in 2007.  Those are not coming back.  The quicker people can accept this fact the faster they will be able to appreciate the new reality.
I was watching a camera in a trading pit when current U.S. Treasury Sectary Timothy Geithner announced the new terms for the failed TARP and other ideas of how the market was going to deal with the situation.  As you know, the market tanked and while red was all over the floor you could hear someone in the background scream out, "bring back Paulson!"  Of course, these people have little appreciation of the 3.6 million people that have lost their jobs and here we are now deciding how we can avoid a Japan scenario or a Great Depression.  A year ago, it was insanity to even utter the Great Depression while now it is brought up everyday.  A few months ago, we heard very little about the lost decade in Japan, now we hear our current President talking about it.  Things are changing very quickly at the moment.
Let me say something about what occurred with the market falling.  This coupled with the floor trader yelling to his god, exemplified the crony capitalistic system that is currently failing on an epic scale.  The market didn't react in a positive move because what they wanted to hear was this:
"Yes, the U.S. taxpayer will be buying every toxic asset from corrupt Wall Street and its puppet lenders and not even ask how or why they got into the mess.  We will put more trillions at risk so you can go on and find another bubble to fleece the American people."
Remember CNBC had wet dreams about the bad bank that was a stunningly preposterous notion.  Now, we get a semi private and public option of buying these toxic assets.  The market didn't like that.  They didn't like the "stress test" option either.  In a way, it is stunning how deep the system has been infiltrated by a self-destructive financial delusion that is quickly fizzling out.  The spectacle of the CEOs on Wednesday should show you how out of touch these people are.  They live in a reality completely disconnected from what is currently going on.  They think the troubles of Americans started only a short while ago yet we all know that these troubles have decades of history (at least to prudent Americans).  The debt culture is running on a 30-year sprint and is now collapsing.
Another stunningly stupid notion going around is this idea for a stop to "mark to market" action.  In a few words, this group is arguing that you shouldn't force institutions to put a value on an asset that would have to be sold in a brutal market and be taken at most likely, a fire sale price.  What they really are asking of you is for you to bite into a dirt sandwich and pretend it is the greatest thing you have ever eaten.  Trust us, that dirt will become ham and cheese in a few years.  How interesting that during the boom they had no urgency to stop mark to market when assets were inflated to bubble prices.  Another crony capitalistic mentality.
So going back to California, the once almighty Westside is now having a taste of the economic tornado:
"(LA Times) The Southern California real estate crash has finally reached the high-end areas of the Westside.
Home prices in Beverly Hills, Santa Monica and Malibu – which continued to soar well into 2008 – finally tanked at the end of the year, losing between 26% and 30% of their value in just a few months, the latest data show.
The sudden drop came as a surprise to Shelley Conn, who remained a believer in the myth that the wealthier parts of the Westside were immune until she put her Santa Monica house on the market last spring."
I cannot tell you how many times, even when I highlighted homes in Santa Monica and Malibu that people were reluctant to believe that the Westside would ever see major price cuts.  It was as if there was first, one large delusion bubble for the state of California and then hyper-bubbles in these select areas that kept these people believing the good times still were rolling.  The housing crash is now uniform in destruction.
Many of you may be wondering how could it be that we missed such a big problem coming our way?  Well first, you have to understand how California gets its money: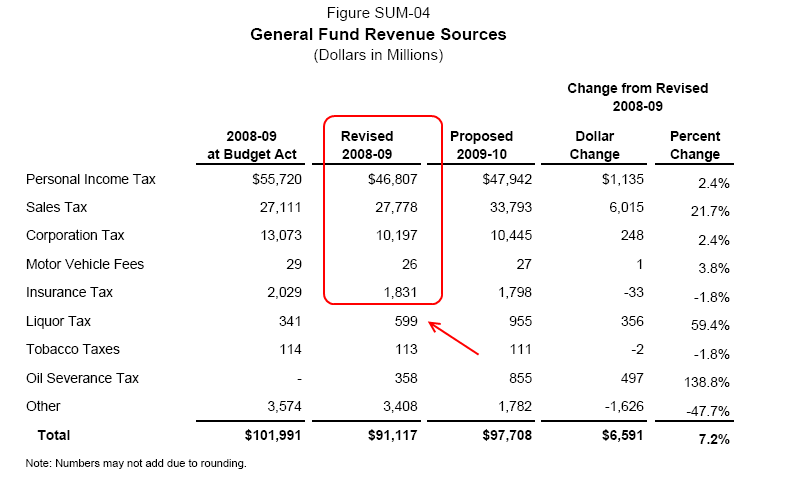 Let us spend a few minutes on this chart.  California draws money largely from 2 sources, the personal income tax and the sales tax.  In fact, approximately 80 percent of the state revenues come from these 2 sources.  Take a wild guess how off we were?  Well for the personal income tax, we were off almost $10 billion!  The error is the size of the budget of many states in the country.  Then you'll see the sales tax which hasn't adjusted much which of course makes no sense.  They are heading into another problem.  Well at least we have the liquor tax which is going to double in the next fiscal year?  Excellent, we'll drink our way out of this budget deficit.  Look at the estimates of 2009-10.  They go up!  Really?  Who is going to be spending tons of money in 2009-10?  I saw a recent survey that had nearly 1 in 2 people who are currently working worried about their employment.  This is why we are in this mess.  Imagine if you and your family made a budget with $200,000 in expenses yet only brought in $120,000.  Do you see potential problems?  A solution isn't getting a credit card and a HELOC and sucking out $80,000.
We are going to have a tough few years.  It is important to get a grasp of what is going on so you are better prepared to debate the merits of what is going on.  I find it troubling that many people make up their mind before hearing a debate because of the label of "Democrat" or "Republican" or "Independent" which is insane.  It is time we are equipped with the data and do what is best for our country no matter who brings the solution to the table.  The crony capitalist have had their share and it is time we stop handing them blank checks.  That is, unless you enjoy backroom deals.
Did You Enjoy The Post? Subscribe to Dr. Housing Bubble's Blog to get updated housing commentary, analysis, and information.