Big investors and hedge funds have largely left the building when it comes to investing in residential real estate.  They started in 2014 and largely made a full exit in 2015.  Today you have a bunch of aspirational house humpers trying to make their money on the edge of a frothy housing market.  Flippers are flipping and families are overextending.  While the tech sector hits a snag, you have the median priced house in San Francisco selling for $1.2 million.  Many Millennials, the next large group of potential house buyers, are unable to buy because they are simply broke.  They are living with parents as grown adults or have become one of the 10,000,000 new renter households over the last decade.  With low rates, commercial banks have seen little need to beef up their lending.  In fact, big banks are not growing their mortgage lending operations.  Struck by low margins and new regulations (that should have been there in the first place), many non-commercial banks are taking up the slack.  Now you can get a mortgage while sitting on the can or going zero down up to $2 million.  What can possibly go wrong?
Big banks play a smaller role in the mortgage market
Leave an open space and you can expect it to be filled by something.  At this point with sky high home prices, house lusting families are willing to do anything to buy even if this means they are setting themselves up for the next wave of foreclosures.  They are betting big on housing with the size of mortgages being taken.
Commercial banks know this story and are letting other players take up the slack: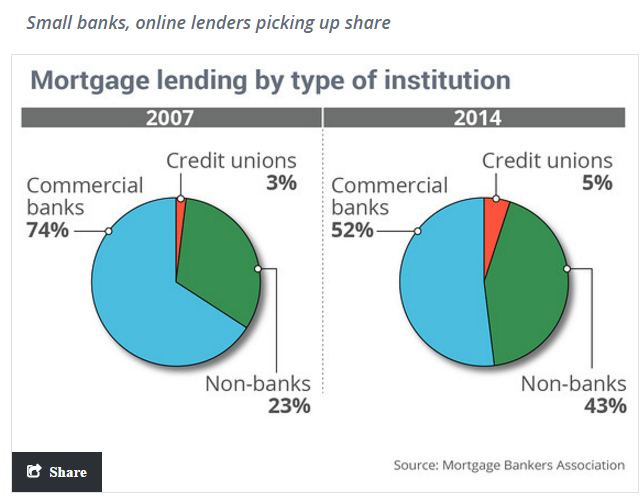 The trend is unmistakable.  If this market was so safe and full of unlimited possibility, the big connected banks would be in this like a pig in slop.  Yet they realize the margins are low and moderate regulations are keeping their slobbering financiers from crafting up toxic mortgage ideas.  But non-big banks are unencumbered from these restrictions and they are filling the gap:
"(MarketWatch) In 2015, four of the top ten originators were such entities, according to data from Inside Mortgage Finance – Quicken Loans, PennyMac Financial, PHH Mortgage, and Freedom Mortgage. Those institutions, also known as "independent mortgage bankers," made up 43% of all originations in 2014, according to the Mortgage Bankers Association, a share that's stayed steady or grown every year since 2007, when it stood at 23%.

While Quicken drew some fire for a Super Bowl commercial that seemed to suggest getting a mortgage should be as easy as it was during the housing bubble, nonbanks must operate within the same rigorous underwriting framework that banks do post-crisis."
Quicken Loan is pushing the Rocket Mortgage which you can "push button, get stuff" – sounds about right for a marketing slogan for a Twitter addicted audience that probably has totally forgotten the sins caused by the first Great Recession.  You might as well be talking about horse and carriage and Plato.  The last housing crisis is ancient history like the pyramids.
This is being played out in the media as banks being too heavily regulated.  Yeah right.  There are modest regulations in place that should have been there in the first place.  The problem of course is the requirement for down payments.  Broke Americans can't save.  For example, in 1996 the typical median income to home price ratio for the LA/OC area was around 4.  Today?  It is up to a solid 9 and approaching 10.  What was it in 2006 before the market imploded?  10 as well.  Millennails with massive amounts of student debt and lower incomes are finding it hard to buy a $700,000 crap shack.
Banks have a very clear understanding of what is going on.  This is why we are seeing many non-commercial banks entering the mortgage game at a point where things seem extremely frothy.  So feel free to sit on the toilet and buy that $1.2 million shack in San Francisco with a 30-year $1 million mortgage.  I'm sure that startup will be around in 30-years.

Did You Enjoy The Post? Subscribe to Dr. Housing Bubble's Blog to get updated housing commentary, analysis, and information.