I've read my fair share of financial books and I am certain that many of you have picked up a book regarding finances.  Many times, these introductory books caution the reader that going into massive debt is a sin (or at the very least a hindrance to your financial independence).  These books will usually show you the contrast between a dollar saved and compounded over time instead of someone burning that dollar on a trip to Las Vegas.  The underlying premise is simple.  A dollar saved is a dollar earned.  This important caveat has been missing for many decades in the U.S.  People sometimes forget that in order to become wealthy, you actually have to save your money instead of consuming it.  Is it any wonder then, that the U.S. Treasury and Federal Reserve trying to liquefy the system with access to credit, causes extraordinary confusion with most Americans simply trying to manage their finances?
To borrow a word from a former champion of easy credit, that is the conundrum we now find ourselves in.  Recent data for January showed that the personal savings rate of Americans jumped up to 5%.  This is the highest rate since 1995.  This should be good news right?  After all, saving money is espoused as a virtue of the highest order in 90+% of most over the counter financial books.  Before we argue the merits of this, let us first look at the personal savings rate over time: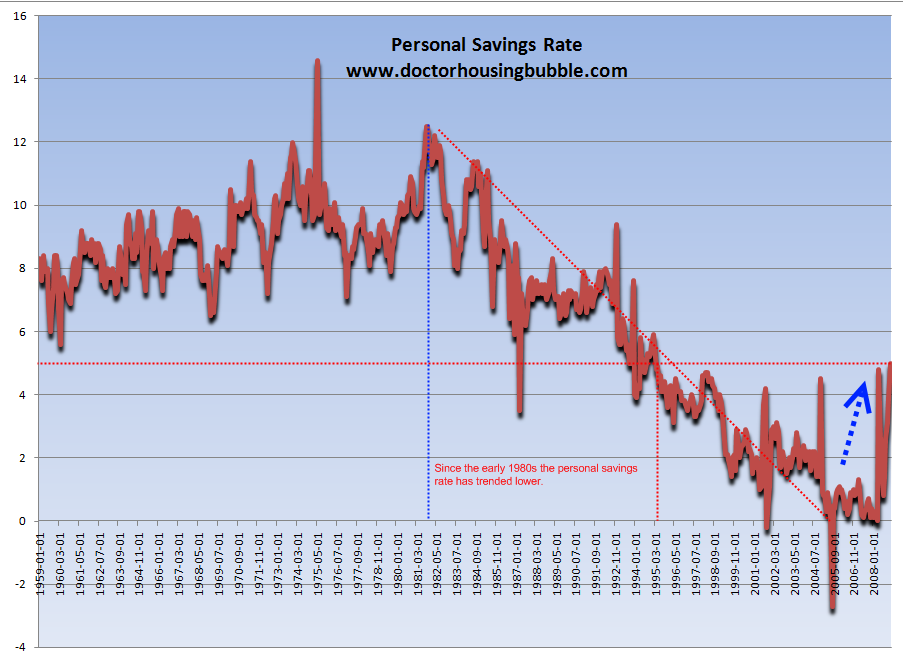 *Click for sharper image

A couple of dramatic trends emerge from this chart.  First, Americans have been saving less and less of their disposable income since the early 1980s.  We've been on a 30 year debt induced buying spree.  The markets during this time have witnessed two of the largest bubbles in history that with the tech bubble and now the gigantic housing bubble.  As we all know, bubbles in the end do burst.  So it isn't a surprise that we are now seeing stock wealth evaporate to not only the pre-housing bubble era, but we are now squarely into the tech bubble era: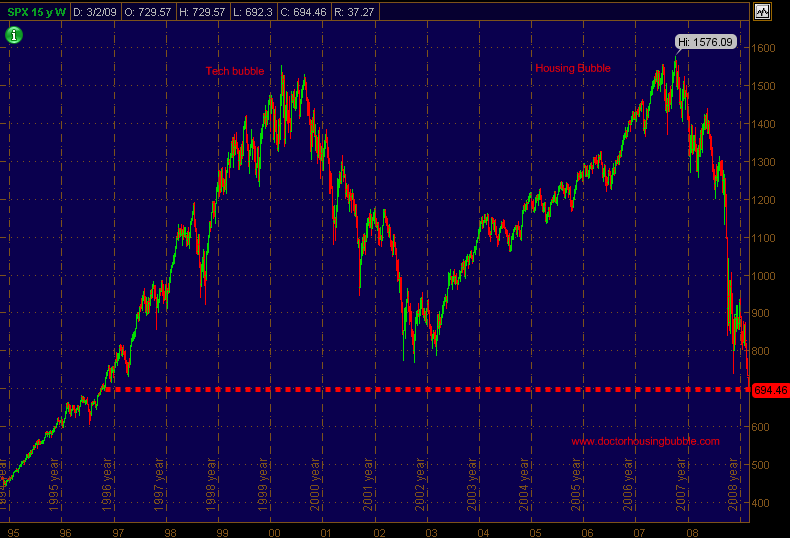 What is fascinating about the chart above besides the clear double top, is both tops were very close in peak with each bubble even though the tech bubble and housing bubble were completely different beasts.  You have to ask what was the combustion that set these two bubbles off?  Of course, that was access to easy credit at both the personal and corporate levels.  Americans are struggling with a housing market that is showing strong indications that it will be down by 50% once the bottom sets in nationwide.  Yet what we are hearing from the corporate sector and the government is to be prudent yet actions speak louder than words.  That is, keep on spending ye hamsters!  No wonder why Americans are confused.
Yet the troubling thing about that 5% jump is first, part of it has to do with COLA to items such as Social Security but also, over two-thirds of our economy depends on consumption.  Not only does our economy, but many countries like China and Japan are heavily dependent on the U.S. consumer.   They may trying to look over at Europe for help but Europe is having deeper systemic problems which in itself is shocking.  There is simply no argument left regarding the idea of decoupling.  Our economic system is a global one and reminds us of the image of a butterfly fluttering its wings in Brazil and causing a chain reaction that sets off a furious storm in England.
There are many reasons why this bubble burst.  Credit collapsing.  Psychology shifting.  Yet one main catalyst was the crossing point between GDP and household debt of Americans.  The number was $14 trillion: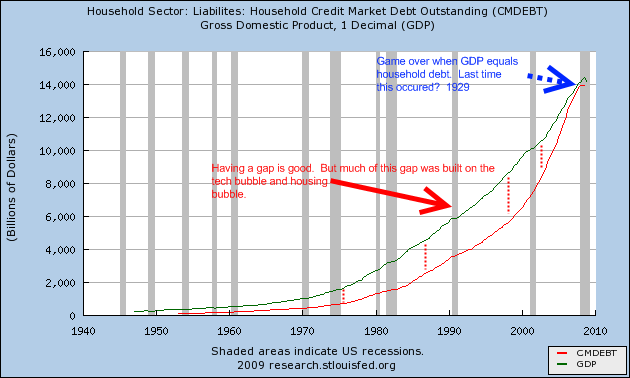 The last time GDP equaled household debt (i.e., mortgage debt, consumer debt, etc) was in 1929 right before the epic crash preceding the Great Depression.  The above chart clearly depicts this end game of the debt bubble.  If you bring this down to a more understandable level it makes complete sense.  Just imagine a family making $40,000 a year but having $40,000 in debt.  Unless they have a sizable amount of savings (which the above charts shows they do not) then they are virtually living month to month.  Any shift in home prices or stock market values is enough to make them insolvent.  And this is what is happening with banks.  You have banks like Citigroup with total assets of $1.9 trillion and liabilities of $1.8 trillion.  That gives them a working capital buffer of roughly $100 to $150 billion depending on what sources we are looking at.  And many of those so-called assets are mortgages.  Let us just assume that their assets decline by 10%.  A modest number since some of these assets include mortgages and mortgage backed securities.  So that $1.9 trillion is now $1.71 trillion.  They are now insolvent.  And that is virtually what is happening in the system and why the U.S. Treasury and Federal Reserve are flooding banks with capital.
So on a micro and macro scale this is playing out thousands of times a day.  Yet while the balance sheet of Americans gets pummeled, the savings of banks increases courtesy of the taxpayer: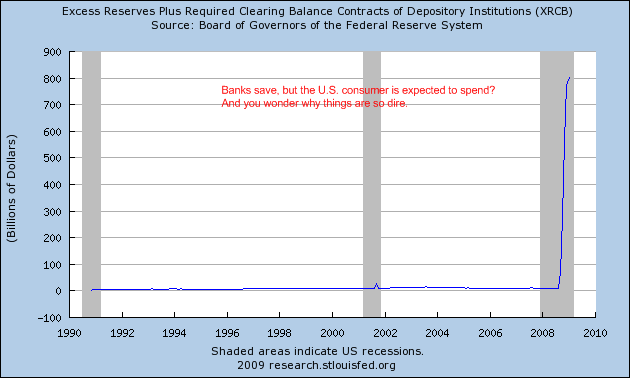 And this is probably the biggest swindle of the entire system.  These banks were given taxpayer money to ideally float through the already corrupt system and make its way into the hands of the average American family.  This has not happened as the above chart will show.  Why?  Well taking Citigroup as only one example, banks realize that their balance sheets are not going to be getting better anytime soon.  They know more write downs on their assets are imminent.  In fact, I have recently started hearing from both sides of the aisle from Republicans to Democrats some idiotic notion of suspending mark to market.
Mark-to-market accounting or FAS 157 is a method of accounting that puts a market value on a financial instrument that might not be liquid or selling in the market currently.  For example you might have future options that expire in one year so if you assign a value to the options, you would put a price on the asset if you were to sell them in the open market.  Much of this was pushed because of the debacle and shenanigans that came from Enron.  How quickly people forget.  This is a reasonable rule yet the money hungry moneychangers want to put this on pause because they are in Pollyanna mode and think housing prices, which are connected to many mortgage securities, will somehow come back in the near term and thus increase the value of the assets.  Yet here is the problem.  The firms are bleeding money because no one really knows how long it will take for these values to come back (if they ever do).  And the problem is complicated.  We are talking long time horizons and many of these firms will not remain solvent before these assets regain their peak values.  It is an absurd notion that comes from the school of crony capitalism.  If we suspend mark-to-market, then these institutions can go back to valuing these assets at whatever they feel is the peak value or price they acquired the asset.  Wouldn't we all love this accounting for our own household?  Sure, that Escalade I bought 10 years ago is still worth $50,000 because that is what my receipt has.  Please.  If you think it through it only perpetuates the same fraud and obscurity that we are trying to clean out of the system.
And so we are left dealing with the fall out.  Most Americans by saving are doing the right thing.  Yet the system is setup to reward debt and spenders but this system could only continue so long as foreigners kept propping up our debt.  That game seems to be coming to an end.  The fact that the markets are now at 12 year lows tells us that much of those gains were completely based on access to easy credit.  The fact that the S&P 500 has come in with record low earnings tells us that companies are feeling the pain on a real level, forget the mark-to-market battle.
What needs to happen is we go back to those savings patters in the above chart of 10% or so and start producing.  How can people believe that flipping homes to one another and enriching bankers was the pinnacle of success?  That somehow we would become wealthy beyond our dreams by adding a Jacuzzi in the master bathroom while putting granite countertops in a kitchen.  And now we get more crony capitalist calling for a suspension of mark-to-market while implementing mark-to-make believe.
Going back to that simple mantra that a dollar saved is a dollar earned, we need to realize that there is something in being prudent and responsible with our capital.  This goes for people on a personal level but also as a country.  Debt will always be with us but to call what we have been doing for 30 years as prudent is like believing baseball players have never used steroids.
Did You Enjoy The Post? Subscribe to Dr. Housing Bubble's Blog to get updated housing commentary, analysis, and information.