Politicians like to talk about affordable housing but in reality favor policies that keep home prices inflated.  The Federal Reserve has been the most active in suppressing adjustments in the market by keeping mortgage rates artificially low.  Since the public is largely focused on the monthly payment, a lower mortgage rate allows home prices to remain higher than the market is willing to pay.  If you think about the drop in sales and slow decline in prices in spite of all efforts, it boils down to the reality that good jobs are not being added and people cannot afford homes at current levels.  This is clearly the case in California.  Banks have started leaking out shadow inventory to the market but the inventory is so large that it will take years to clear out.  Home prices at their core need to reflect the immediate local area income.  Unlike a stock where being an owner can be global, buying real estate is largely a local matter.  This is why California home prices are still inflated given the state's unemployment and underemployment rate of 23 percent.  Let us look at a few counties and see what portions of their homes with mortgages are underwater.
Negative equity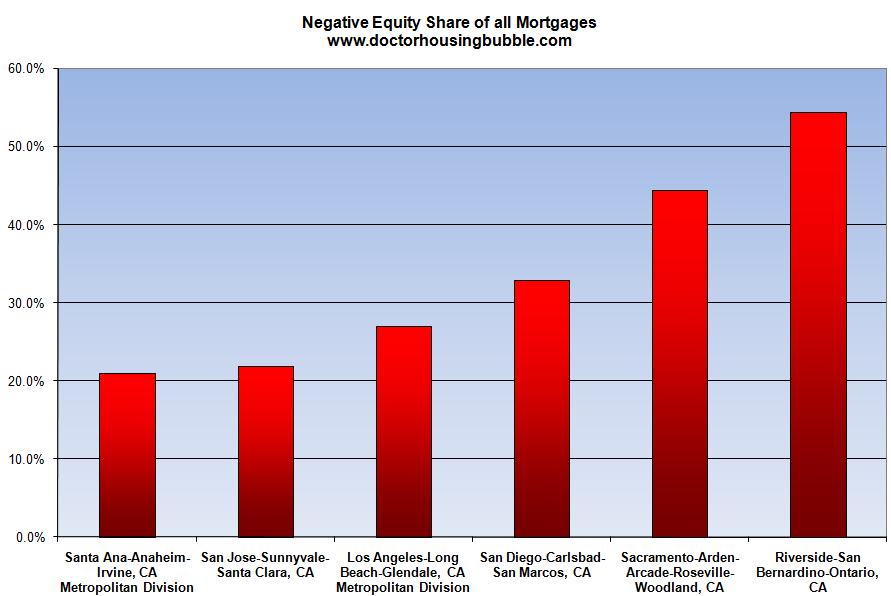 Negative equity is the number one predicting force in future foreclosure.  This is apparent if you think about it since a seller with some equity would merely sell at market rates.  Yet those with negative equity have two options; keep paying on an inflated asset and hope prices go up or stop paying the mortgage.  In most cases the decision to stop paying is largely economic.  That is, these owners simply cannot afford their mortgage anymore.  The bulk of option ARMs are collapsing and working their way through the system.  Over 50 percent of the Inland Empire properties with a mortgage are underwater and nearly one-third of Los Angeles homes are underwater.  With prices starting to move lower yet again, each monthly price drop that we see means the negative equity line draws in more people.
Some areas are still incredibly over priced.  As we know home prices track inflation on a historical level.  Over the last decade California has had 31 percent inflation in their CPI.  Let us look at a few zip codes and see how close they are to this figure:

Each of the above areas is overpriced if we adjust them to inflation.  The Downey and La Verne zip code saw a significant price decline from May to December of last year.  The Santa Monica and Long Beach zip code saw good sized jumps.  The increases occurred in more expensive zip codes but overall is down from the January 2010 price showing that these markets have high volatility based on their inventory.  These zip codes have very large and custom homes that you wouldn't see in an area where homes are all virtually identical.  Even with these slight movements, these markets are still overpriced.
Overall however, prices for all Southern California counties are retreating back to levels not seen in a decade: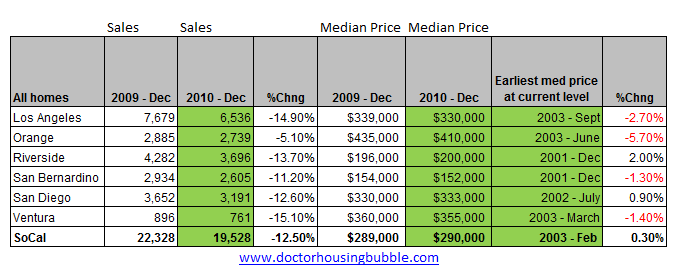 Riverside and San Bernardino prices are now back to levels last seen in 2001.  Los Angeles and Orange County are now back to prices last seen in 2003.  You can see the significant decline in sales which likely leads to future price cuts.  When we look at the junk floating out in the market you realize that it took years to clog up this engine.  Just look at Bank of America:

Source:  Bank of America Investor Relations
Countrywide originated an incredible amount of junk loans.  18 percent Alt-A, 16 percent pay option arms, and 26 percent subprime from 2004 to 2008.  From 2004 to 2008 $963 billion of this non-gse toxic waste was sold off.  Yet here is the thing, many of these loans are still here in California while the owners are all over the map.  These loans are attached to those negative equity markets we saw earlier.
The shadow inventory problem is still large.  Take a look at Costa Mesa in Orange County: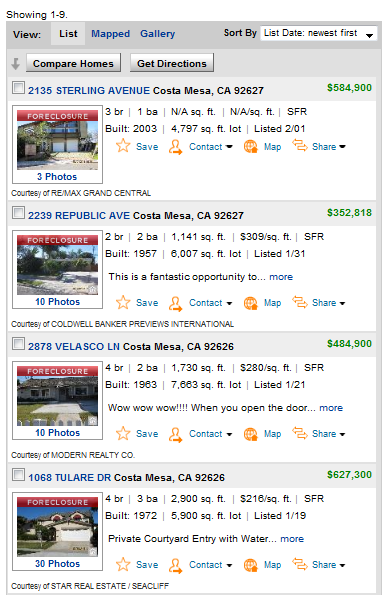 The MLS lists 9 single family homes in foreclosure in Costa Mesa.  The actual shadow inventory shows us that 397 homes have a notice of default filed, are scheduled for auction, or are bank owned.  Just think of how lopsided those stats are.  Would buyers jump into a home right now knowing that home prices will fall by 10, 15, or even 20 percent over the next few years?  The odds of this happening are large because:
-Home prices reflect local incomes

-Income growth is stagnant

-Good job growth has yet to emerge

-Federal Reserve can keep rates low for only so long

-Foreclosed home sales sell for much lower than non-distressed inventory
You add all this up into the mixture and you realize that problems will be hitting the housing market for years to come.  Bank of America is being taken to court by Allstate based on investments they made.  Their allegation through sampling is that prospectus information did not match with actual underwriting from the bank.  In fact, they figure that the misrepresentation is high and this is included in their court filing: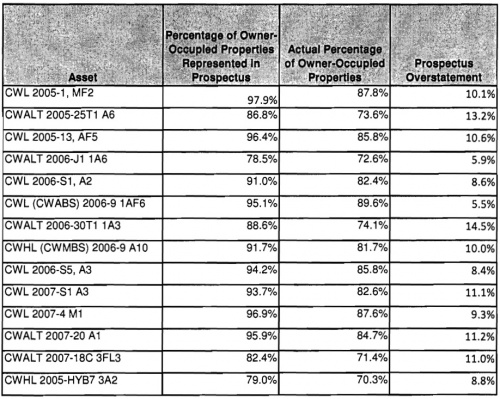 Source:  Zero Hedge
This is significant.  But of course with banking graft for year over year and snake oil tactics in selling mortgages it is likely the entire state of California is operating under a similar premise.  For the good part of the decade dishing out toxic loans was the name of the game.  Incomes did not keep up but that did not matter.  Today the same banks that setup the foundation for this mess are trying to obscure the facts by leaking homes out to market and the only reason they can do this is because of taxpayer bailouts and accounting magic.  These are the same taxpayers that cannot afford the homes without going into massive debt with these same banks!  People are paying for their own imprisonment.  So what if mortgage rates are up to 8 percent so long as home prices fall to a level people can afford without going into insane amounts of debt.  Just because the government is backing 95 percent of the mortgage loan market does not make it healthy.
A more expensive home with a low interest rate is much more troubling than a low priced home with a higher mortgage rate.  You have so many more options with a high rate and low price.  If you put $100 more on top of your monthly payment you can chop down your mortgage lower and faster.  Yet the government is happy keeping people in debt servitude for the rest of their lives since it is already $14 trillion in the hole.  The fact that many are kicking themselves for not maximizing leverage and throwing prudency out the windows shows how rotten this has gotten and has spread to the core of society.  People can do what they like financially in a free market but the consequences must be taken by those individuals.  Those that took massive risk in buying a McMansion and now can't pay need to leave the home and find a rental.  Banks that made all these bad loans should have gotten $0 from taxpayer bailouts.  That is the bottom line.  Instead, we are using the same crony capitalism to navigate our way out of this market.  And guess what?  Banks with taxpayer dollars don't give a crap about a tiny market in Culver City or Pasadena.  Banks area happy making money in their investment branches since we didn't even bother to break up commercial and investment banking: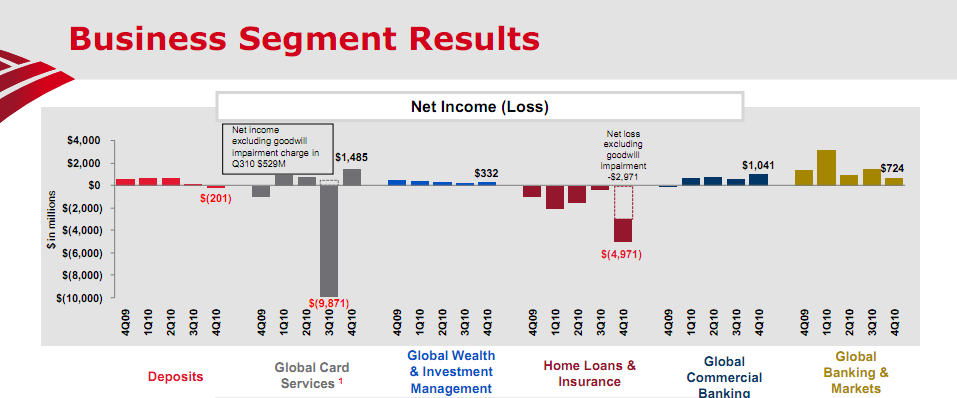 Bank of America made the bulk of their money in Global Markets and Global Commercial Banking last quarter.  Deposits fell and a large amount of money was lost in home loans and insurance, the more traditional role of these banks.  But thanks to the bailouts, our biggest banks are making money abroad while screwing taxpayers domestically.  That is why we are seeing more homes leaked onto the market.  Banks see these as long-term issues and there is plenty of money to be made abroad so they are now exiting the market.  They can do this now since they have built their capital reserves through global banking profits that were leveraged with taxpayer dollars.  What a wonderful world of crony capitalism.  There is a wonderful sense of irony when you see these global bankers railing against California problems when they were largely responsible for creating the CDOs, MBS, Alt-A, and option ARM junk that allowed this to happen in the first place.

Did You Enjoy The Post? Subscribe to Dr. Housing Bubble's Blog to get updated housing commentary, analysis, and information.