Baby boomers are one of the largest home owners in California.  They are also the largest mortgage holders since Californians love using their properties as a virtual ATM.  As time is moving by we are seeing a clash of generations when it comes to buying a home. The days of working at one company for 30 or more years is really a relic of the baby boomer past.  Many baby boomers are also seeing their offspring coming back home with student loan debt that already rivals that of a mortgage in other parts of the country.  Yet in many cases, their kids are happy and well rounded.  I know many offspring of baby boomers and many have no intention of buying.  They place a higher value on location, mobility, and having free cash to travel with close friends.  The data also shows that the family unit is becoming much smaller and many are opting to have one or no kids.  Why the need for a 3/2 then?  This isn't the 1960s where bigger households were common and one income was enough to live a middle class lifestyle.  Yet some boomers are trying to assist their kids in buying their first home and in expensive areas, the passing of wealth is occurring in ways that may not be typical.
California's aging population
For many baby boomers, they came of age when the dollar had maximum power and for the most part, housing was affordable across the state.  Keep in mind that the California Association of Realtors has an affordability metric that now shows that only one out of three families in the state can actually afford to buy a home at current income and price levels.  They factor in mortgage rates into their equation and it isn't like the C.A.R. is anti-housing.
The fastest growing age group in California is coming from baby boomers: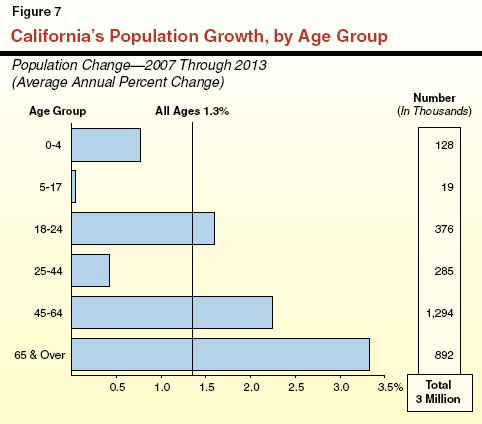 Many are living in their retirement fund.  Whatever is left over, many are finding it necessary to gift over to their cash strapped young so they can make the down payment.  From everyone in the industry that I'm talking to, the least likely way to save for a down payment in SoCal is to diligently sock away $200,000 or $300,000 just to purchase a "starter" home.  They laugh when this is brought up.  A reader actively searching to buy in "prime" West L.A. mentioned six ways people are buying from an agent with high volume in a selective market.  I thought it would be interesting to share:
-1.  Those with all cash

-2.  Boomers funneling money to kids

-3.  East Coast folks shifting to L.A.

-4.  Stock market euphoria and wealth effect

-5.  Foreign money especially from China

-6.  Big money from entertainment industry
Now this is an interesting perspective and all the above tends to favor those buying and staying put instead of flipping and investors.  The volume of sales is very low so those trying to be a traditional sale need to boost the process with helping out their kids.  Baby boomers that are under the illusion of buying a home similar to their time really are missing the global picture here.  Take a look at the list above and ask yourself if boomers had to deal with such a tight market when they bought?  Contending with Wall Street money?  Foreign money?  Giant down payment transfers?  I can tell you this was not the case.  This is a new beast of a market.  Many boomers I talk to are playing old records on real estate tactics and don't fully grasp the changing dynamics of this global market.  They are house rich and cash poor.  The little cash they have they are throwing it at their offspring to buy high priced housing.  Otherwise, they have their kid living back home with them.  The volume of sales is also low because the big money is pulling back.
Big money moving out of California
The bigger cash buyers are slowly stepping away from California: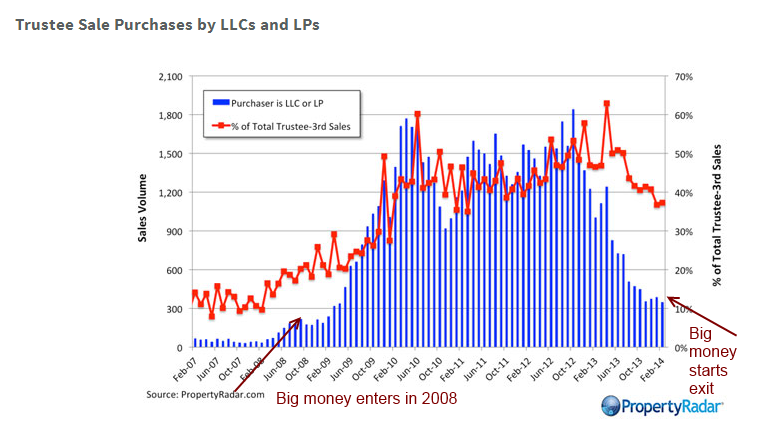 Some have argued that you should follow Wall Street.  This would have been a good move if you followed their movements starting in 2008 up through 2013.  The above chart shows the number of big buyers (i.e., those buying via LLC or LP).  You'll also notice how quickly they are pulling back.
Someone asked about the benefits of buying real estate with all cash.  Frankly, big money is more interested in solid yields instead of being mega landlords.  Why would you deploy $500,000 for $2,500 a month in rent (after all expenses are factored in you are looking at yields that rival bonds).  Better to make bets in a hot market on more proven dividend yielding stocks instead of becoming a landlord.  Plus, dividends provide better tax breaks than rental income with less of a hassle.
Many mom and pop investors dive into real estate because of leverage. You are able to control a $500,000 home with 25 percent down ($125,000).  If the market goes up, you leverage your gains but if the market goes down, your losses take a bigger hit as well.  Big money is not stupid and the fact they are pulling back dramatically should tell you something.
Renters dominate California's biggest county
I'm always surprised how off some people view income in L.A. County, the biggest in the state.  L.A. County is largely dominated by rental households:

Over 54 percent of households rent in L.A.  The trend has only increased so you have to wonder how people will be voting when owning a home is part of the minority.  You will get no sympathy from the public when you talk about how "poor" you are sitting in a $1 million home being assessed at $250,000.
The boomers gifting money to their offspring
In housing, generational transfers are a big deal.  Boomers are already unprepared for the most part for retirement based on market data yet will need to aid their offspring if they want to make an entrance into this market: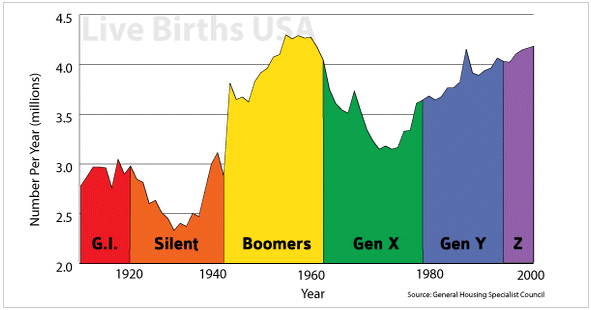 It is interesting to see the e-mails I get about people being outbid by "all cash" buyers in prime markets.  This is simply the new game at play here.  As I mentioned, you probably won't be hearing much from those 7,000,000 foreclosures in the graveyard.  California is infected with financial and real estate amnesia.
Negative equity still an issue
While prices are up dramatically, negative equity is still an issue: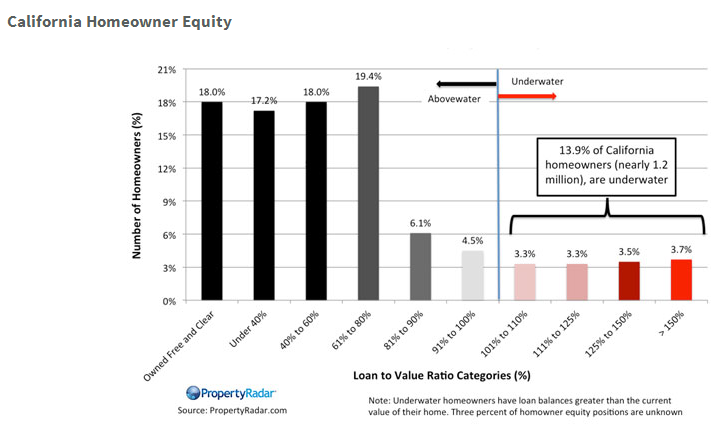 We still have over 1.2 million home owners underwater.  Many of these are boomers.  I can't tell you how many boomers took on HELOCs and upgraded their homes and cars and are still paying that debt today.  Are they in a position to make that $200,000 gift to their young ones for a down payment?  For most, this will be a hit to their retirement plans and as we mentioned, that million dollar sarcophagus is not going to throw off cash like a job, dividend, rental, business, or other cash flow source.  This is the mistake of treating your residential home like an investment.  Unless you have it as a rental, it is not an investment (that is unless you flip or sell the cash is locked).  Otherwise you are merely a speculator.
Sales volume still at record low levels
What is interesting is the perception of real estate for those in their late 20s and 30s.  These are the kids of the boomers and many are not buying the simple arguments from the past.  Sure, in many cases it may make sense to buy.  Incomes may be so high that housing is a trivial amount of what they spend.  But for most, this is not the case and you see from the data that many purchases are coming from non-traditional sources.  These are fickle groups and that is why sales are hitting multi-year lows: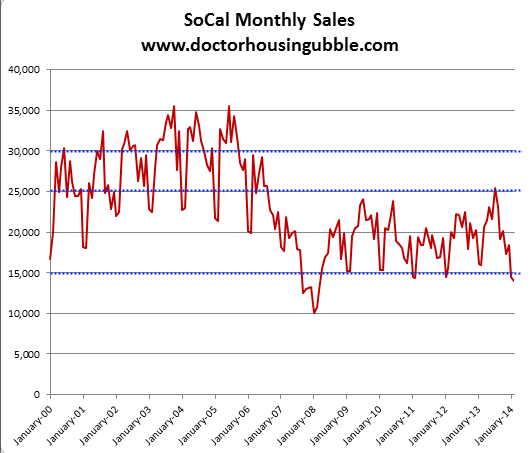 I see people speculating about income for L.A. County.  Why speculate for those living here?  We can find this real data easily: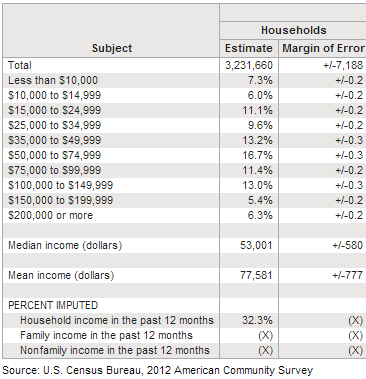 The median income for a household in L.A. County is $53,001.  Is it any wonder why this is a big renting area?  For current prices in prime areas, I would argue a household would need an income of $150,000+ a year.  Only about 11 percent of current households meet this threshold.  And how many of these households actually already own?
I think boomers feel that their kids value real estate in the same fashion.  But they don't.  And why would they?  One company working careers are gone.  Benefits are getting radically chopped for younger workers.  In the early 1980s something like 60 percent of all workers had a pension.  Today it is around 10 percent.  Young people also know that Social Security is not going to be as "great" as it is today when it comes to their retirement.  You see these generational hits taking place in Japan as well where the older generation just doesn't get the younger generation.  This is common across time but with real estate, there is truly something different here across generations.
When people ask about buying today I always say they need to run the numbers but underlying their question is the desire to be part of the hot money crowd of California.  You don't want to miss out on the next Malibu or Newport Coast.  Some areas that people mention as new enclaves of wealth are flat out comical.  The one percent is not chasing properties in the South Bay short of Manhattan Beach and no, Garden Grove or Fountain Valley is not the next Irvine.  I think the ridiculously low sales volume tells you something else is going on.  Those buying today seem to be part of the fickle investor cohort and when prices stall or go negative year-over-year, let us see if things will continue.  The Fed now seems to be on it for tapering and if you think they care about SoCal real estate you are incredibly mistaken.

Did You Enjoy The Post? Subscribe to Dr. Housing Bubble's Blog to get updated housing commentary, analysis, and information.