The housing market and rally has been sustained largely by investor demand.  This demand is showing some signs of weakening as the fast money crowd is now chasing yields in the raging stock market and with rates now increasing and prices much higher, good deals are harder to come by.  Of course the general crowd is always late to the party.  In California, only 1 out of 3 families can actually afford to buy a home based on their current incomes.  For the last few years many have been outbid by investors coming in with alternative financing detached from the regular mortgage market (aka the Fed mortgage market).  Signs of froth are everywhere including the rise in adjustable rate mortgage (ARM) usage and large numbers going with jumbo mortgages.  The last time jumbo mortgage usage peaked was in August of 2007, right at the apex of the bubble.  Does the jump in ARM usage and jumbo loans signify a late arrival of the public to this housing rally?
A crushing blow to refinancing
The market has been conditioned to lower and lower rates.  So with rates up by more than 100 basis points in the last year, a quick shock was introduced into the refinancing party: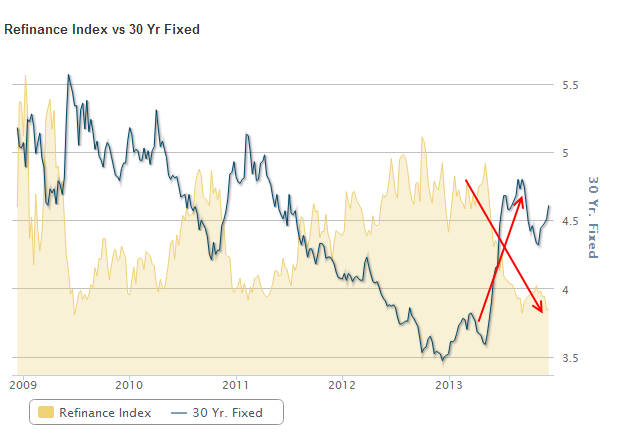 Keep in mind that a 4.5 percent mortgage rate is still incredibly low courtesy of the Fed basically owning the mortgage market.  In spite of the Fed's efforts via QE, rates still jumped.  At a certain point you reach a saturation situation and the outcome of the Fed's activities with QE was largely to divert big money from Wall Street onto Main Street in the form of investors buying up single family homes.  So much for aiding the 5,000,000 that lost their homes.  The chart above is very telling.  That rise in rates crushed refinancing activity.
One thing that is very telling is the rise in the usage of ARMs and jumbo mortgages as regular households need to lever up just to play in this current low inventory game with manipulated mortgage rates.  Since incomes are stagnant, the only way to squeeze into a home is by lowering the payment.  You have a few options here:
-1.  Lower rates (rates are trending higher)

-2.  Varying mortgage structures (i.e., ARMs)
So what we are now seeing is a rise in ARMs simply to squeeze into real estate:
"(Mortgage News Daily) The share of applications for adjustable rate mortgages (ARMs) has been slowing rising from the 3 percent range where it has languished for years.  Last week ARMs received 8.1 percent of applications, the largest share since July 2008. The average rate for a 5/1 ARM increased to 3.11 percent from 3.09 percent and points increased to 0.35 from 0.28."
This becomes a chicken and egg type argument:  did ARMs peak right before the last bubble popped as a symptom or as a cause.  In retrospect, we know this answer.  ARMs peaked and so did jumbo mortgage usage because the masses jumped head first into buying homes they could not afford based on their incomes.  While many try to hype up toxic mortgages as the full reason for the crash people forget that a large part of the foreclosures came from those in vanilla traditional 30-year fixed rate mortgages.  The system was predicated on prices continually going up.  Once the mantra of "real estate never goes down" broke the entire edifice collapsed.
Yet here we are again.  ARM usage is at multi-year highs and so is jumbo mortgage usage.  In Southern California this is the data (of all purchases):
October 2013:                    12 percent ARMs (highest since July of 2008 when it was 12.6 percent)

October 2013:                    26.3 percent jumbo mortgages

August 2007:                      40 percent jumbo mortgages (previous peak)
These changes also create giant wealth effects.  People feel richer because of stocks and real estate and spend more and this trickles down.  However, the opposite also happens when prices reverse or stall out.  Savvier investors have been pigging out at this trough since 2008.  Now you have the public coming in near a top having to leverage up with ARMs and jumbo mortgages.  Why would you get an ARM when rates are still at historically low levels and the Fed is already signaling at higher rates via tapering?
Keep in mind that California is built to be a boom and bust state.  A large part of tax collections come from volatile sources: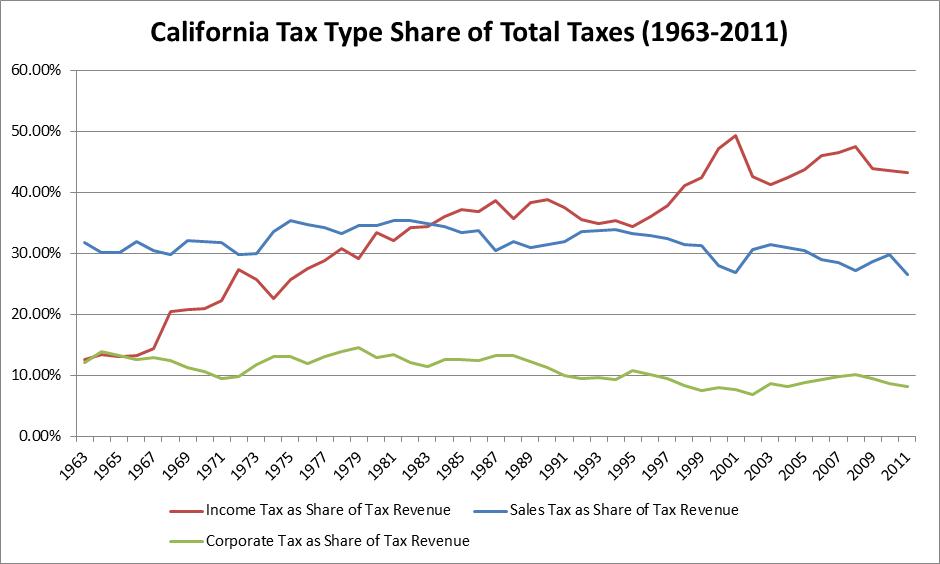 Source: Advancing Free Society
So you have income, sales, and corporate taxes that rise and fall with the whims of the economy.  When the next recession hits, you can expect all three sources to take a hit.  This is why it makes more sense to use property taxes as a bigger source of revenues because they are less volatile and cut back on regressive taxes like those with sales or try to make it more lucrative for businesses in the state by cutting back on corporate taxes.  Instead, there is a massive subsidy via Prop 13 and guess what?  You have these golden legacy handcuffs and many are going to go into their grave with their granite countertop sarcophagus.  Do we really need to subsidize housing anymore?
The rise in ARMs and jumbo mortgages looks to be more of a symbol of froth.  Also, FHA loan limits are going to make it tougher for high-end properties (FHA was never intended for wealthy home buyers but here we go again subsidizing the folks that least need it).  You also have the Volker rule coming online shortly and the Fed's supposed taper.  This likely means higher rates which will make it more unaffordable to stagnant income households.  The fact that places like Las Vegas are seeing major jumps in inventory and investors pulling back tells us that the investors are probably looking for greener pastures elsewhere.  The public on the other hand is lured in near or close to the top.

Did You Enjoy The Post? Subscribe to Dr. Housing Bubble's Blog to get updated housing commentary, analysis, and information.