In many markets, investors were purchasing properties to rent out for a short period of time before they had any intention of selling. Many of the large investors have hinted at buying places and holding them for 5 to 7 years before selling them off. Since big money entered the market in 2008, we are already seeing that phase one is being completed and big money is certainly exiting the market. The impact of course is what you would expect. Take a look at Arizona for example. In the Greater Phoenix Area, cash buying now makes up "only" 24.8 percent of all sales. This is the first time since 2008 that it has fallen under the 30 percent range. And what has happened because of this? Inventory has shot through the roof increasing 35 percent year-over-year. Because real estate trends move like molasses, the next phase will likely include pressure on prices (which we are already seeing). The Arizona market was hyper obsessed with big investors. As those investors pullback it is no surprise that inventory is shooting up. Yet the psychology of the market is always lagging because prices peak when inventory and sales are changing and this tends to be a better leading indicator. Arizona is an excellent example of a market where investors are now pulling away.
The gamble for cheap property
Investors were hungry for deals when the market imploded. We're not talking about high priced areas here but overall markets like Nevada, Arizona, Florida, and more inland areas of California where good deals were to be found. Apparently investors are now pulling back as prices are making those good deals harder to find and cap rates are being severely compressed.
The Arizona market has been fully fueled by investor demand. Investors bought approximately 50 percent of all single family homes for close to half a decade. There is no parallel to this in history since single family home purchases were largely relegated to families looking to buy for a place to live. Now we get a taste of investor demand waning: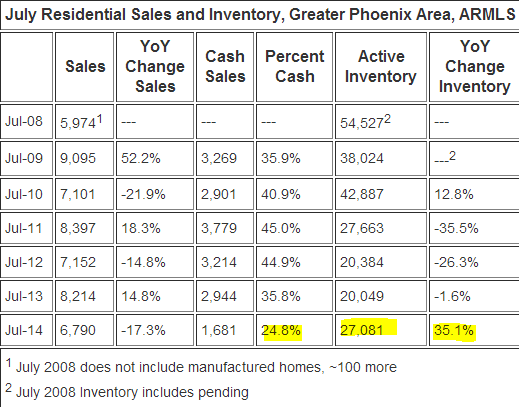 Source: CR, Arizona MLS
Can the market stand without investor demand? Not for very long at these prices and these income levels. Take a look at what has happened to inventory over the last year. Inventory has shot up by 35 percent while sales have fallen by 17 percent. Prices are still affordable, relatively speaking in the Phoenix area but regular households are having a tough time competing with current prices. Getting a loan still requires due diligence and when it comes to examining household finances, apparently many in the Greater Phoenix Area simply do not have the means to buy.
There is little doubt what investor buying has done in the last year to prices: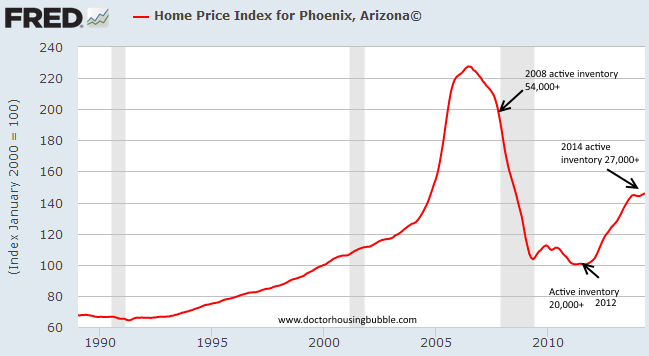 The massive growth in inventory is very telling. If you look at the chart above, sales cratered and inventory soared all the while home prices continued to make new highs. With inventory growing, crap shacks and junk is sitting longer while good homes priced right are still moving. This is why when markets turn, you usually see a plateau when it comes to price adjustments.
Many investors have a good buffer for profits here and many of the larger firms have mentioned that their goal was to hold for 5 to 7 years and then sell. If you look at the data above, the Home Price Index for Arizona is up 40 percent from the trough. Even if prices fall by 10 to 20 percent (or 30 percent) there is still a good profit here since some of these investors were renting out the homes for cash flow. Yet rents also take a hit when economies turn. If a contraction occurs or those inevitable recessions come, many will be unable to make their payments. In California, we have 2.3 million adults living at home because many simply cannot afford current market rents.
We'll need a year of data to see what the impact of investors leaving a market will be but we already know that inventory is soaring and sales are falling. For Arizona, a market so dominated by investors, many will likely take their profits and shift into other areas. Take for example Blackstone. The big money is in financial instruments, not real estate. So it is surprising that some people think that these large firms will want to be landlords forever.
Instead of speculating, just take a look at what Blackstone had to say about their real estate holdings this year: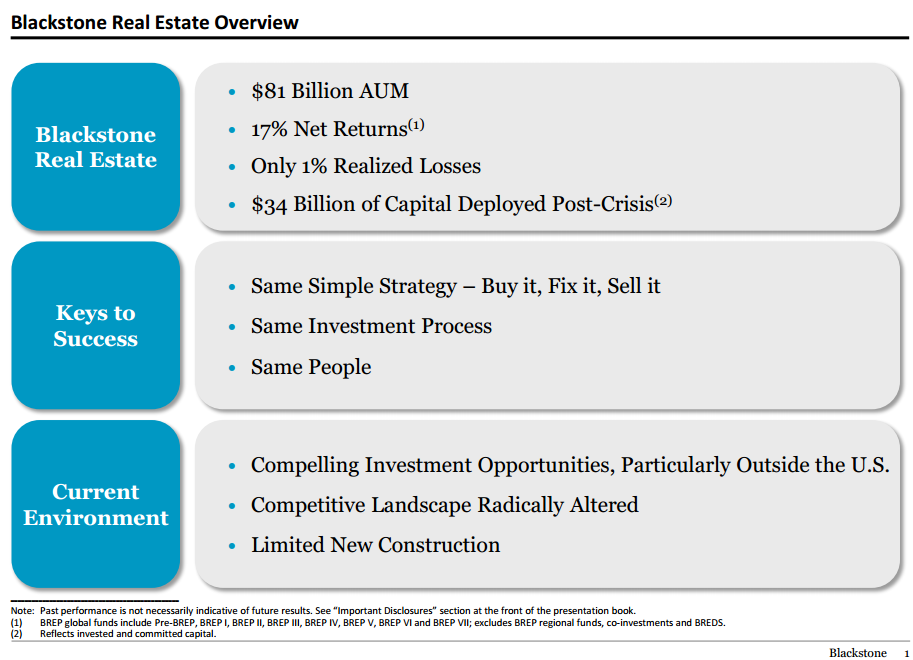 Buy it, fix it, sell it. Where do you see the buy and hold for eternity line? Investors have only started pulling away in earnest this year after a half decade of diving deep into real estate buying. Since places like Arizona will now need to rely on local families and their actual income earnings to boost sales, we will see how much true demand is out there.

Did You Enjoy The Post? Subscribe to Dr. Housing Bubble's Blog to get updated housing commentary, analysis, and information.