Investors for the last couple of years have had their eyes set on Lancaster and Palmdale.  These two cities are the lowest priced locations in Los Angeles County.  Sales have been hot in these markets yet prices have not shifted much in the last year even though buyer leverage has increased tremendously with lower rates on mortgages.  It is interesting to note that Lancaster and Palmdale typically showed up as having the most sales during the boom and currently hold the record for highest volume areas even in today's market.  However, the shift that has occurred from say 2006 and 2012 is that we went from buyers unable to support their funky mortgage with investors trying to chase optimistic rental yields.  Our example today shows both sides of this story.  Since the overall market is providing a fertile ground for chasing yield I can understand the allure of places like Lancaster and Palmdale.  Let us examine these areas in closer detail.
Top selling zip codes in Los Angeles County
First, let us examine the top selling zip codes in L.A. County: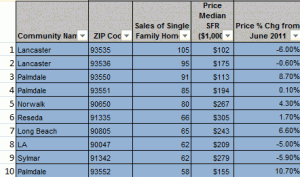 Source:  DataQuick
While these prices may seem normal to those out of the state, these are incredibly low for Southern California and seem even more dramatic for an expensive county like Los Angeles.  I've talked with a few investors who have bought out in this area.  Investors for the last two years have made up between 20 to 30 percent of all sales in SoCal.  I imagine for a place like the Antelope Valley that investor volume is much higher.
You look at the figures of say a $100,000 median price in Los Angeles and investors have been running wild.  Yet look at the year-over-year data.  Over 100 sales is a good sample size for this zip code especially in the hot 2012 selling season.  I've taken a look at these markets and from an investor vantage point I understand the desire to buy out here but see areas to be cautious:
-1.  California is not rental property friendly.  Property owners can see one to two years of gains wiped away with one bad tenant.  Legal fees will be high.

-2.  Commuter cities.  Areas like the Antelope Valley are heavily reliant on cheap energy and even before the bubble popped and oil spiked, these markets were showing fractures earlier.  The forecast for the week?  104, 104, 104, and 106.
Yet investors continue to buy out here just like they are in the Inland Empire.  These markets are being driven by outside money.  We also see this in Miami where foreign money is purchasing a good amount of property: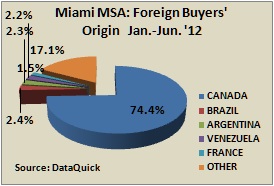 As Canada's housing bubble hits an apex, how much money will continue to flow in once their bubble pops?  Back to the data for Lancaster and Palmdale, those median prices do seem incredibly appealing.
Let us look at an example of what $1,000 will get you as a rental in Lancaster: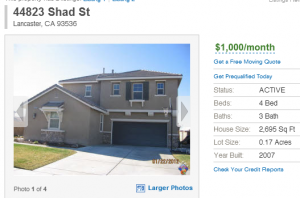 However in this neighborhood, you can see what current homes are selling for: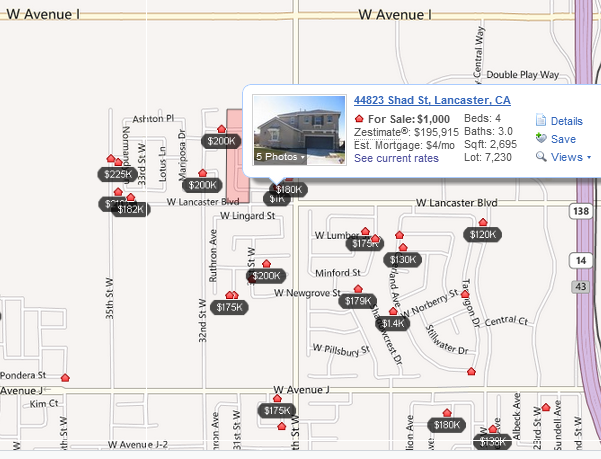 For comps, you are looking at a home price of $175,000 to $200,000 for a $1,000 a month rental.  Most investors will not find this deal appealing.  And if we look at the sales history we realize that these markets are still dealing with the pangs of the housing bust: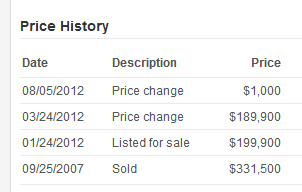 The $1,000 rental once sold for $331,000.  What started a few years ago was simply idealistic investors diving in thinking they would get incredible yields with minimal work.  Any property investor will tell you that rentals do require active management especially in more volatile markets.  Even in the Inland Empire where deals are to be had you need to remember that there are many costs that come to being a property investor including; vacancies, repairs, taxes, insurance, and legal fees.  I've notice many Californians buying out in Las Vegas thinking they can simply leverage their money from here and pay a property manager 8 to 10 percent and expect the money to flow in deep into perpetuity.  Yet they rarely account for those odd times when multiple vacancies hit or when they get a bad tenant.  After all, with the economy doing so well they think they will have 30 years of solid tenants with no issues.  I think many investors are doing well but the fact that roughly 30 percent of all purchases in SoCal have come from the investors ranks, I believe people had bigger yields in mind when they saw these markets.  You also have many "newbies" jumping in with expectations too high.
It is also the case that the giant investor groups think that money will flow in as easily as trading CDS products or slamming a few entries into a computer terminal.  The successful investors that I do know understand how to build and fix-up properties and use this as a way to keep costs low.  A minor re-model can cost you tens of thousands of dollars.  They also understand how to manage a property wisely and are conservative in their estimates.  When you hear that rents are going up you need to remember that this is an overall trend partly due to the constriction of inventory and some markets are not exactly booming even with low prices.  Even in our example, it looks like they tried to sell the place for $189,000 but opted to go with a $1,000 rental.  Is that a good deal as an investor?

Did You Enjoy The Post? Subscribe to Dr. Housing Bubble's Blog to get updated housing commentary, analysis, and information.