It would seem that all the housing problems are now washed away in the ocean of government bailouts.  Many readers after reading the Alt-A and option ARM tsunami report sent me a few articles showing how option ARMs are not going to be such a big problem.  I disagree.  If toxic mortgages and debt were not a problem why don't we remove the additional $13.5 trillion being dished out to Wall Street?  By the way, over $4 trillion of that commitment has already been used and spoken for.  That $4 trillion was worth a 45 percent stock market rally (too bad it is on the back of taxpayers many who are losing their jobs in the real economy).  The problem of course goes beyond the option ARM loan which is a monstrosity and a beast with no purpose in this financial universe.  The Alt-A galaxy includes option ARMs but also includes:  stated income, stated asset, no income verification, debt-to-income ratios that Fannie Mae and Freddie Mac wouldn't touch which tells you something, weak credit history, and maximum loan to value ratios.  Now how much of this Alt-A crap is outstanding today?  Try $660,000,000,000.
And let us not forget about the $446 billion in subprime loans that are still out there floating in the abyss.  The toxic mortgage problem is still largely present.  Doubt it?  On July 30th PennyMac (PMT), a real estate investment trust went public to buy up toxic mortgages.  You would think that they would avoid the "Mac" in the title given IndyMac and Freddie Mac don't exactly inspire public confidence.  One of their goals is to buy and modify mortgages keeping buyers in their home before selling the loans once the value goes up.  Does this crap sound familiar?  It should.  One of the top managers of PennyMac is none other than Stan Kurland, a former Countrywide Financial executive.  The company had a weak performance on Thursday even though the stock market is flying high like an eagle strung out on drugs.  If you were wondering what happened to the public-private investment program, here we are starting to see the inbred nature of bailing out those who actually were responsible for this crisis.
One thing the happy cheerleaders in the financial circuit fail to have is basic logic.  Think of it this way.  Why would we need all those trillions in backstops if we are now officially out of the recession?  I'll tell you why.  These are the same people who led us to financial Armageddon and here they are promising the public once again that all is well yet quietly, they are developing methods to unload the remaining toxic mortgage waste so they can effectively be absolved from their massive financial sins.  Who better to know what crap is on their balance sheets than the mortgage manure producers?  This is certifiable insanity!  Now wouldn't you think it would be prudent to at least call in folks who were whistle-blowing before the crisis to buy up some of these mortgages at the right price or at the very least, didn't produce the actual junk?  Of course this isn't going to happen because crony Wall Street knows that once we open up the books, we know what kind of toxic mortgage waste we are going to find in their Pandora 's Box.  Their plan is to unload this mortgage chum to the U.S. taxpayer now that they are drunk on financial happy talk so once things sour again, the mortgages will now be fully on the taxpayer's back.  Whoops!  Now it's your problem.
Make no mistake, we are going to hit another wave of pain.  The commercial real estate market with $3 trillion in debt has some of the most toxic debt in the world.  Empty strip malls, vacant medical offices, and parking lots with no cars.  We have barely scratched the surface in this market.  Have you ever asked why we are up to $13.5 trillion in financial bailout commitments?  What a convenient number to choose given that we have used up $4 trillion already.  And don't listen to the Wall Street crony capitalist.  Remember when we were being told Fannie Mae and Freddie Mac were going to turn a profit?  Bwahahaha!  A few hundred billion in losses later, the story is a bit different.
But let us focus our attention on the Alt-A and subprime universe.
Alt-A and Subprime Still Toxic Waste
People want to forget about subprime like a crazy ex but there are still $440 billion in subprime mortgages active: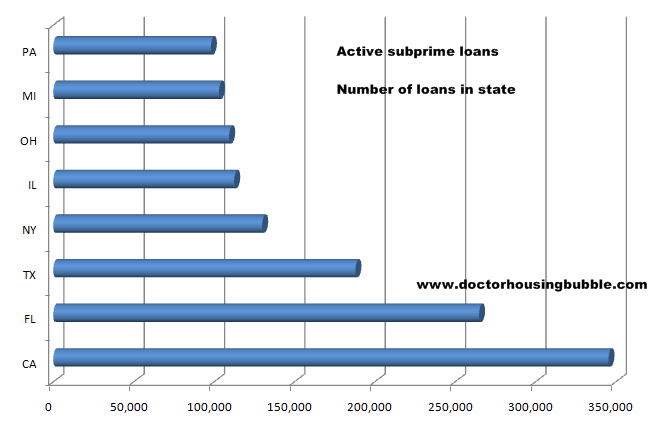 The average subprime loan balance is $180,000.  There are some 2.4 million loans in the U.S. that carry the proud subprime label.  The large majority of these loans have as much likelihood as making it a few more years as city sewage turning into gold.  As you can see from the chart above, your typical epic failing housing markets are your largest guilty parties.  California leads the parade followed by Florida and Texas.  Notice how other states like Ohio make their way on to the list.  Many of these loans will be epic fails.  Calling PennyMac.
Yet the Alt-a crap flowing through the mortgage veins of our country is more ominous: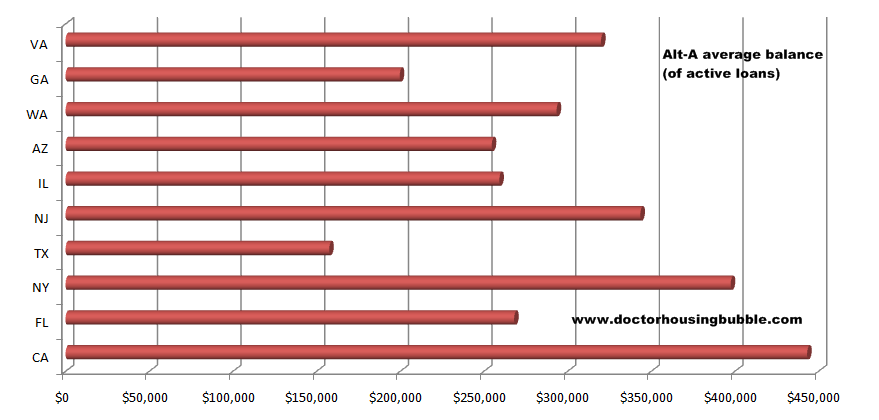 As you can see from above, this is by and large a California problem.  How much of that $660 billion is here in California?  $280 billion.  So one state has over 40 percent of this crappy market and much of it is the option ARM variety.  The Alt-A and option ARM tsunami will happen.  The only remaining question is what does this mean for the housing market?  Not good news.  Much of the doubt that I received in the last few weeks was based on new research conducted by Barclays Capital:
"(BusinessWeek)  New Barclays Capital research from Sandeep Bordia and colleagues shows that the recasts in the next year or so are expected to be a minor event. But by mid-2011, these borrowers are forecast to see payments that are 50% to 80% higher than what they are grappling with now. (Many of these option ARMS are concentrated in former hot-spot real estate markets, such as California and Florida.)
Modification don't seem to be working with these particularly noxious loans. In the face rising payments, borrowers don't have an incentive to keep up with their current payments for homes that are already so horrendously under water, i.e. the loan amount is far above the current value of the property. Bordia says that many of the option ARM loans that do get modified turn delinquent soon after anyway. They've crunched some numbers and forecast that 95% of the loans that are slated for modification will eventually default. If you think that sounds bad, get this: They say that 80% of the option ARM loans out there that are ok and up-to-date as of right now will eventually default, too."
My emphasis added but did you get that?  This is the same logic that was used in California in 2007.  Housing prices didn't fall 50 percent…until they did.  Here, the positive spin is 80 percent of these people are ok…until they are not.  Sure, you are driving in your red convertible with no care in the world…until you fly off the cliff.  And keep in mind we are only looking at the option ARM universe here.  We had folks who went stated income on 30 year mortgages or went gangbusters on an interest only loans.  Not option ARMs.  In fact the amount of option ARMs outstanding is hard to gather but some figures put it at $230 billion.  A subset of the $660 billion Alt-A pie.  So the Alt-A universes goes beyond the option ARM.  And most of those loans are crap as well.  It is one gigantic feast of mortgage sludge blended with other waste.  And as you noticed, the report isn't stellar so I'm not sure why some were sending e-mails of relief from this data.  So we don't implode in 2010.  Okay, so you are breathing a sigh of relief because we implode in 2011 (by the way that is when I predicted a bottom for the California housing market)?  Their estimate is that 95 percent of option ARMs that are modified re-default.  So you get the picture.  This is a Godzilla like mortgage mess.  This is the size of the subprime explosion and here we are, starring it in the face and everything is supposedly dandy.
Here is a new chart based on the data:


Source:  McClatchy
Yet in an interesting find from Zero Hedge, some of the banks may be sidestepping the public-private investment program:
"Wells Covertly Offloading Subprime Loans
A relatively obscure piece in the Triangle Business Journal, referring to a piece in the National Mortgage News, demonstrates how some of the larger banks are bypassing the PPIP and going direct to willing toxic buyers in a very "under the radar" fashion. In this particular case, Wells Fargo has apparently offloaded $600 million in subprime loans to Arch Bay Capital at 35 cents, or double what other hedge funds had offered. While the price discrepancy alone is worth a follow up, the TBJ had this interesting tidbit to note about the transaction:
"No one involved in the recent sale is talking on the record, which may be a key reason lenders will look to private transactions to unload bad assets rather than turn to a government-sponsored program."
It is very interesting how many other comparable portfolios Wells Fargo has been offloading without public notification, at what price, and how much of an MTM hit it has had to endure as a result. What is confusing from this development is that the bank would be willing to take a 65 cent hit (which on $600 million is not, or rather in the pre-taxpayer-guarantee-of-everything days, used to not be, peanuts), when it could keep the loans, even if massively non performing, and sell into the PPIP at what the FDIC would announce is a much higher and "fair" price. Is Wells admitting it realizes that PPIP is a failure and thus is pursuing private transactions even at a major loss? The discovery of comparable transactions by other banks would be useful to determine if this is indeed the case."
Interesting observation.  The lukewarm reception of PennyMac is telling you what we have been telling you for months.  The public-private investment program is an outright sham and any initial movement and gaming will bring massive political consequences.  The public can take a lot (obviously) but patience is wearing thin.  The commercial real estate bust combined with the Alt-A and option ARM tsunami may be enough to give us our pitchfork tipping point followed by a Pecora investigation and hopefully some much needed justice.
I'll leave you with this quote from inmate Bernard Madoff:
"No one bothered to ask simple questions. People foolishly – including accountants and regulators – never looked in the right places."

Did You Enjoy The Post? Subscribe to Dr. Housing Bubble's Blog to get updated housing commentary, analysis, and information.