The growing disparity of income in the world is a major talking point at the World Economic Forum in Davos.  Apparently there are only so many yachts and extra homes a rich hedge fund manager can buy.  This large divide is only expanding and consequences are showing up in odd ways like large dark pools of money flooding into the once stale residential real estate market (the place where most Americans used to build their wealth).  It was interesting to hear pundits act like apologists for the banking industry with the bailouts acting as if this would help the middle class.  Well here we are in 2014 and most of the gains from 2009 have gone to a very small connected portion of our population.  This new rentier class is dominating a large part of the residential market.  In some states, more than 50 percent of residential real estate sales are going to investors.  I was digging through some reports and saw that Florida, the younger sister of California had something like 62.5 percent of all sales going to all-cash buyers (that is, no mortgage was recorded on the sale).  Who needs the plebs when you can buy up the entire Monopoly board!
All-cash buying gone wild
I doubt that anyone is going to act surprised that Florida is at the top of the list.  Florida, also home to the real estate bubble back in the 1920s when wealth inequality rivaled that of today, is back at it again.  62.5 percent of all residential sales went to people/institutions buying up places recording no mortgage in December.  Where is this financing coming from?  A large amount is coming from hedge funds and Wall Street that basically circumvents the stale traditional mortgage system.  Yet this group wants a profit and isn't necessarily buying up properties for charity.  However, this group is also fickle.  If they sense the market is turning they are going to exit.  What happens when half of your buyers start pulling back?  No fun having vacant rentals.  No fun when the plebs start yanking microwaves or stoves and putting giant holes in your wall because of economic troubles.  Many of these new investors only know good times since they dove in starting in 2008 and 2009 during a time when the stock market went back up 100+ percent in a short-time.
What is interesting is that the modest jump in interest rates last year basically put a boot to the neck of the regular traditional buyer that is now being eulogized at Davos: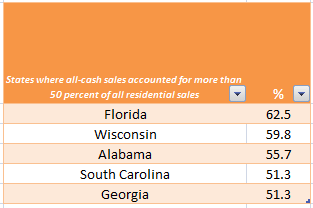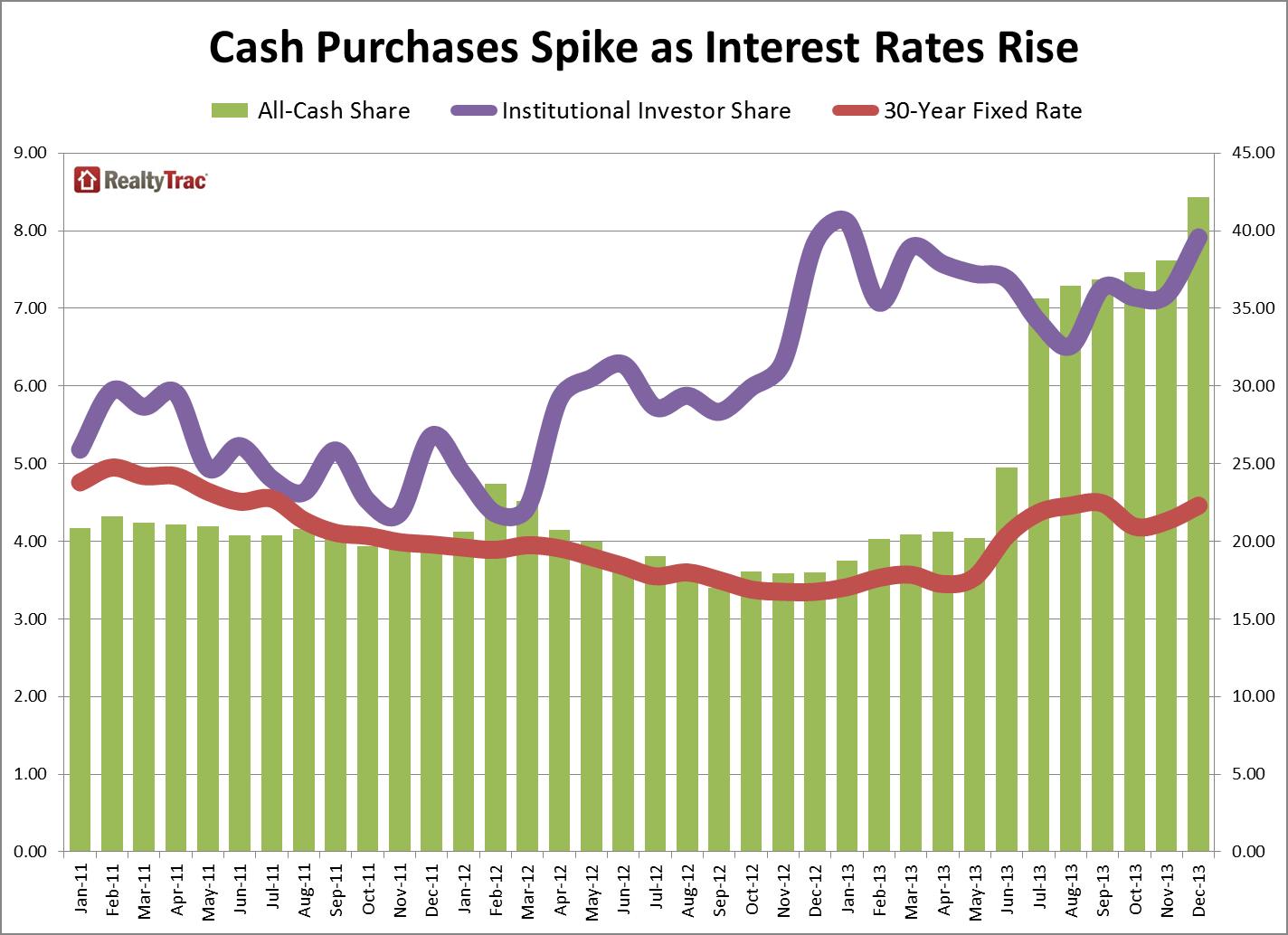 How big of an impact did this rate increase have on the entire US market?  We saw an 18 percent jump on all-cash buying from December 2012 to December 2013!  Over 40 percent of the market is recording all-cash transactions in December (almost half nationwide).  The numbers may be misleading because this would give the impression that overall sales are off the charts.  They are not.  Inventory is low.  You basically have large pools of money seeking a home and prices being pushed up as these modern day feudal lords of Wall Street come into places like Las Vegas, Phoenix, and Florida and buy up most of the state.
For example, home prices in California went bananas in 2013.  It has dramatically slowed down recently but take a look at total sales: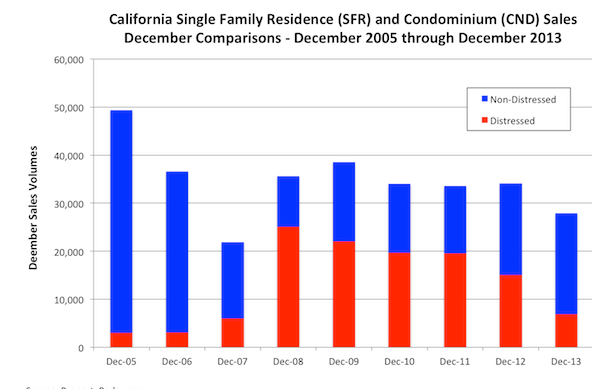 Take a closer look at total sales back in December 2005.  Close to 50,000 for California.  This last December was the slowest December since 2007 when the market literally went unglued like a child throwing a tantrum at Ralphs.  Yet real estate prices went up at a pace seen only during the heyday of the bubble on very slow sales volume.  Again, a few people understand this is a hot money game.  So long as the stock market and the Fed keep injecting easy money into the economy this can go on.  But for how long?  The Fed is already hinting at a taper ($4 trillion on a balance sheet is no tiny sum).  Since 2009 the stock market has only seen one direction.  A large part of the gains have come at cutting wages, benefits, and basically making it tougher for a middle class to grow.  At the top however gains have been absolutely wonderful.  In fact, beyond the hedge funds and Wall Street, you also have folks trying to plunk down some of that extra cash by diversifying their portfolios.  Know which group I'm excluding?  The bulk of the population.
In California we're already seeing a slowdown of big money buying up inflated properties.  Those coming in right now are like the Beverly Hillbillies trying to play a part of a game that is out of their league.  Some of the rental securitization funds timed the market nicely by selling these at probably near a peak.  Of course, you have delusional people thinking a new era is afoot.  For example, tech in California.  Even Eric Schmidt from Google alluded to this – Google makes the bulk of their cash from ad revenues.  That is, regular people clicking on ads for purchases.  The pool of people that is largely growing poorer.  Apple?  The student debt bubble is going strong and how many sales are going to college kids buying iPads or laptops that have more power than they need for browsing Facebook and entering a message on Twitter?  Some are using aid to buy these items or are going into debt for them.  So much of this economy is based on confidence that when tides shift, things can reverse quickly.
I don't think most people follow things closely like Argentina going off the financial cliff (again) or what is unfolding in Ukraine.  Last time I tried explaining to someone the all-cash buying locust plague to someone they looked at me as if I started speaking in tongues and flying dragons were floating out of my ears.  Best to keep those conversations online with you fellow blog readers.  Those cocktail party conversations of 2005, 2006, and 2007 where everyone was a real estate expert became common again in 2013.  The fact that some states in our nation had more than 50 percent of sales going to non-traditional buyers tells you something.  The regular Joe is not gaining much benefit from low rates and a wickedly strong stock market when their job is hanging on a razor's edge.  In a recent poll, 42 percent of Americans had not read a nonfiction book in the last year.  How does that adage go about those that fail to learn from history?  No wonder why our nation is now largely leaning to one of renters since the bailouts took place.

Did You Enjoy The Post? Subscribe to Dr. Housing Bubble's Blog to get updated housing commentary, analysis, and information.