The big foreclosures are now hitting the market in a steady stream.  It was only a matter of time before the shadow inventory started leaking out into the market for all the public to see.  The banking industry made a bet with your tax dollars that home prices would rebound shortly after the bubble burst.  But by definition a bubble is based on unsustainable prices that have very little connection to economic fundamentals.  Just take a look at the NASDAQ and see how close we are to the peaks that were reached a decade ago.  In many Southern California areas home prices won't be seeing their peak levels for at least a decade.  Earlier in the week we covered a home in Mar Vista that had a $200,000 price discount.  The purpose of this is to show that banks are now pushing onto the MLS prime location properties at steep discounts.  How does this differ from last year?  Last year banks would put a home on the MLS and try to recoup bubble level prices.  Today we'll look at a home in Agoura Hills that has a steeper discount in an arguably more desirable area.
Agoura Hills is another L.A. County city that is considered prime but nothing close to being an elite area.  There is a difference.  These are the markets that will face the brunt of the correction in the next year.  Today we salute you Agoura Hills with our Real Homes of Genius Award.
Southern California MLS inventory growing

The trend is unmistakable for Southern California.  Inventory is growing and much of this is being pushed by growing foreclosure listings and also short sales.  It is also remaining elevated because sales have fallen steeply in the last few months.  Now going into the seasonally slow fall and winter, we can expect this trend to continue.  After all, a foreclosure doesn't care if it is raining or sunny outside.  I've received a few e-mails about foreclosures being halted with GMAC and now JP Morgan Chase:
"(NY Times) In a sign that the entire foreclosure process is coming under pressure, a second major mortgage lender said that it was suspending court cases against defaulting homeowners so it could review its legal procedures.

The lender, JPMorgan Chase, said on Wednesday that it was halting 56,000 foreclosures because some of its employees might have improperly prepared the necessary documents. All of the suspensions are in the 23 states where foreclosures must be approved by a court, including New York, New Jersey, Connecticut, Florida and Illinois.

The bank, which lends through its Chase Mortgage unit, has begun to "systematically re-examine" its filings to verify that they meet legal standards, a spokesman, Tom Kelly, said."
My take on this is that yes, banks do shoddy work.  What do you expect?  This is the same industry that brought you the option ARM for crying out loud.  Now we expect them to actually do an ethical job handling foreclosures?  Just like they rushed and forged documents during the boom time trying to get every borrower with a pulse into a home, in many areas they are trying to kick people out the door without even checking their facts.  In one case, a person with no mortgage in Florida was foreclosed on by Bank of America!  My take on this is that there is tons of shoddy work out in the system.  Yet the sad majority of foreclosure filings are actually happening for one reason and that is the sad state of the economy and toxic mortgages made in "legal" ways.  Take a look at foreclosure filings: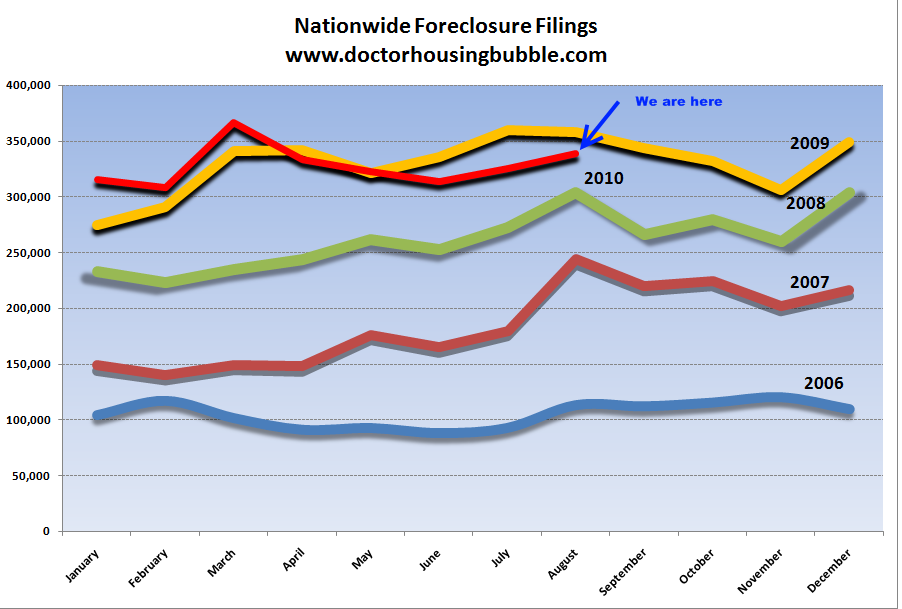 Even if JP Morgan is announcing a halt on 56,000 foreclosure filings this is a drop in the bucket.  We are on pace to have 3.5 to 4 million foreclosure filings in 2010.  Now what does this have to do with the foreclosure I'm going to show in Agoura Hills?  It has to do with it in every way because many of these mid-tier areas have paperwork that is filled out correctly.  No subprime-Bill-Gates-is-my-cosigner-and-I-make-$200k-at-Costco fraudulent documents.  In many cases these are people that took on Alt-A and option ARM products trying to live a Real Housewives of Wherever lifestyle.  If you're household makes $100,000 or more you are in the top 20 percent of all U.S. households.  But I can tell you this; $100,000 doesn't even come close to financing a $1 million property (even a $500,000 mortgage is too much).  So in expensive California areas I'm sure the paperwork is likely to check out (sanity is another issue).  These people just can't pay.
From $1 million to $739,900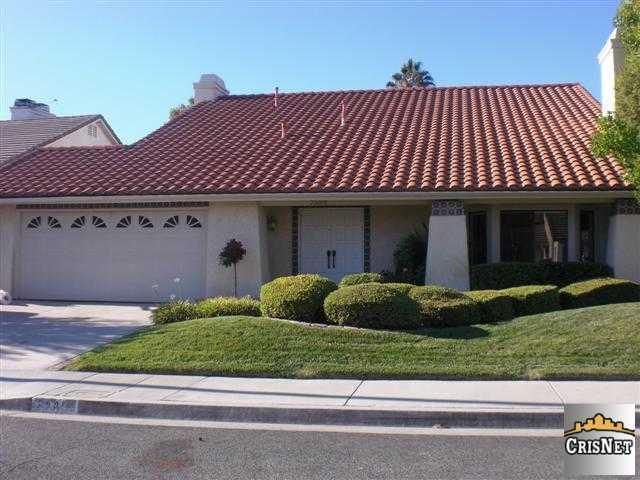 29019 INDIAN RIDGE CT, Agoura Hills, CA 91301

Beds:                     3

Baths:                   2/1

Built:                      1980

Square feet:       2,620

List date:              9/13/2010

List Price:            $739,900
The above home is a foreclosure and only has two weeks being listed on the MLS.  The current list price is $739,900.  This is a good area and the home is a nice looking place: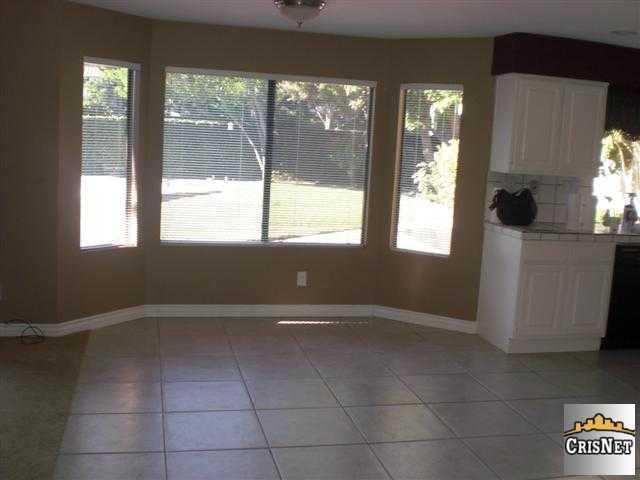 Those don't look like 1980 floors.  Where did the money come from for those upgrades?  We can only take a guess.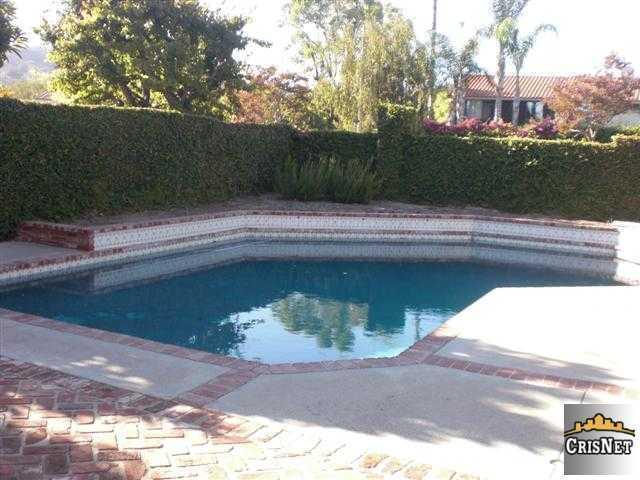 Even foreclosures have pools.
I can't tell you how many times last year I heard from people in these mid-tier markets talking about "how their area was different."  As we all now know, they are clearly not.  Mathematics doesn't suspend itself for certain zip codes.
If we look at the sales history, we see the progression of the housing bubble here:

This is just nuts.  In five years this home doubled in price even though incomes went stagnant.  This is the definition of a bubble.  The current price even with a $280,000 price discount is still inflated.  These markets are flooded with shadow inventory:
Agoura Hills

MLS listed foreclosures:                                7

Total shadow inventory (NODs, scheduled auctions, bank owned homes):           178

Now run the numbers for this place with a 10 percent down payment:

Down payment:                               $73,990

PITI:                                       $4,447   (30 year fixed)
A household would need to make $200,000 to $240,000 to safely afford this place with a 10 percent down payment.  In 2007 the average adjusted gross income for this area was $112,000.  In other words, even a near $300,000 discount still renders this home inflated.
Today we salute you Agoura Hills with our Real Homes of Genius Award.

Did You Enjoy The Post? Subscribe to Dr. Housing Bubble's Blog to get updated housing commentary, analysis, and information.