Figuring out housing prices isn't rocket science.  There is no need for a master's degree in financial engineering to figure this out folks.  Even as the housing market continues its downward slump, we are still at overpriced levels.  Why?  Well historically, housing as an investment only tracks with the nation's inflation rate.  That is until a bubble appears and people start getting the notion that this time is different.  I'm going to give you a very straightforward math equation on determining how much home you can afford.  This is the maximum price you can pay without putting yourself into financial jeopardy and maintaining a cushion:

Wait a minute.  You mean to tell me that the ridiculously simple equation above is the solution to restoring sane housing prices?  Pretty much.  I'll explain why this is in a second but you need to remember that for nearly a decade, we had no semblance of checks and balances.  No documentation loans clearly went on no established ratios since you had the ability to make up your family financial balance sheet.  Even with some documented toxic loans, lenders and Wall Street did not care and took the loans anyways.
Now why is the 3 times yearly gross income rule a good one?  First, you need to remember that as a rule of thumb, you should try avoiding spending more than one-third of your monthly income on housing.  If you want to find out how much a month you will be spending on your home, a quick way of figuring that out is this:

This is a quick rule of thumb.  For example, if your mortgage amount is $100,000 you can expect to have monthly housing costs of $1,000.  Many investors usually have these formulas in the back of their mind when determining a good value for a property.  These costs include the following:
Principal
Interest
PMI
Insurance
Taxes
Maintenance
Upgrades
A big mistake made by buyers, realtors, and lenders during the bubble was the fixation on principal and interest only.  In fact, some of the main selling points of interest only loans were the cheap monthly payment.  Well that was only one cost of the above many items.  Some of the most toxic pay option ARMs didn't even include the full interest amount.
You may be thinking that this is too simple.  Too straightforward and maybe, it belongs on some morning kid TV show.  It is this simple however.  And that is why people don't like it.  Sort of like losing weight.  The formula for that is, eat less calories than you burn in a day and you will lose weight.  Yet getting this discipline is the hard part, not the equation.  What this tells us is housing prices have still a long way to go to adjust.  I've put together on this chart below the U.S. median home price and also the U.S. median household income since 2000 to track the housing bubble.  Just for kicks, I threw in the L.A. County median price to put one crazy bubble next to an amazingly insane out of this world bubble: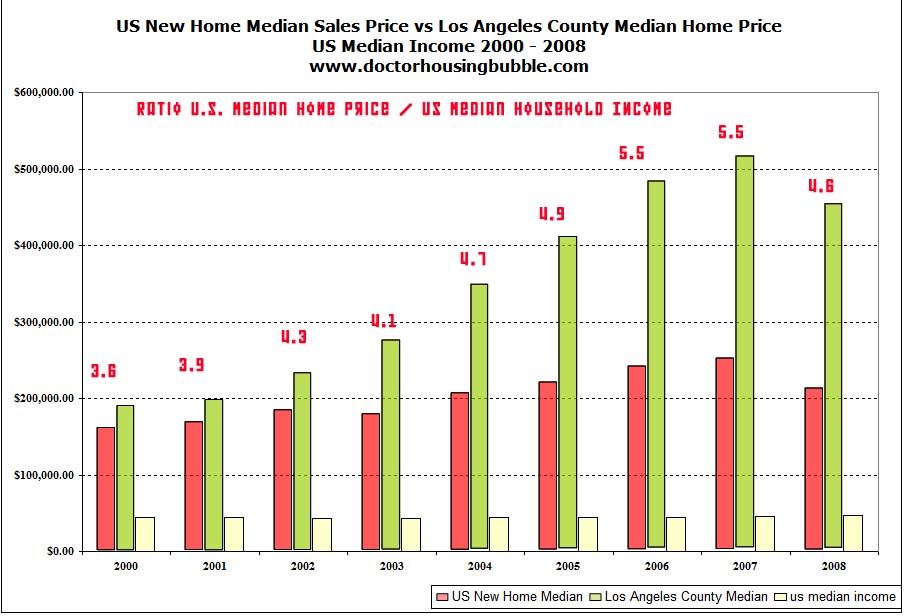 *Click to enlarge
As you can see from the chart above, U.S. median income for the past decade has remained stagnant.  Yet home prices appreciated at an unprecedented pace.  On the top of the chart, I quickly put the price-to-income ratio just to give you an idea of how high prices rose.  Already in 2000, prices were at a 3.6 ratio, a little higher than we would like.  Then all of a sudden, you have a non-stop growth to a ratio of 5.5!  This was simply unsupportable.  In addition, if you think that is bad, the peak price-to-income ratio in Los Angeles County hit above 11 at the height of the bubble.  Meaning, the median home price in L.A. required the median household to spend 11 times their yearly income.
Now this would not be such an issue if incomes had kept pace, which clearly they did not.  So it leads you to the question that if household incomes weren't keeping pace, how did people manage to pay more for homes?  In one word, credit.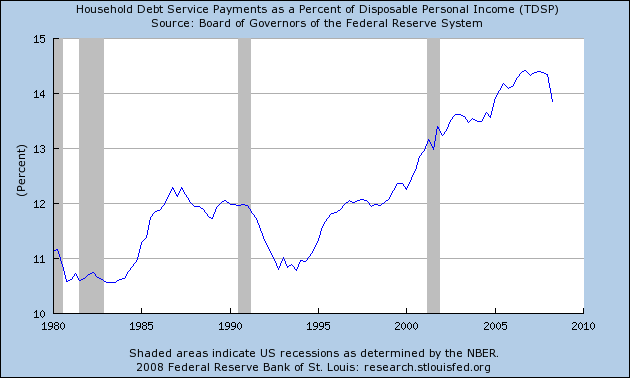 The above chart goes to show a clear sign of what has occurred in this past bubble.  More and more of a family's income went to servicing current debt payments.  When we consider the $700 billion bailout plan and one component of injecting capital into banks the primary reason again is to get credit going.  This of course should lead you to question why we are trying to spur credit (debt) when debt is what got us into this mess in the first place?  Nowhere do we see legislation trying to clamp down on stricter lending.  In fact, the marketplace has suddenly tightened up and the government wants to loosen it up again.
The government has led the way in acquiring debt so you would expect similar behavior from the populace:
Total public debt has blasted through the $10 trillion mark and with the price tag of these bailouts, we can expect to see $11 and $12 trillion very soon.  At a certain point you need to return to prudent lending standards yet at the moment, the government seems to want to return to the heyday of the housing bubble.  We can't go back since we have reached a critical inflexion point.  That is, we cannot throw more debt at the problem and expect it to go away.  That is why certain states like California will not see a housing bottom until 2011 or even deeper into the future.
Take a look at real median income produced by the Census Bureau: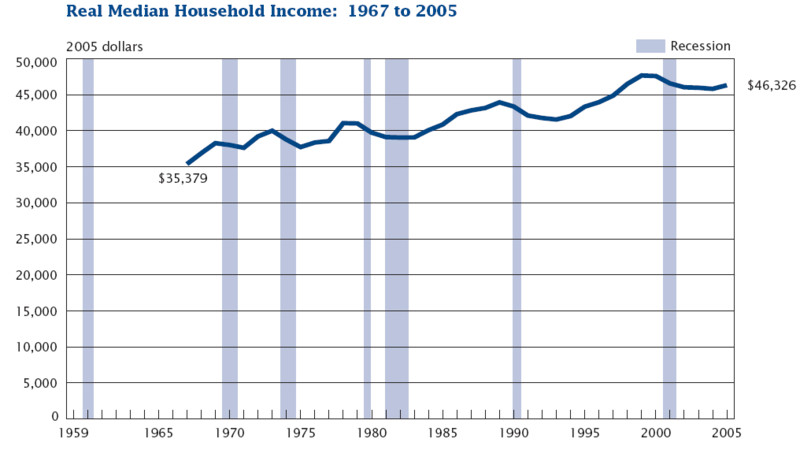 What you'll see is slowly growing household income, that is until this decade where income even dipped a bit.  Of course, some of that growth also comes from the fact that we now have 2 workers per household which has increased since the 1950s.
Is the formula for housing prices really that simple?  That is, 3 times gross household income is the maximum value of a home one can afford?  It is.  So if your household income is $100,000 you can buy as much as $300,000 worth of home.  If you make $1,000,000, you can buy up to $3,000,000.  Makes you wonder if we'll ever see these ratios again.

Did You Enjoy The Post? Subscribe to Dr. Housing Bubble's Blog to get updated housing commentary, analysis, and information.