California has gone through many boom and bust cycles.  Since it became the 31st state in 1850 California has been home to many speculative manias.  An enormous population boom in the 1800s was brought on by the California gold rush.  Booms like this led to the rise of cities like San Francisco.  Los Angeles in the early 1900s found its footing as an entertainment hub and this led to massive expansion.  Since that time we have seen countless real estate booms and busts.  The current housing boom and bust cycle is the largest and most widespread in the state's 160 year history.  As we look at historical data there is no lack of hyperbole when it comes to selling California real estate.  It would seem that every year is a good year to buy.  Of course as many are now finding out, timing is usually a bigger factor in determining housing success than investment savvy.
We first should look at the history of housing from a historical perspective because many old paradigms of housing have fallen.  Let us first look at nationwide data from 1910 and 1920: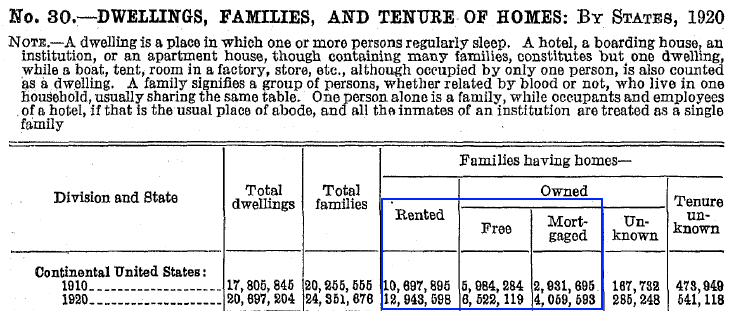 Source:  Census Archives
I decided to dig up some old Census data to show how dramatically housing has shifted over the years.  Many in the housing industry assume that real estate has always been the way it currently is but forgetting about history can lead many into challenging situations.  In 1910 and 1920 the majority of Americans rented their home.  Of the 20 million dwellings in 1920 only 4 million were mortgaged.  Today, the majority of American households own a home.  The homeownership rate has fallen since the crisis started.  California is not immune to this trend: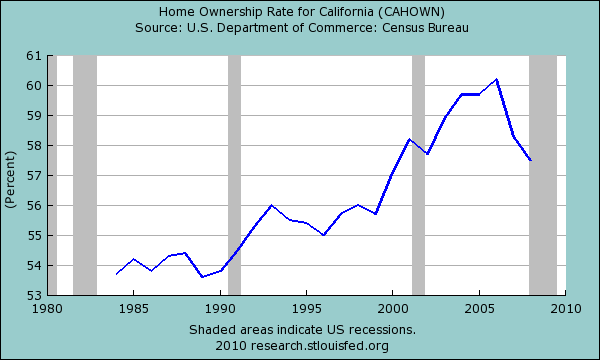 The nationwide homeownership rate stands at 67.3 percent down from the peak of 69.4 percent back in 2004.  In less than a century the housing market completely transformed.  We went from a country dominated by renters to one dominated by homeowners:

So how did we go from a large number of renters to a majority of homeowners?  Much of the jump came because of government financing in the housing market: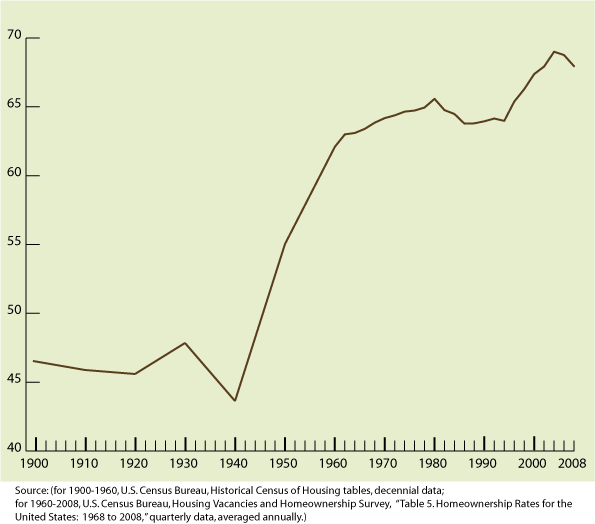 Source:  Hoover Institution
In the middle of the Great Depression the National Housing Act of 1934 was passed to bring on more affordable mortgages and also created the Federal Housing Administration (FHA) and the Federal Savings and Loans Corporation.  The central reason for this was to stem the issues deep in the foreclosure crisis of that time.  The FHA and the FSLIC created the network to allow steadier access to mortgages in the market.  Some factors that came about from this was the push for suburban sprawl and also less focus on improving inner city housing.
There have always been promoters of real estate.  Even in the depths of the recession people were championing real estate in California: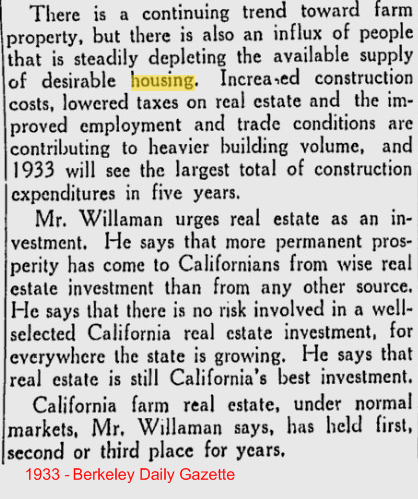 I found this piece from a 1933 California newspaper.  The cries of available supply, lower taxes, and benefits to the real estate industry were already loud and clear back in the 1930s.  You would think that the Great Depression would at least dampen the spirits of housing promoters but that didn't seem to stop many.  If a Great Depression didn't stop the promotion maybe a World War?  Not even that could stop the hype: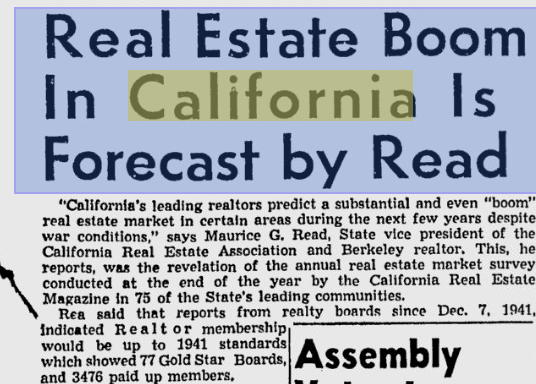 The above comes from a 1942 newspaper spot.  One thing is certain when it comes to California real estate.  There is always a boom going on, it just depends who you ask.  Timing is such an important factor in purchasing real estate.  Many who bought in California from 2004 to 2007 took the brunt of this current housing bust.  But the usage of highly toxic mortgages has created a long lasting legacy of problems that we are still working through.  The problems are still embedded in the market and many mortgages sit in a financial state of suspension.  This will continue at least throughout 2010.
Let us look at California housing prices going back to 1940: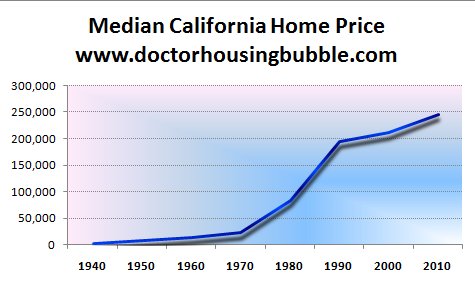 Source:  Census
Home prices have gone up steadily since the 1940s.  Some decades saw much higher price growth.  The biggest jump came between 1970 and 1980 when home prices went from $23,100 to $84,500 increasing by a factor of 3.65.  This decade has seen the slowest growth since the 1940s.  In 2000 the median California home price came in at $211,500 and today the median home price is $247,000 (an increase of 16 percent while the state's inflation rate is closer to 30 percent over this timeframe).  So California real estate has now witnessed a lost decade adjusting for inflation.  The likelihood of seeing  a nominal lost decade in prices cannot be ruled out.  Some areas in California like the Inland Empire are already seeing this happen.
Yet what has really happened in California was the transformation of housing into a speculative commodity.  This can be seen by how much income is eaten up by home prices:
It is tempting to look at the above chart and say that home prices are overall cheaper than they were in the 1980s if we factor in the median home price and household incomes.  However home prices are still too expensive and if we look carefully above household incomes never really caught up after the massive inflation of the 1970s.  Access to debt covered up much of this lost purchasing power.  The current median home price in the state is also deceptive because of the massive amount of foreclosure re-sales in the last two years.  Most of these have come from lower priced markets while mid to higher priced areas remain in bubbles.  The above chart highlights the overall sales in lower priced markets and still comes out showing a very expensive market in California.
Much of the rise in home prices this past decade came because of maximum leverage mortgages that didn't even take into account incomes that were falling further and further behind.  Many of these mortgages didn't even look at income.  The above chart pulls points at each decade so we miss the 2007 peak in home prices.  If we include that point the chart would look like this: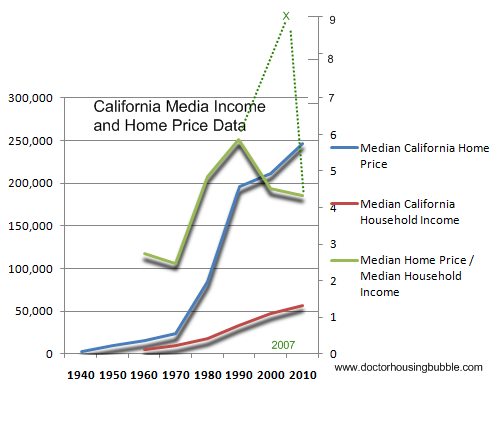 When you look at the peak price data, it shows how historical this bubble was.  In places like Los Angeles and the Bay Area many homes that are still selling for peak prices were built back during the last home building craze in the prime counties.  Take a look at this 1942 ad: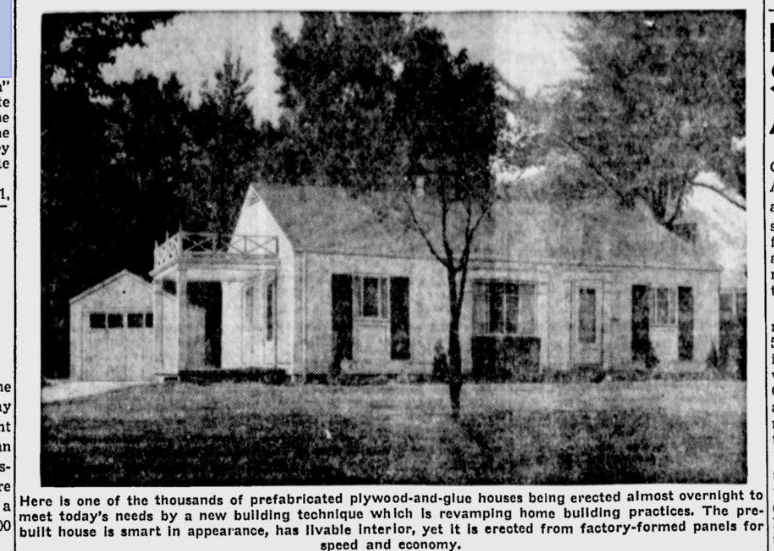 Much of this massive construction took place decades ago in some of California's biggest and oldest cities: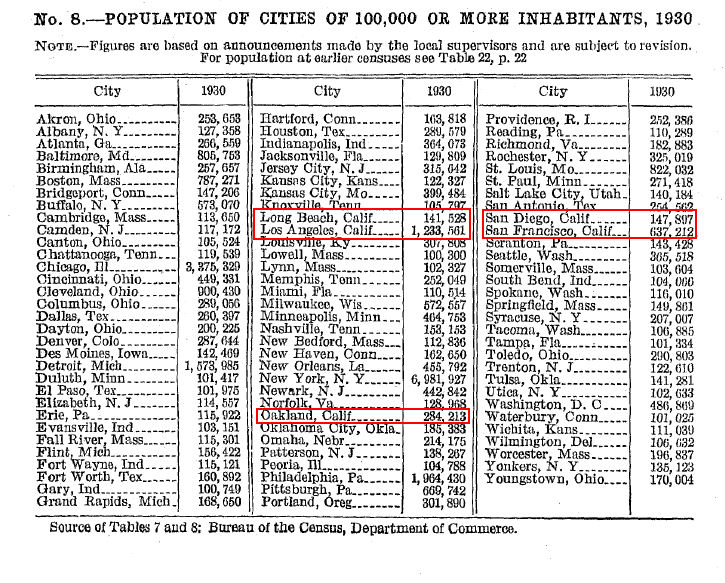 Massive population centers are nothing new for the state.  And a growing population will increase housing demand but not how most think: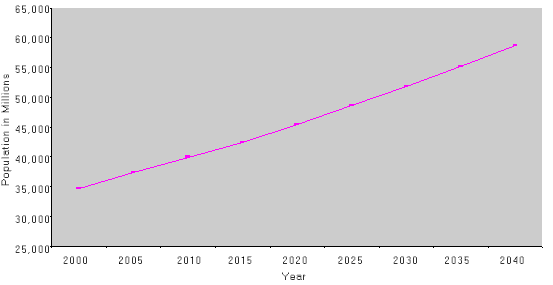 Source:  Legislative Analyst Office
California is still lacking in affordable housing.  The days of cheap fuel will make it harder for other Inland Empires to sprout up from the ashes.  People forget that California has an enormous amount of land that is similar to Arizona and Nevada.  The Central Valley has plenty of room.  Why don't they build this out?  For one, access to employment but also the cost of energy to keep these new cities up simply does not make economic sense.  It is unlikely that we will see $1 gas again so fuel is going to impact the suburban sprawl dream that started back in the 1930s.  New housing has to be smarter and more compact near city hubs.  Look at places like Tokyo for example.  We always hear the real estate building crowd that we need more friendly permits but then they go out and build sprawl just like they did back nearly 100 years ago.  Is this really good for our longer term prosperity?  Also, it might have reached its natural end.  People can't afford to commute from these outer regions.
There is no arguing that the population will grow in California over the next decades.  Yet to assume that this will mean another real estate boom is incorrect.  Look at China for example.  They are now contending with mini bubbles in real estate and they have massive population centers throughout the country.  The big issue in the coming decade is going to be smart and affordable housing.  Ironically many of the current government programs are making housing unaffordable by propping up failed banks.  It also keeps the current structure in place since so much money is involved.  Yet that doesn't mean it is smart policy going forward.
So what will we see in the next decade?  It is very likely that the homeownership rate will dwindle lower in California.  As more and more people are classified as "part-time" workers with no employment security, a large part of our population will need the mobility of renting or simply won't have the income to purchase a home.  When people purchase a home, it requires a level of security in their employment.  If a large part of the population doesn't have that, many will opt to rent, some by choice but many others because of economic reasons.  City hubs will probably see bigger growth as people move closer to employment opportunities.  This isn't the 1920s when 1 out of 4 people were farmers.  It will definitely be an interesting decade when it comes to California housing.
Did You Enjoy The Post? Subscribe to Dr. Housing Bubble's Blog to get updated housing commentary, analysis, and information.