Buying a home in the next 12 months seems to be a highly speculative move especially in California even with lower home prices.  It is amazing (although not surprising) that none of the potential options for a housing recovery include renting.  You will not hear the NAR or CAR echoing to families that renting actually will make sense for a large number of people.  The median home price in California was $264,000 in December of 2009 and in September of 2010 it was $265,000.  Prices have moved sideways for the year and are likely to move lower in 2011.  I would argue that a large reason for the movement was the homebuyer tax credit but also the numerous fence sitters that thought 2010 was the year to buy.  Yet as the median price demonstrates, there is little reason to buy because you think you will be priced out.  In fact, if you have the itch to buy right now I would say lock yourself into a 12 month lease to protect yourself from impulsive moves like the large herd that went to condo bidding wars.  There is no rental lobby but there are many reasons why renting in California for the next 12 months makes absolute economic sense.
Reason #1 – Glut of vacant homes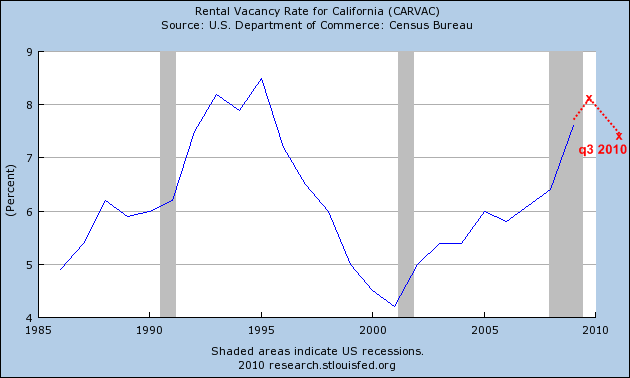 The housing market in California is full of empty houses.  The pressure for lower prices for both homes and rentals is evident.  The above chart highlights the rental vacancy rate for the state.  If we add in the massive amount of shadow inventory likely to come online in the next few years, it is likely that there will be more cheaply priced homes hitting the market soon.  We are already seeing this trend in many markets with banks getting serious about short sales.  In the last few months it looks like banks are targeting the 30 percent price cut range as their starting point.
The vacancy rate has provided an added benefit to finding good rentals throughout the state at an excellent price.  Why would you buy today if you know prices won't be up in 12 months and there is strong chance prices will be lower?  Those arguing that inflation will happen in home values clearly don't realize that the California median home price has fallen by nearly 50 percent.  I'm not saying that potential inflation isn't a big concern and we are already seeing it in oil and other commodities.  Yet this doesn't mean that we will see housing inflation.  What this reflects more than anything is a weak dollar.  Some will point to the 1970s as an example of inflation and rising home values.  But what these people fail to mention is the subsequent wage inflation that occurred as well.  This isn't remotely in the books today and wages have actually fallen for the decade!
Reason #2 – Decreasing family size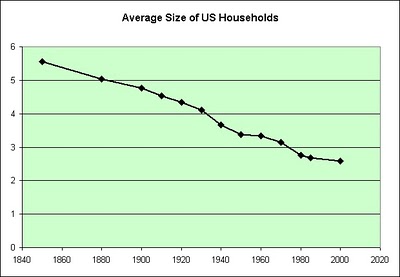 Source:  Census data, chart IllusionofProsperity
Many families now include two working professionals.  Given the volatility of the California housing market many people need the flexibility to move to find better career opportunities.  We also have a growing number of DINKS (dual income, no kids) that can make due with a nice loft close to work or an apartment closer to their employment.  The above chart shows the obvious trend of decreasing family size.  If anything, there should be less demand for bigger homes moving forward.  This is one of those odd trends where families have gotten smaller but homes have gotten bigger.
Some argued that the bubble price rise was due to family formation.  This flies in the face of all the available data.  In California, a working professional family should be renting for the next year so they can see how things play out in the next year with a real estate market that is largely going to need to stand on its own feet.  Otherwise, the shadow inventory just gets bigger and bigger and we push problems further into the future.  The only people I see that are desperate to buy are those with children of school going age and want to plant roots.  Yet this group isn't the majority like it was in the 1950 and 1960s for example.
Reason #3 – Interest rates have only one way to move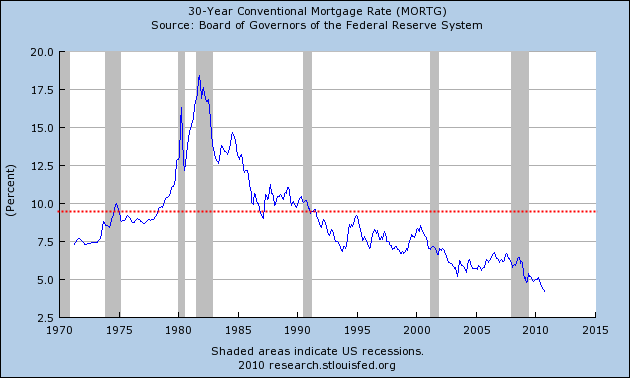 Take a close look at the chart above.  Interest rates have only one direction to move.  The red line highlights the 40 year average and we are way below that critical point.  One argument that people fail to grasp is that it is better to have a higher interest rate and a lower home price than having a low interest rate and a higher home price.  For example, say you are a prudent individual and want to pay your mortgage down quicker.  What you want is a lower interest rate because every additional $100 you throw at your payment will save you tens of thousands of dollars down the line on a typical mortgage.  Plus, if rates were to move down in the future you would have more pricing power to sell.
Today, the interest rate is at a rock bottom levels.  So if rates even return to their historical average, you are left with a smaller pool of potential buyers.  Unless you plan on staying put for 30 years and are happy with that, then go for it.  Otherwise it would be smart to rent for the next year with so much uncertainty in the California housing market.
Reason #4 – Unemployment
The more glaring and disturbing reason for weak housing prices and a large number of vacancies is the economy.  California has an unemployment and underemployment rate of 23 percent.  Not only is this not healthy, it brings into question whether people can even pay their mortgage.  Without employment wage growth there is little reason to believe home prices will go up.  In general the public has a hard time looking deep into the future.  Psychology has a cruel way of clouding our vision when it comes to finance (just go into any casino to see this in action).  Even during the Crash of 1929 you had many people saying things would be getting better just in a few months.  Until this trend reverses, the pressure on home values is going to be on the downside.
Take a look at this data for example:
California MLS listings (non-distressed):                              178,046
California MLS + distressed:                                                       470,846
The majority of the distressed inventory is there because of the economy.  Sure, we have a large number of people who are strategically defaulting but this isn't the majority.  The vast majority in California and across the country can't pay their mortgage because of the economy (aka no jobs or weak wages).  Just look at the vast difference between MLS inventory and shadow inventory.  Renting provides a buffer especially given how volatile the market is right now.  It is also the case that there is little pressure on the cost of housing at least for California: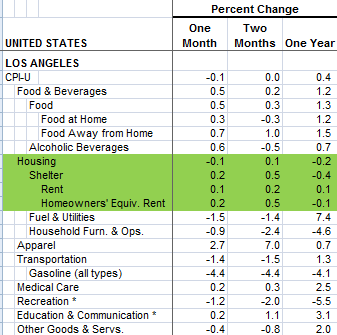 Anyone arguing that the market isn't volatile right now is sleeping under a rock because the Federal Reserve just entered unchartered territory part two and is taking the country down an uncertain path.  They'll probably end up doing another big movement to complete the rubber match of financial irresponsibility.
Reasons #5 – California budget uncertainty
California is borrowing $40 million per day just to pay for unemployment benefits from the Federal government.  This is borrowed, as in we have to pay it back.  And let us not even talk about the budget gimmicks that were used to plug the $20 billion gap.  These things will be back next year.  All we did was push the problems down the road.  So two things are on the table; either taxes go up or deeper spending cuts will hit.  Both will hurt the wallets of Californians.  It is amazing seeing the politicians squirm like worms on a hook when asked where they will cut.  They don't want to touch Social Security, Medicare, or Defense Spending.  Well that is where most of the money is!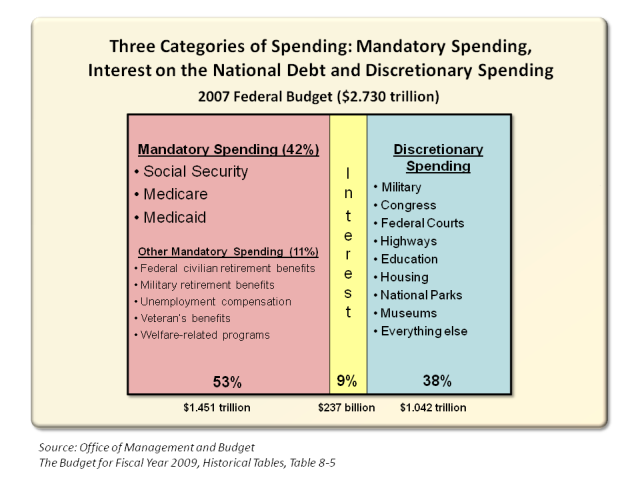 Source:  Perot Charts
Given these headwinds, renting makes complete sense just to provide you flexibility for another year.  People then ask "well can I buy after that?"  You can buy now if you want.  No one will stop you but looking at the marcoeconomic picture it is likely home prices will be lower by November of 2011 and those who want more financial options and houses to choose from are likely to rent for the next year.  The drop in sales shows that more people are starting to get it.

Did You Enjoy The Post? Subscribe to Dr. Housing Bubble's Blog to get updated housing commentary, analysis, and information.