As we look into 2012 we have much to be hopeful for but real estate is not a sector to pry into if you are expecting a rosy and sunny projection.  Real estate boomed because of easy access to what appeared to be an unlimited supply of debt.  Archimedes understood the power of leverage and this is what was applied to our stagnant economy early in the 2000s.  The flow of debt largely went into real estate and this is a key point that people seem to ignore; Herculean leverage is now gone.  The ability for real estate to reach astronomical values with no rise in household incomes was only accomplished by access to debt.  This worked for many years as investment bankers gorged on the global naiveté regarding our real estate markets and mortgage backed securities.  Yet the charade is now up and that is why the Federal Reserve and government are largely the only game in town when it comes to U.S. mortgage purchases.  The days of a household making $70,000 a year and purchasing a $600,000 home are now long gone.  Yet some want to resurrect the housing bubble.  With shadow inventory at peak levels, baby boomers retiring in mass, and the growth of lower paying jobs there is little reason to believe that real estate values will soar in 2012.
GDP and government spending
I was talking with a colleague and commented about the significant ending to 2011.  Few even realized that in the last few days of 2011 we crossed a somewhat dire line in the sand.  Our total public debt outstanding surpassed our annual GDP for the first time since World War II:

Source:  U.S. Treasury
This should tell you a couple of things about the recovery.  First, a large part of the recovery is largely based on massive government spending and banking bailouts.  The next thing it should tell you is that the problems of yesterday will only get more difficult as we look into the future: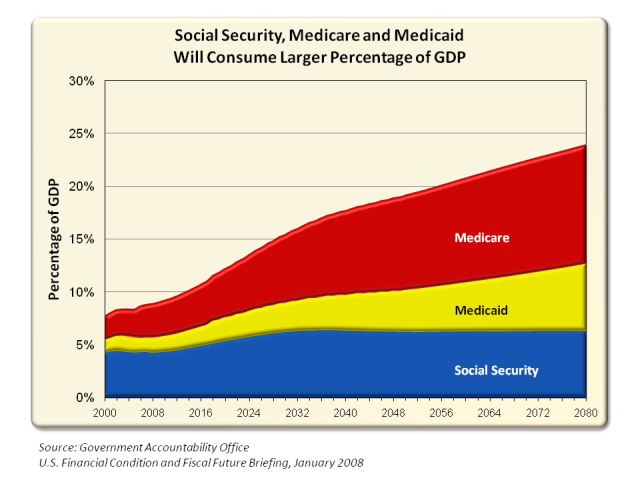 Source:  Perot Charts
This is a startling chart.  In only a few years Social Security, Medicare, and Medicaid will consume over 10 percent of our annual GDP.  You can rest assured this will be on the political agenda for years to come since it appears that banks have complete control over Congress and the only entitlements that are up for debate are those that actually end up in the wallets of the public.
So why is this a big issue for housing?  Well think about how we can approach the problem.  You either raise taxes or cut spending.  In the end, this means less money in the hands of the public.  Since access to debt has been massively curtailed, people now need to have collateral to make purchases.  Buying a home is the biggest purchase most Americans will make in their lifetime so anytime you start constricting discretionary income you can expect a direct impact on the real economy.  And where do most Americans store their net worth?  Most Americans have their net worth tied up in real estate and this sector isn't exactly doing well.
Case Shiller home prices reach new low
Only a few days ago we had official confirmation that U.S. home prices have now made a new post-bubble low: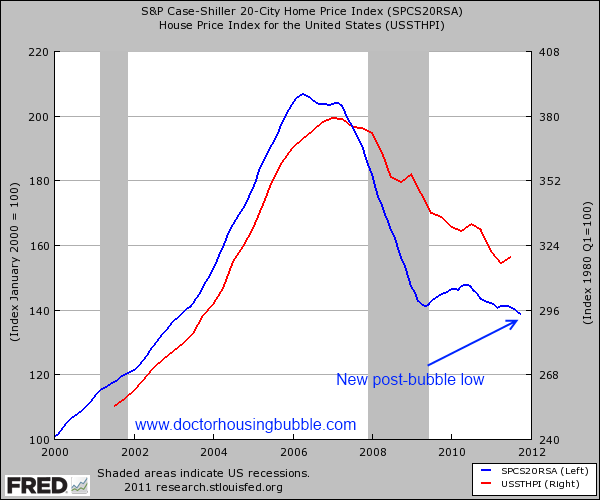 Americans derive a large part of their net worth from housing, not the stock market.  So while the stock market has soared back from its 2009 lows the housing market has done the opposite.  This is critical because a large portion of housing stock is in the hands of now retiring baby boomers that were counting on inflated gains to whisk many into a life of comfortable retirement.  According to a report from the Society of Actuaries (SOA) most Americans have two-thirds or more of their wealth locked up in real estate.  Take a glance at the chart above again and you realize the recipe for problems here.
And why should we expect home values to go up in this environment?  It is nonsense to believe that low interest rates or rich foreigners are going to suck up the 6,000,000 homes in the shadows and distressed inventory.  Even based on stories I have heard, many young working couples not born in the U.S. are leaving to lower cost states where housing is actually affordable.  In essence the demand for housing is for cheaper based homes.  This is why 2011 was a banner year for investors.  They weren't out paying peak prices to delusional baby boomers who think the real estate prices of 2006 or 2007 were somehow real.
Many younger families, the prime group for first time home buying, have been hit hard by this recession.  Many have large student loan debt and they no longer have the mortgage leverage of the bubble years to stretch their tight budgets.  This is the prime group of buyers for non-distressed sellers.  And student loan debt is a big part of a younger couple's budget.  Many bought homes in the 1970s, 1980s, and 1990s where there was nothing remotely close to the housing bubble of the 2000s.  You also had an economy that wasn't stratified like it is today.  You have a small segment making good to really good money and a hollowed out middle class.  This might be good if you are living in La Jolla or the Hamptons but not really a big impact for where the vast majority of Americans live.
Income gains California
This trend of income stratification is reflected in the bubble state of California.  Take a look at income gains over the past two decades based on tax records: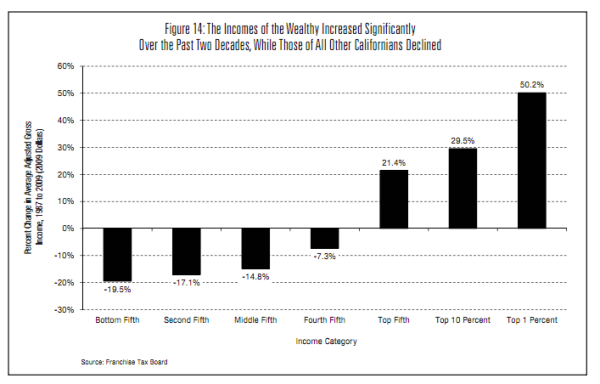 Source:  CBP
This is an incredibly telling chart and really reflects the economic struggles many families are feeling.  80 percent of Californians actually moved backwards in the last 20 years when it comes to real inflation adjusted incomes.  If this is the case, how could an across the board real estate bubble even exist?  That is the core of the problem.  All of the income gains went largely to a small segment of the population.  Even when the top 20 percent data is broken down, you can see that income gains went to a very small sliver of the population.  Did this justify 100, 150, or even 200 percent price increases for real estate in the state?  Absolutely not and that is why we are in the mess we are in today.
The first place I looked when home prices moved up was at real household incomes.  Why?  Largely because household income should be a major driving force in real estate values.  Yet no gains were to be found and the chart above simply is a testament to this.  That is for the last two decades 80 percent of Californians have seen a cut to their real income.  The data unfortunately extrapolates to the rest of the nation.  Yet places like Las Vegas have quickly fallen to levels where homes can be had for less than $100,000.  Even with a couple both working at Wal-Mart buying a home is doable although how secure is that job in this environment?
Employment in California
As much as we hear about the recovery it is largely a small group that is reaping the rewards of the banking bailouts and stock market recovery.  The housing sector is mired in problems.  Many that lost high paying jobs have seen household incomes go from $100,000+ to $30,000, $40,000, or even $50,000 a year.  So the employment gains are hiding a deeper troubling trend in our economy.  Take a look at the share of Californians with jobs: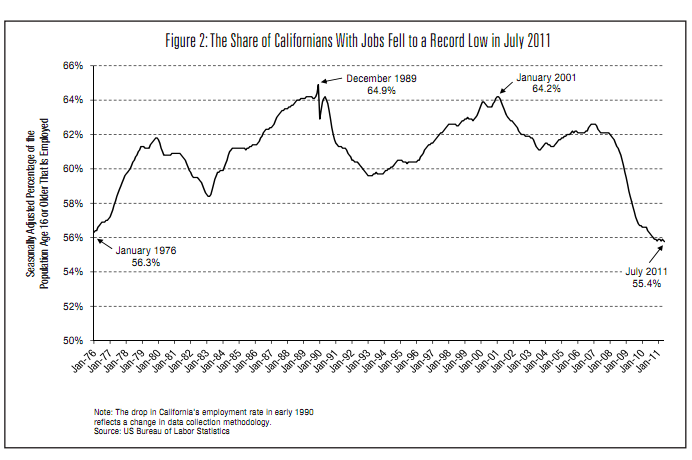 Source:  CBP
This is the worst employment market for Californians in record keeping history and some are scratching their head as to why real estate values continue to fall.  The answer is rather simple but the headline unemployment rate does not capture the entire picture.  Think of all the mortgage brokers, real estate agents, bankers, construction workers, auto dealerships, home renovation groups, and other markets that benefitted from the bubble.  These were very high paying jobs but only existed in their volume because of the bubble.  These jobs evaporated in mass starting in 2007 so now going into year 5 of the crisis, many of these people have had to take other jobs or face lower wages.  The overall trend points to lower paying jobs yet the unemployment rate falls.  This does very little to keep real estate prices inflated.
Demographic trends for California
So it should be clear that you have a wealthier baby boomer generation that would like to sell to a younger less affluent group of Americans.  Something has to give.  Either sellers remain delusional and receive no bids (this is what is occurring) or realize that new households are less affluent and adjust prices accordingly.  Since old habits are hard to break, most of the selling action is coming from distressed homes where unemotional banks are off loading properties for whatever the market can support.
The trend does not look promising for California: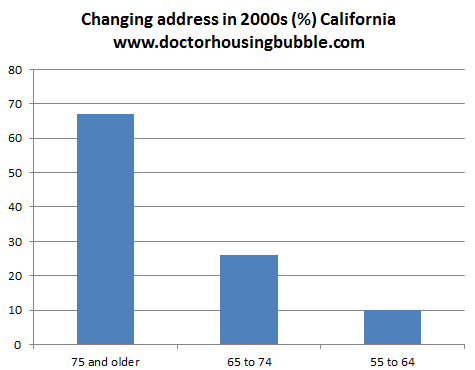 I wrote this a few months ago but it is important to bring up once again:
"67 percent of those 75 and older changed addresses in the last decade, 26 percent of those 65 to 74 changed addresses, and finally 10 percent of those 55 to 64 changed addresses from 2000.  This is important to note because in a state like California with a housing bubble still going, you have a wealthier older generation now selling to a generation that has a lower standard of living.  Banks can play charades and hide inventory in balance sheet trickery but there is nothing that can reverse the aging of this nation.  And many baby boomers are still expecting top dollar for their inflated real estate.  Who will they sell to?  One another?  A younger and poorer generation?  The math simply does not compute.  The Fed would like to entice more suckers into the game by artificially slamming mortgage rates to record lows."
There is little reason to see real estate as a good investment for the next year and probably for many years to come.  We still have millions of properties in the shadow inventory that will surely add more pressure to lower home prices.  It is clear that household incomes are lower so it is unlikely that large household income gains will push prices higher.  The global markets have no faith in this game and that is why the Federal Reserve and our government is largely the only player in the mortgage game. Yet this is unsupportable for the long-term.  Throw into the mix the political bread and circus system we now call our government and you can see that investment banks will continue raiding the public blindly.  Don't expect the press to cover this, just like they missed the biggest economic crisis since the Great Depression.  2012 looks to be a year of more clearing for distressed real estate.

Did You Enjoy The Post? Subscribe to Dr. Housing Bubble's Blog to get updated housing commentary, analysis, and information.