It is now official that the largest economies in the world are tipping into a synchronized recession.  Japan and the Eurozone both are now in recessions.  This is significant not only because these industrialized zones make up a large portion of the world's GDP but they signify that systemically we are grouped together in the same boat.  It is rather apparent that the U.S. economy is now in a full-blown recession.  Citigroup today announced that it will be cutting more than 50,000 of its workforce, the second biggest job cut announcement in history.  The only larger job cut announcement in history came from IBM in 1993 with a total of 60,000 employees.
The question now becomes how severe will this recession be?  I will venture and say that this will be the worst recession we have seen since World War II.  Why?  Let me give you 10 clear reasons for this assessment:
Significant Sign #1 – Retail Sales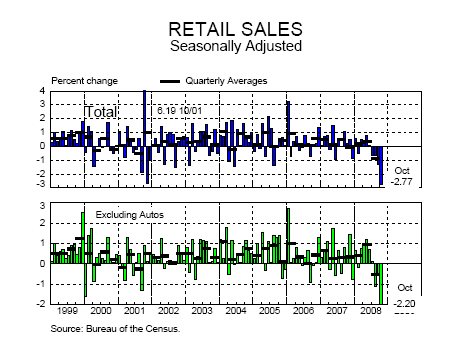 Retail sales fell by 2.8% last month following a huge decline in auto sales.  This was the largest decline since the index began in 1992.  The previous record was a 2.65% drop that occurred in November 2001 right after the 9/11 attacks.  This was a significant decline right before the crucial holiday season.  Credit could not be frozen at a more imperfect time when many retailers make a large portion of their money during the November and December holiday seasons.  With 71% of our GDP based on consumption, a 2.8% decline in consumption should cause us pause.  No significant outside event such as the attacks in 9/11 caused this precipitous drop.
It wasn't only this one month.  This ugly report caps off four consecutive months of progressively bad reports.  The big drop was caused by the automotive industry, which leads us to the second point.
Significant Sign #2 – Light Motor Vehicle Sales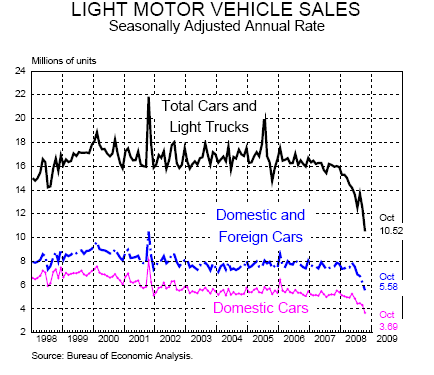 Auto sales posted the worst performance since World War II.  Contrary to the notion that only big trucks are feeling the pain, all sectors of the automotive sector are seeing major drops in sales.  And this isn't with lack of help from collapsing fuel prices.  Oil per barrel settled at $55 which you would instinctively think would be fantastic for automotive sales.  That is not the case.  Auto sales are falling because people are unable to spend money they do not have.  The credit for financing cars is tight.
There is also a psychological component that people that feel threatened regarding their job security are not going to be in a spending mood.  An auto purchase is normally the biggest consumption item purchase many will make only behind a home sale.  Plus, the flip side of advances in automotive technology and efficiency make cars last a much longer time.  The demand for quality and style has produced fuel efficient cars that can last you many years with basic service.  When money is tight, people may start thinking, "you know what, I'm going to hold off on buying that newer model."
Significant Sign #3 – Housing Starts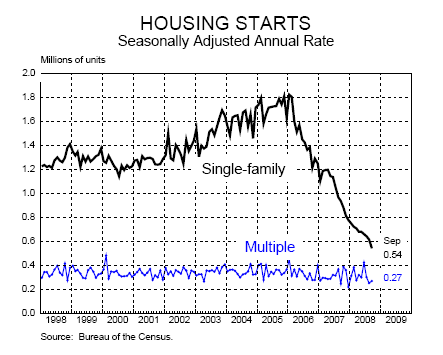 Housing starts are an excellent leading indicator to keep your eye on to see when a bottom in housing is nearing.  Why?  These are builders and investors who have to stake their money in the market to build homes and bring them to market.  The above chart clearly depicts that housing starts have fallen off a cliff.  We are nowhere near a bottom. The market has too much inventory that needs to work through.  In addition, we have at least for 1 or 2 years a steady stream of inventory coming form the worst place.  Foreclosures.  This almost guarantees that inventory will be high for the foreseeable future.
Until we see a sustained surge in housing starts, we can safely assume that there is no bottom in the housing market.  And until foreclosures stop coming online at incredible numbers, we can also assume that inventory will continue to be high for the next few years.
Significant Sign #4 – Single Family Home Sales
New home sales have tanked.  The above chart clearly shows that.  This goes in line with the housing starts chart.  Existing homes have held up a little better but again many sales are simply foreclosure resales.  Last month in California 50% of all homes sold were previous foreclosures.  There is no distinguishing between the healthy market and the distressed market.
The newly built chart is another indicator to keep your eye on for a bottom.  Clearly we are nowhere close to a bottom.  The foreclosures that we will be dealing with will probably continue to make the existing sales chart fluctuate within a tighter range while the new home number continues to fall.
Significant Sign #5 – Mortgage Rates Stuck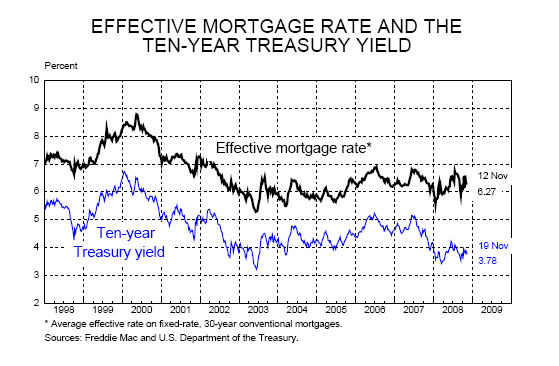 All those rate cuts and mortgage rates are still higher than early 2003 when the bubble was gaining massive acceleration.  We are now back to the 1% range where Alan Greenspan led us shortly after 9/11 but this time, the ammunition of rate cuts has lost any power.  As you can see from the above chart we are solidly over 6% and now that people actually have to document their income, there is a relatively small number of qualified buyers for the massive amount of inventory.
You need to also remember that those low 1% rates led to the toxic mortgage business fueled by Wall Street demand.  Even though 30 year fixed rates dropped to astonishingly low rates people didn't prudently take fixed mortgages but elected to go with adjustable rate mortgages such as pay option ARMs or interest only loans.  The menu was plentiful especially since documenting your income was voluntary.
Now, you have to document and go with a 30 year fixed and guess what?  Not many people qualify for a mortgage even at historically decent rates.  The reason rates are not moving lower is the inherent risk in the system.  They can cut rates to 0% but it will not do much in this regard to help mortgage rates.  People are maxed out.
Significant Sign #6 – Personal Savings Rate Down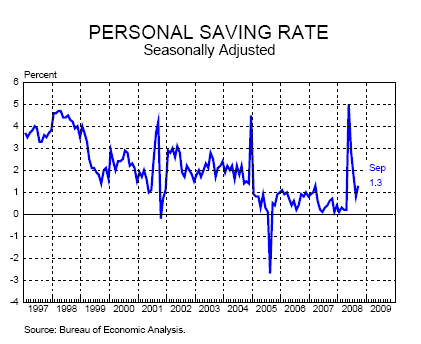 The above chart is interesting.  You'll notice the quick spike this year.  You may be thinking, "this is great, at least people started saving."  Not exactly.  The quick spike which is pretty much already gone is in effect people yanking money out of more risky investments and parking them in savings accounts for a short time.  Now, those savings are being plowed through.  This wasn't "organic" savings in that people were saving excess money.  This was saving because people needed quick access to cash which they are already blowing through.
This is also seen in data of 401k redemptions.  Even last year, people started cashing in some of their 401ks because they needed money.  That in hindsight may have been a smart move given the horrid market performance.  But the savings rate of Americans has been abysmal for the last few decades.  We actually went into a negatives savings rate which is an amazing accomplishment.  You can expect this number to go down as the economic storm quickly depletes these emergency funds.  Then slowly you will see it go up as people actually have to save to purchase consumption items.
Significant Sign #7 – Consumer Confidence Record Low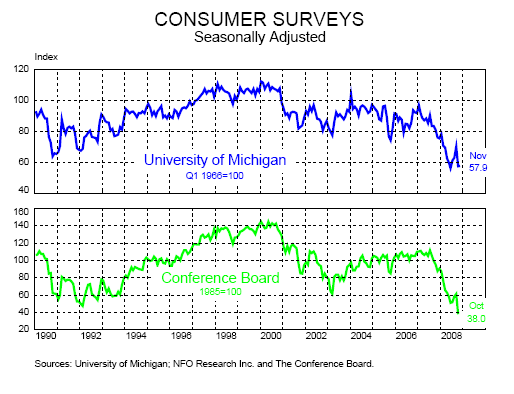 Consumer confidence hit a record low last month.  This isn't your run of the mill recession.  This is a completely different beast.  Consumers are not going to spend if they do not feel confident in their jobs or with the economy.  They won't buy a home if they fear they will lose their job or have their incomes slashed.  They will not buy a car if they are anxious about the future.
It becomes a self-fulfilling prophecy.  This also fueled the bubble in the first place.  A mass movement engulfed everyone believing that real estate never goes down.  If everyone believes, then yes it will go up for the near term.  But it doesn't mean it makes sense.  On the downside when bubbles burst, the negativity actually will get worse then the actual economic numbers.  Unfortunately, the numbers are currently horrific so what is occurring is simply the consumer reflecting the actual reality of the situation.
Significant Sign #8 – Unemployment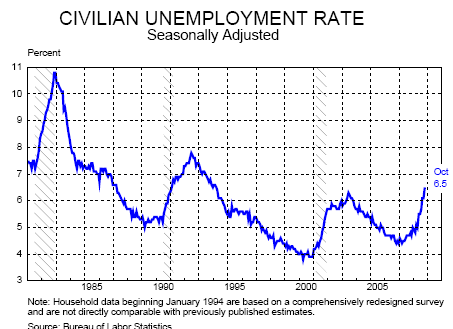 The unemployment rate is at its highest point in over a decade.  The trend is unrelenting.  It is hard to be consuming when you have no money to go out and consume.  It is hard to buy a new car when you are unemployed.  People who fear layoffs are not going to plunk down hundreds of thousands of dollars to purchase a home.  It becomes a vicious feedback loop.  The number of mass layoffs is growing each month.  Companies are slashing and burning trying to stay afloat.  This does not help the economy.
At a certain level employment is the most important factor.  It is safe to say that unemployment will go over 8% and probably higher before we actually hit a bottom.  In previous cycles, unemployment peaks 2 years after the recession officially begins.  If that is the case, we can expect to see peak unemployment in 2010.  Certainly a long time away given how things are.
Significant Sign #9 – Household Debt Burden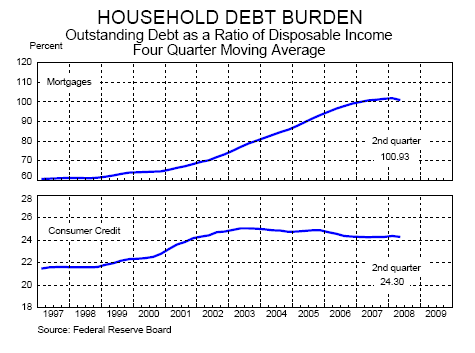 Consumer debt and mortgage debt is crushing the household balance sheet.  With stagnant wages and jobs at risk, this will only get worse in the near future.  This is simply the logical extension of spending more than you actually make.  Once the fortunes reverse, it only takes one or two paychecks to send many families off the edge.
In addition, with debt service consuming more of a household's disposable income, there is less money to spend.  When housing was rising, it was easy to tap the mortgage equity line and use that money to spend.  It almost felt as if the home was a second ATM machine except with no limits.  With home prices crashing, that well is dry.  Plunking down all the money on credit cards is now ending.  Many companies are pulling back credit lines at a time when most consumers will need that money.  From a business stand point this makes absolute sense but from a main street perspective, this is another nail in the consumption coffin.
Significant Sign #10 – Crashing Stock Market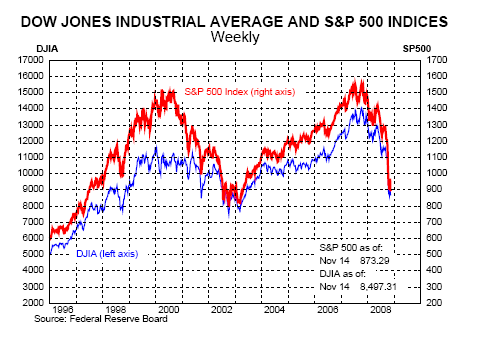 And finally, all this is reflected in a crashing stock market.  Stock markets are usually the first to predict impending collapse but I would say by this housing and credit led bubble, the first sign would have come from housing starts.  They peaked in late 2005 and have fallen ever since.  The stock market peaked in August of 2007.  Not really a good indicator of what was to come.
The Dow is now down 41 percent from that peak and the S & P 500 is down 45 percent.  These are significant drops.  We are approaching a 50 percent decline in slightly over one year.  This is a crash.  And the United States is not the only one facing destructive market declines.  Japan, England, Germany, Brazil, China, Russia, Mexico, Canada, and practically every other market has seen similar if not worse declines.
This last year has seen the largest amount of wealth evaporate in the history of humankind.  These signs are not pointing to a minor recession.  This is a significant worldwide recession.
Did You Enjoy The Post? Subscribe to Dr. Housing Bubble's Blog to get updated housing commentary, analysis, and information.