The real estate siren call is echoing through the Southern California landscape.  You get the sense that we are back in 2005 and 2006 when real estate was the golden child of the investment world.  How quickly the psyche erases tough losses when it wants to find profit.  If you talk with some people, you would think that the March 9th low in the stock market and the end of the world sentiment at that time has some how evaporated into the California springtime air.  Yet one thing remains.  The fundamental factors that have depressed and caused the California real estate market to crash still remain, especially here in Southern California.  The U.S. Treasury and Federal Reserve are leaking results from the stress tests (can't call it a test if you can't fail) and even with worse than expected information, the market still rallies.
I've argued that the stock market is now completely disconnected from Main Street.  Even with GM announcing a 1-for-100 reverse stock split, basically telling common shareholders the stock is worthless, the stock only moves slightly down.  This "ignore reality" sentiment is exactly the kind mentality that led up to the California housing bubble.  We got rid of 3-times gross income ratios.  Ignored the tried and tested value of 30 year fixed mortgages.  We also learned in bubble mathematics that down payments are for chumps.  That flawed calculus obviously came back and bit us in the rear end yet here we are, in the midst of dealing with the fallout and many are eager to jump back in!  In this article I will mainly focus on Southern California real estate but I will also talk about California overall.  I'm going to give you 10 reasons (I can give you more) why buying a home right now is a bad move.
Reason #1 –  Notice of Defaults and Foreclosures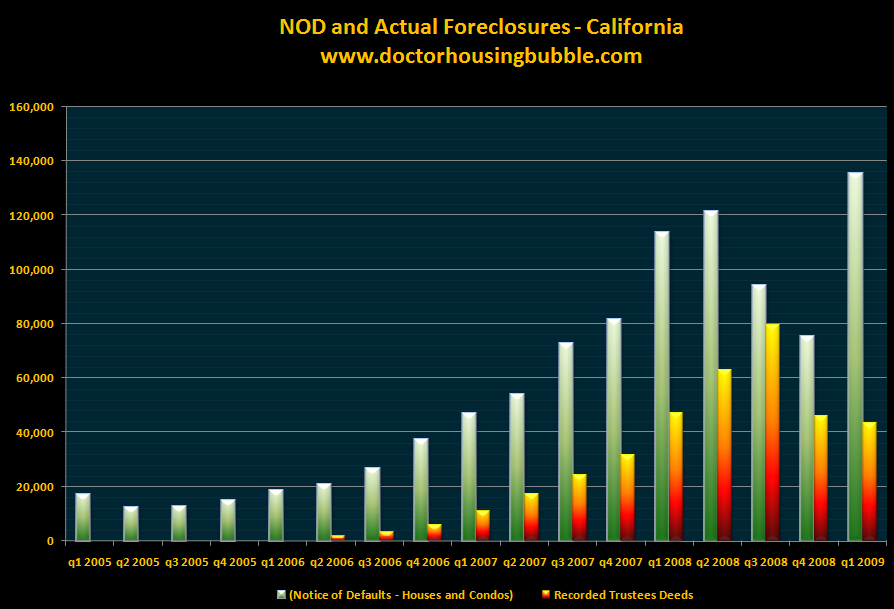 Take a really close look at this chart.  Do you see in the chart how in Q4 of 2006 notice of defaults (NODs) started spiking off the charts?  This was the canary in the subprime coalmine telling us to gear up.  Yet people kept on buying only to see the market collapse in 2007 and 2008.  It was a warning sign.  Many pundits in the industry point to the Q3 and Q4 2008 drop in NODs and foreclosures yet fail to mention one thing.  This was a government sanctioned moratorium.  Sales did not increase by any sizeable portion to justify the fall.  What caused this drop was artificial.
The artificial propping up is now completely gone.  That is why for Q1 of 2009 we are witnessing the largest amount of NODs in the history of California real estate.  I wish that were hyperbole but that is simply the fact.  What this tells us is a tsunami of inventory is going to be flooding the market in late 2009 and early 2010.  Keep in mind, most of the subprime waste has washed through the system.  That battle is largely over.  The next big issue is the Alt-A and Pay Option ARM fiasco.  And many of the properties with the Alt-A and Pay Option ARMs are in more middle-class to upper-class areas.  So what is the point you ask?  The point is, many of the great deals people are seeing at the lower end of the market are because of the flood of foreclosures and REOs.  Yet the middle to upper priced areas have yet to see any significant movement down.  All we know is that a flood of inventory will be hitting these areas.  Simple economics will tell you that more supply and equal or less demand usually will mean lower prices.  There is absolutely no rush to buy a home right now.
Reason #2 – Mortgage Rates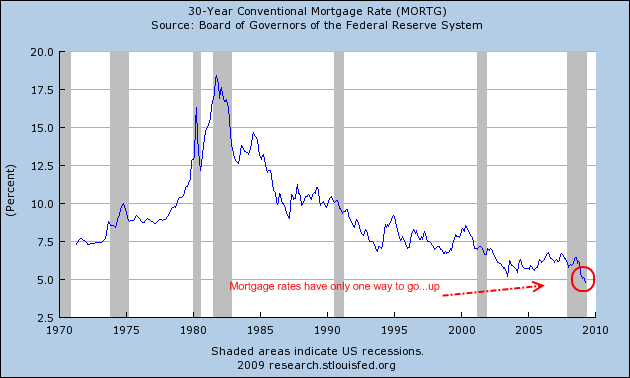 One argument making the rounds from bottom callers is mortgage rates are at historical lows.  I actually take this argument as a reason not to buy.  Why?  Well look at the above chart.  Mortgage rates are being artificially pushed down by the government through various programs at the Federal Reserve.  This cannot go on forever.  Here is a scary thought.  I ran the numbers above to find the average 30 year fixed rate since 1971.  Want to know what that is?  9.08 percent.  Big deal right?  Well let us run the numbers with the current 4.81% rate and the 9.08% rate on a $500,000 mortgage:
PI @ 4.8% $500k = $2,623/month
PI @ 9.08% $500k = $4,051/month
Now here is the thing, sure you can buy the home at the low rate but let us say rates in 5 to 7 years when you are looking to sell are now closer to the historical average?  Who are you going to sell too?  If we have a Japan like multi-decade stagnant economy, you better get ready to stay in your home for the duration.  Like I said, rates have only one way to go and that is up.  Some view this as a plus, I view this as a liability.  Give me a good price and a higher interest rate over a high price and a low interest rate any time. You have more option with a low priced home with a high interest rate.  You can refinance at another time, pay it down quicker cutting into principal faster, or you can sell and have a bigger pool because it is a better price.  A low rate by itself is not a good thing.  If that were the case, those teaser 1.25% toxic mortgages would be all the rage again.
Reason #3 – California Unemployment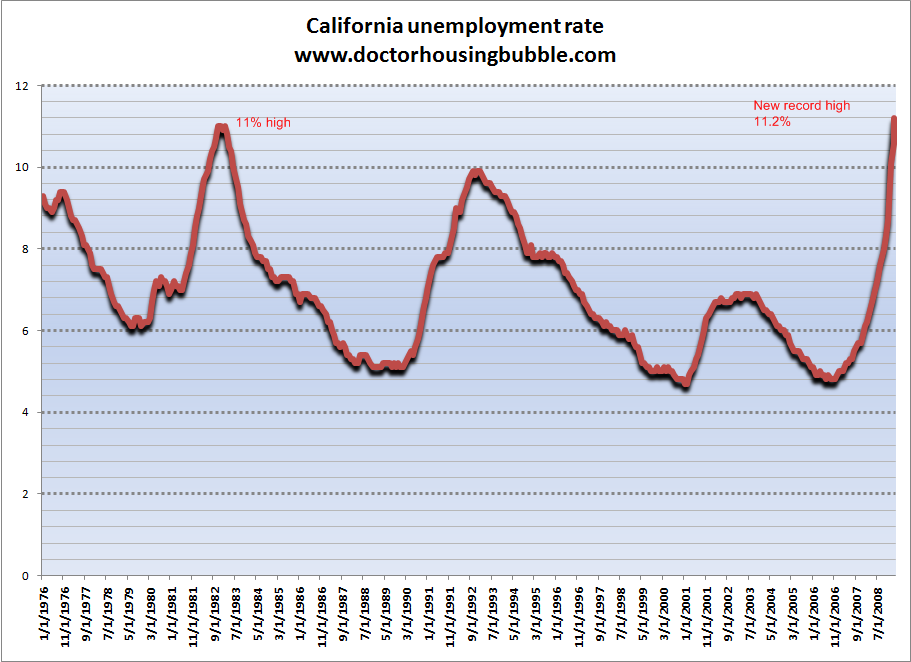 People forget that California had a real estate bubble/burst in the late 1980s and early 1990s.  Yet the burst in that bubble was led by targeted job losses in big industries like aerospace especially here in Southern California.  The bubble burst when the early 1990s recession hit but that recession was nothing compared to what we are facing.  Take a look at the unemployment rate in California above.  Not only have we surpassed the 1990s recession but also the early 1980s recession.
Here is the problem as I see it with the California economy.  For two decades, we have gone from bubble to bubble.  We went from the technology bubble in the 1990s to the real estate and finance bubble in 2000.  This past decade, we relied so heavily on real estate and finance that it became intertwined with the fate of the economy.  In previous real estate bubbles you normally saw separate industries (i.e., technology) create bubble markets because of all the newfound wealth.  In this bubble, we had an incestuous relationship where real estate went up because real estate jobs were going up and real estate jobs paid well.  Selling homes with the most toxic mortgages paid good money to brokers.  Brokers sold the loans off to Wall Street who made beacoup money packaging the junk up and selling it on the global markets.  Yet none of it was sustainable.
So now that the toxic part of the market has collapsed.  We have yet to deal with the more typical reason why real estate values will go down.  This includes a horrible economy.  Take a look at Michigan for example.  Cheap prices does not mean good deals.  You need a healthy economy to support prices.  Yet here we are, with the highest unemployment since World War II and people want to call a bottom?  This is not only impacting the lower end of the market, but the higher end.  Let us take a look at the high end.
Reason #4 – Drop in Million Dollar Priced Homes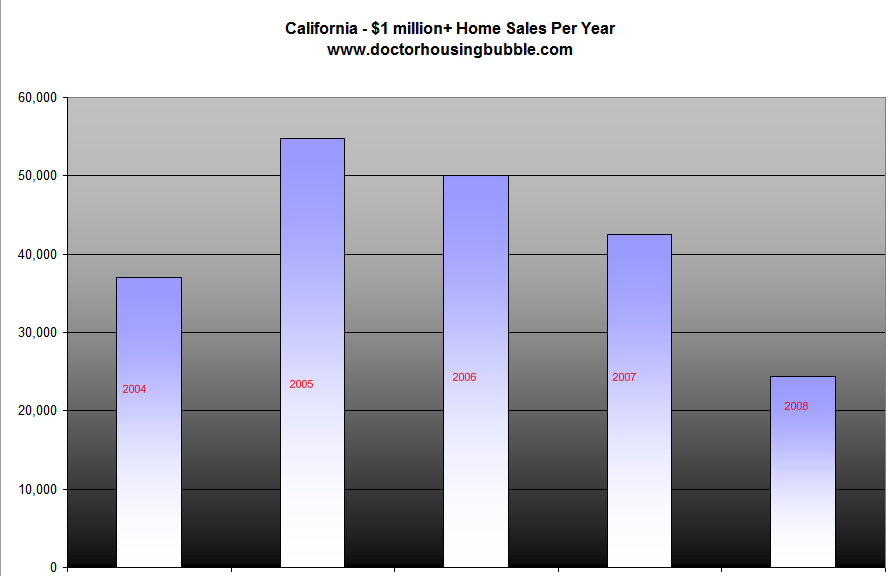 Another argument being thrown around is "well the top end will never see price drops."  That is absolutely false.  In fact, million dollar home sales have fallen consistently since 2005.  In 2005 there were 50,010 homes sold in California above $1 million.  In 2008, that number was 24,436. In fact, even in 2007 there were 42,506 homes sold over the $1 million mark.  So in one year, sales have fallen by 42 percent in the supposedly untouchable range.
What this tells you of course is that not even the high end is immune.  Sure, it takes longer for prices to fall and you probably won't be seeing 50 percent cuts in La Jolla, but to think these areas are immune is wrong.  The median price per square foot of these homes was $569, a drop from the $588 reached in 2007.  Also, 24 percent of home buyers in this range paid cash.  How do you think that is going to impact home sales in 2009 when the stock market got obliterated in 2008?
Reason #5 – SoCal Sales Still Low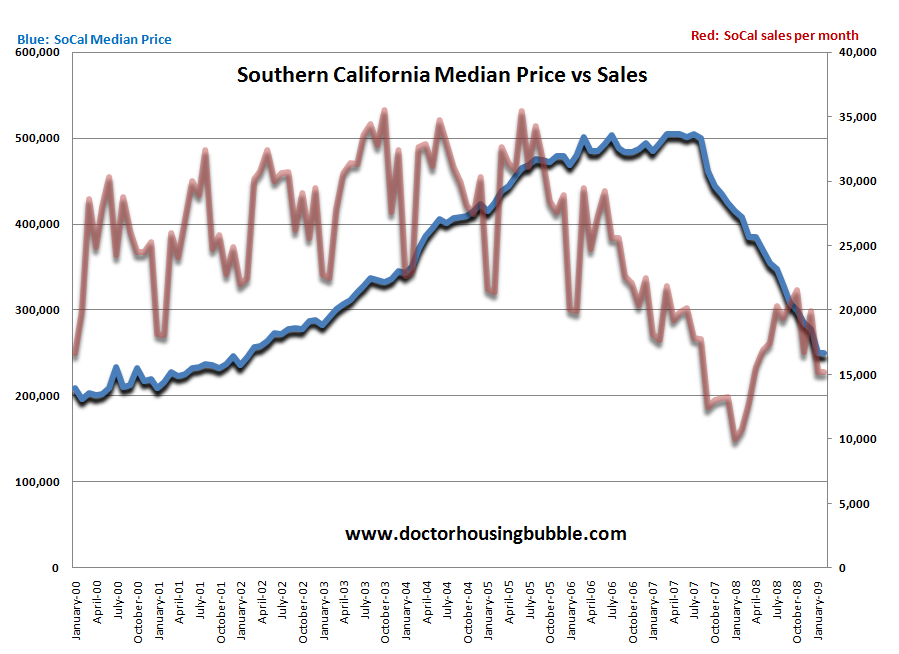 I think it is worth examining the above chart.  You will learn much about the real estate seasonal pattern.  This data looks at Southern California home prices and sales for the entire decade.  The up and down pattern in sales occurs because of the fall and winter selling seasons.  Yet the long-term trend is what is important.  For the entire decade, the pattern was unmistakably moving higher.  Yet all of a sudden in 2006 we saw sales tumble.  Yet prices still went up.  Sales are a leading indicator.  And you see this argument being made that just because sales are moving up, we are gearing up for another explosive move in price.  That is nonsense.  When you look at the above chart even though sales have jumped up, we are still below the sale numbers that caused the bubble.
In March 2009 there were 19,486 homes that sold in Southern California.  That is a significantly better number than the 12,808 that sold in March of 2008.  But again, look at the chart above.  We have yet to see a 30,000 sale month in 3 years and this was common from 2000 to 2005. So yes, sales are moving up but there is no reason to believe this is reason enough to push prices higher.  If we were selling 35,000 homes a month then maybe we can talk about another bubble forming or missing out on big price moves to the upside.  For what it is worth, 55 percent of all those March 2009 sales were foreclosure re-sales.  Meaning, 10,717 of those homes probably sold at discount prices.
When you combine this data with the NOD tsunami, unemployment and rising foreclosures it is hard to see how prices at the upper range don't start falling later this year.  And speaking about foreclosures, they are still at record levels.
Reason #6 – Foreclosures Still Rising
This chart is probably the most astounding.  We have taken virtually every measure possible to prop up the crony banking model and thrown trillions at the housing problem.  Yet foreclosures are still at record highs nationwide.  At the core of it all, this is still a housing problem.  TARP #1 was initially designed to eat up toxic mortgages remember?  Now here we are with the PPIP, another project looking to eat up toxic mortgages.
It is hard to look someone straight in the face and say this is the bottom with unemployment rising and foreclosures still at peak levels.  What is occurring is things are getting worse at a slower pace.  Yet does that warrant all this false green shoot optimism?  Would you be excited to know that we are entering a lost decade like Japan?  Once people realize that we are all bubbled out, this temporary euphoria will come back down to reality.
Let us parse the above data to California.  Let us take a look at foreclosure data for last month:
March 2009 California Data:
NOD:                          58,858
NTS:                34,575 (notice of trustee sale)
REO:               14,352 
If we had in Q1 of 2009 nearly 135,000 NODs, then that 58,858 in March puts us at an even higher pace for Q2 of 2009 if it holds up!  That is insane.  Plus, look at the NTS and REO information which is actual foreclosures or bank owned property.  If we combine these two, you find that in March alone we had 48,927 distressed properties hit the market.  Want to know how many homes sold in all of California for March?  36,215.  What this means is we are going to have a flood of inventory coming in the second half.  Maybe the U.S. will see a second half recovery (doubtful) but certainly California will not.
Reason #7 – Underwater Mortgages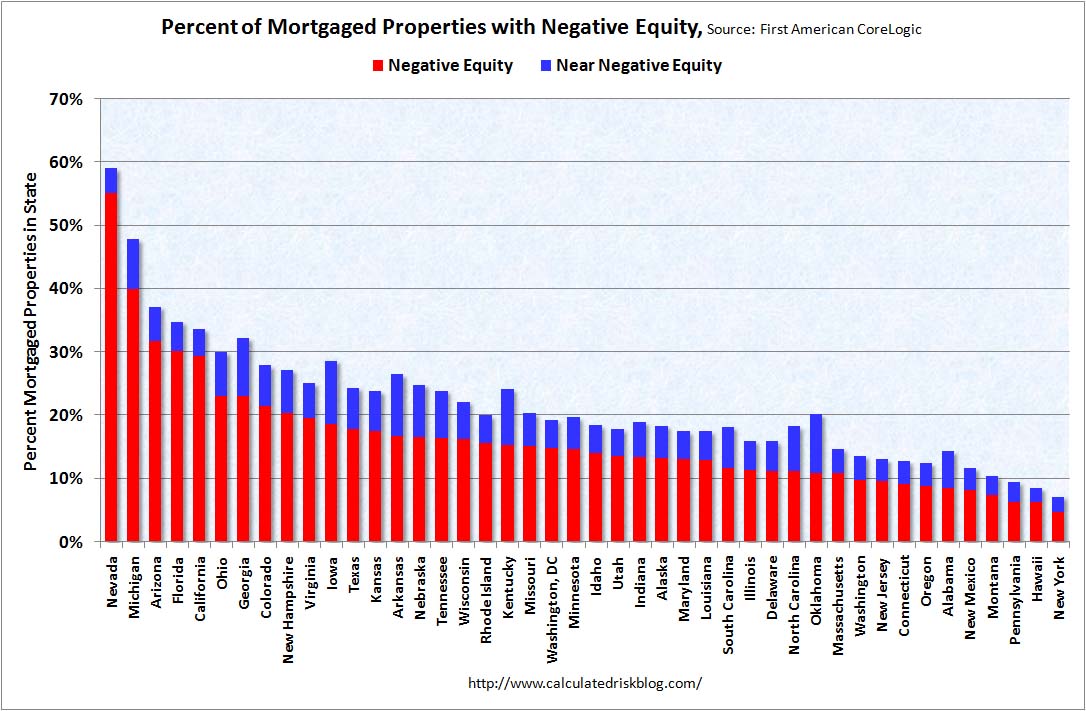 Source:  Calculated Risk
The most motivating factor to moonwalk away from your mortgage is negative equity.  I remember when I started talking about this over a year ago that many people seemed stunned that people would actually walk away from their homes.  There is nothing stunning about that.  The problem is people in their mind's eye saw folks handing the keys over to the bank in some clean process.  Not really.  See the NOD charts above?  Basically many people right now are realizing these banks are overwhelmed and many new unemployed are also overwhelmed but they are just sitting tight in their home, not making any payments waiting till the day of reckoning.  Of course cramdown legislation once again was stripped just like it was from the initial TARP plan back in September of 2008 because most of our politicians obey and are governed by the banks.  This would probably be the only way to actually help a sizable amount of people stay in their homes (but honestly, this isn't about protecting homeowners but protecting banks), and banks will have none of that.  Just wait until they unload all the crap through the private-public investment program and then, maybe we'll talk about cramdowns when there is nothing left to cram.
The above chart is stunning.  Nearly 30 percent of all mortgaged property in California has negative equity.  What does that mean?  It basically means you owe more than the home is worth.  That is not a good spot to be in.  So again, with rising foreclosures and sales dropping in higher priced areas, what really is the rush to buy right now?  One only wonders.
Reason #8 – Real Estate Psychology Broken
Let us admit this, California is obsessed with real estate.  People here talk about zip codes and area codes as if it were a royal family last name.  Where you live makes an impact to many.  But more importantly, real estate prices never went down.  This mantra was uttered over and over during the decade long bubble.  If I had a nickel for every time someone told me this phrase, I would be able to buy 10 Real Homes of Genius.  And part of this psychology drove prices up as well.  During the bubble, prices went up 15, 20, or even 25 percent year over year!  All this while wages remained stagnant.  It was freaking ridiculous.  Take a look at this price movement action in SoCal: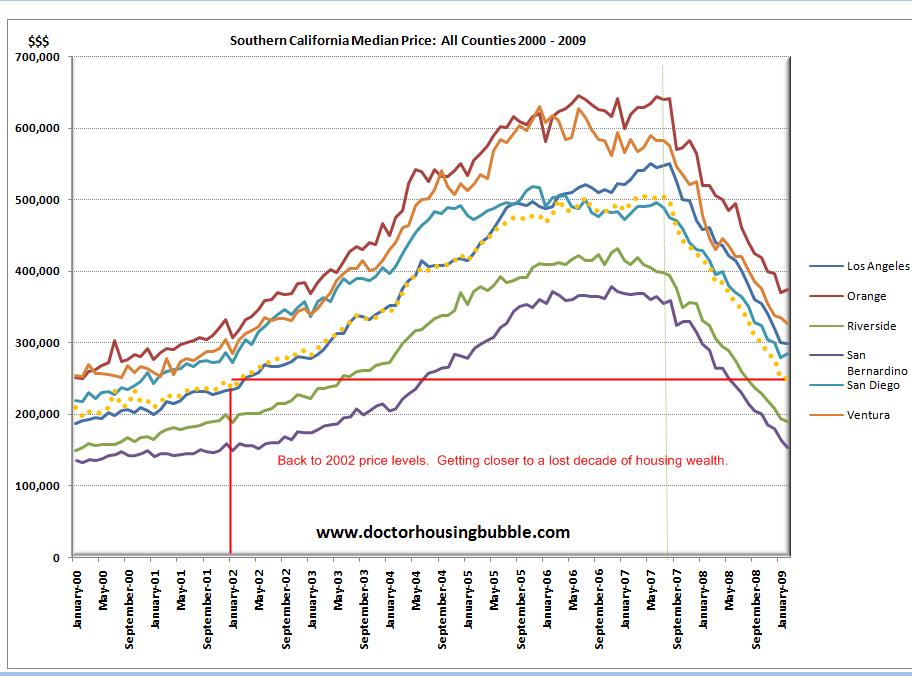 Yet try telling someone who just "made" $100,000 in equity that their home price isn't justified.  It was a Ponzi scheme.  The only way prices could have gone up is if more and more suckers kept jumping into the game.  Those in early and who sold, made out.  Those in at the end, paid the price.  Amazingly, you see some of this mania sentiment coming back.  "Hey, prices are down 30 percent but come on!  Mortgage rates are at record lows.  Plus, I don't plan on selling in 5 to 7 years."  Really?  What if prices drop another 10 or 15 percent (which they will in mid to upper range areas) and you can't sell?  Now that you are required to have a down payment, you just lost all your money because you couldn't wait one or two years.  My argument from last summer still stands and I don't see California housing hitting any sort of noticeable bottom until 2011.
And even though there is sizeable amount of people with short-term memories, there is a significant amount of people that will never believe "real estate never goes down" ever again.  That changes the landscape.
Reason #9 – California Budget Crisis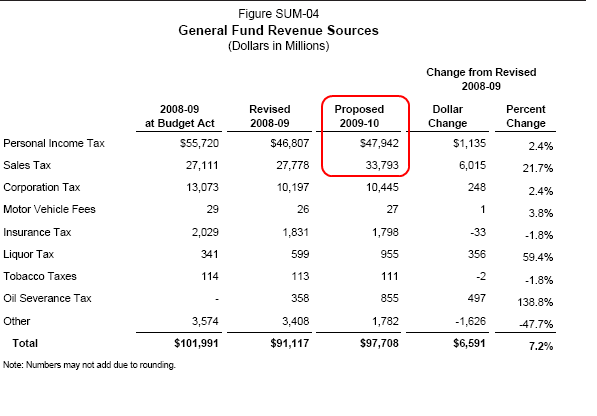 People seem to think the California budget is okay.  It isn't.  In fact, it is still in dire shape.  That is why we have a big election on May 19th.  Yet our options are painfully obvious.  We cut government spending, a state with big government, and cause a massive surge in unemployment.  Or we raise taxes and put a higher tax burden on a population that is already taxed a lot.  We don't have good choices here.  This isn't a 3 choice problem here.  We have two bad choices to make.  Either way, both are bad for the long-term value of California real estate.
This is unavoidable.  Take a look at how our state brings in money.  We get most of our money from sales taxes and personal income taxes.  Well in a bad economy like this, people buy less and if you don't have a job, chances are you aren't paying personal income taxes.  So there goes two revenue sources.  Until we stabilize employment, I really see no bottom to this.
That is why you cannot argue on an economic level that buying a home in California, especially in the mid to upper range is a smart move right now.  Sure, there are speculators buying up homes in the Inland Empire to rent or flip but they are getting properties at 60 or 70 percent off.  Try getting that in Santa Monica, Pasadena, Irvine, or other more desirable areas.  Yet no one knows how bad things are going to get once we hit wave 2 of this tsunami.  Only the most pessimistic even envisioned prices falling by 50 percent on a median basis for the entire state in one year.  Heck, even I thought we would see two to three years of 10, 15, or 20 percent drops but not a 50 percent cut.
Yet one person I talked to had a succinct answer.  "We are buying because I'm tired of waiting!  I don't care.  We need to start a family and I want a place."  I can take that for an argument.  But economically speaking, you'll probably kiss goodbye 10, 15, or 20 percent equity in the upcoming 2 years.  If you don't mind flushing down the toilet $100,000 or $200,000 of your down payment, then by all means buy now.  I'm sure you'll make a lot of realtors and bankers happy.
Reason #10 – Mortgage Recasts Coming Down the Road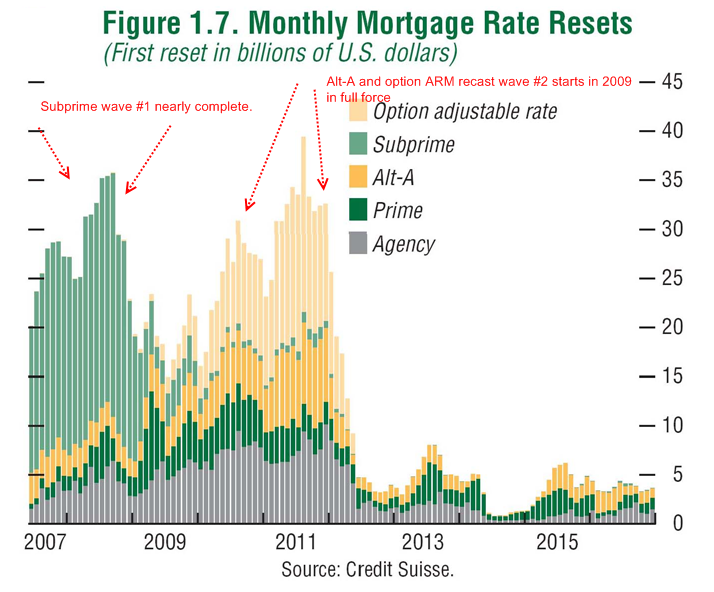 Reason number 10 is probably the most significant reason and ties into some of the items above.  This is the wild card.  No one really knows how California will deal with all these toxic Alt-A and Pay Option ARMs.  What we do know however is these loans are as toxic as subprime loans and the data backs us up: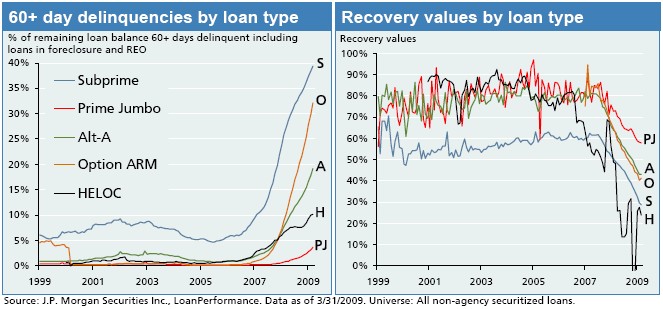 Now I'm sure the crony bankers are itching to unload this crap onto the unsuspecting taxpayer but I doubt even Sheila Bair at the FDIC would want to take some of these California loans into the PPIP.  I think most bankers think they are going to be able to unload anything so long it works in their scheme of things but I doubt it.  If we go down this path we've ushered a lost decade.  Why? Because at some point someone will need to pay the cost for these toxic mortgages.  And that is the point I think most miss.  This isn't a Staples commercial where we can push the easy button and start over.  These things happened and happened over a decade.  We have never seen a bubble of this magnitude.  And gigantic bubbles like this including historical one's like the Tulip Bubble or the South Sea Bubble ended so badly that they knocked powerful economies into doldrums for years, sometimes decades.  So to think that we'll have a second half recovery is hubris to the maximus courtesy of our Federal Reserve and U.S. Treasury.
So tying all this together, there is absolutely no reason to believe California housing prices especially in the mid to upper range have found a bottom.  With unemployment spiking and our budget in shambles, why would you even want to rush to buy a home right now?  We've refuted the low mortgage rate argument or the historical drop in price arguments.  The only reason to buy right now is devoid of economics and is based on the same principles that led to the bubble in the first place.  If you are buying, at least be honest that the economic fundamentals don't back you up at the moment.
Did You Enjoy The Post? Subscribe to Dr. Housing Bubble's Blog to get updated housing commentary, analysis, and information.