The housing market has been turned upside down with unprecedented amounts of government intervention that even the seasonal pattern has changed.  Keep in mind that spring and summer are usually the most optimistic selling times in any given year but this year with the tax credit ending and the Federal Reserve done buying up mortgage backed securities, the housing market will face weaker conditions in summer.  The amount of noise floating out in the current market is deafening.  How is it possible to have a market that is getting better when unemployment in many top housing bubble states remains at peak levels?  In California unemployment remains at 12.6 percent (a modern record high) and we have over 100,000 unemployed Californians that have now exhausted a stunning 99 weeks of unemployment benefits.
This is happening all over the country.  There was a recent article showing that 40 percent of those employed nationwide are currently working at low paying service sector jobs.  Will these people bring on housing boom 2.0 with Wal-Mart wages?  Today we'll be looking at 10 charts that show us a very clear picture of the nationwide housing market.  What we find is the housing market is anything but steady.  From Alt-A and option ARMs to strategic defaults we are dealing with trends we have never seen before.
Chart #1 – Housing Starts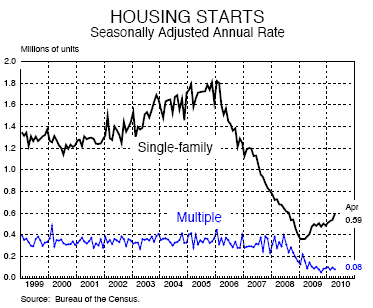 At one point housing starts were operating at a 1.8+ million SAAR.  Even today after all the trillions of dollars pumped into the housing market we are operating at 66% below the peak of 2006.  Just imagine the number of construction, finance, and real estate related jobs that are now gone because of this contraction.  This crash level has only appeared one other time in history and we would have to go back to the Great Depression for that.
Chart #2 – Single Family Home Sales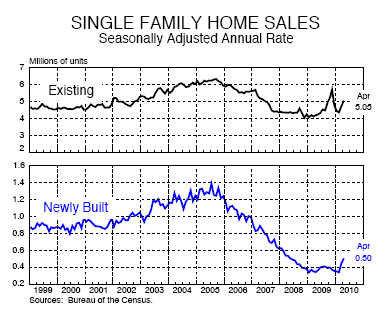 The recent jump in home sales, both newly built and existing is as artificial as the fruit flavor in your soda.  And this is saying a lot given that we already subsidize the housing market like it was going out of fashion.  We subsidize housing through interest deductions, artificially low interest rates, and basically using the government seal of approval for the entire mortgage market.  Even with all of this, we had to sweeten the pot further with another front-end tax credit to get sales to move up.  That is now over and right when the credit ended, preliminary data shows that home sales and applications are starting to trend lower.  So what can we derive from this?  That housing without complete and ultimate government subsidies doesn't have a leg to stand on.  Yet this puts a mask on the more perverse problems of underemployment and weak wage growth.  The big mistake made here is that we put housing ahead of employment growth when focusing on dealing with this crisis.  But then again, the people had no say here.  This was guided all by the crony banking system policy and for them, real estate was the focus from the beginning.
Chart #3 – Household Debt Service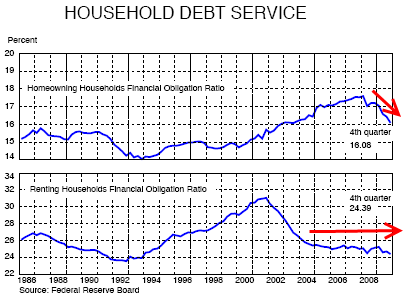 I love this chart because it clearly shows the housing bubble in full context.  Starting in 2000, households took on much larger debt simply to buy homes.  It wasn't a rise in income but a desire to play into the mania.  At the same time, those that remained as renters saw their overall debt load go lower.  It is the case that many prudent households refrained from buying at inflated prices and stayed renting.  Because let us be honest, anyone that wanted to buy a home in the bubble decade was able to get a loan as long as they were able to fog a mirror.  So the amount of those who bought homes shot up and debt service is still relatively high compared to the early 1990s level of 14 percent (we still need a drop of 2 percent to get back to that level).  Expect this trend to continue.
Chart #4 – Texas Ratio at Big Banks

Source:  BankRegdata
The Texas Ratio shows us that the too big to fail banks still have a large amount of toxic waste on their balance sheets.  How is this calculated?
(non performing loans + real estate owned) / (tangible common equity capital and loan loss reserves)
And as you can see from the above charts, many of the biggest banks have large amounts of bank owned property and non performing loans.  This ratio shows us that banks are going to be facing years of toxic loans until they can adequately gut their balance sheet.  Since banks wouldn't be standing if it weren't for taxpayer dollars, that means we are all on the hook for these massive losses.  These ratios tell us that real estate is not even close to recovering.
Chart #5 – Home Price to Median Income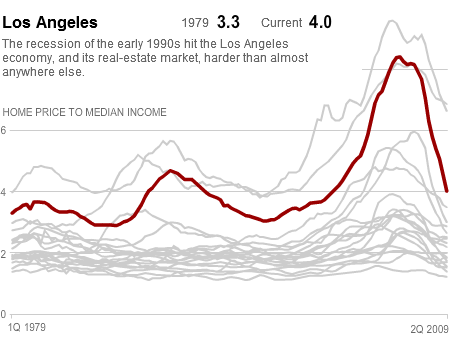 As things stand home values in many areas are still overpriced.  I've seen the above charts used over and over but when you look at the data they are using for income, they are pulling data from 2008!  Since that time, our economy has flown off the cliff so the ratio is still high and only appears to be going lower because of income data used from the latest Census survey.  Once we get data nationwide in September when the 2009 Census numbers come out, we will see that the ratio remains high in many areas.  Home prices can only support what local incomes can shoulder.  This has been the case for a century and we are now going back to tried and tested metrics.
Chart #6 – Construction Spending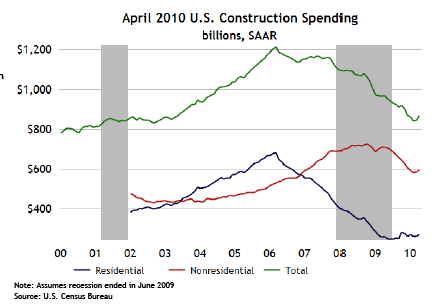 You would think that those in construction spending would know something about home demand.  If we look at the above chart, construction spending is still near the trough.  This applies to both residential and nonresidential building.  The market is full of toxic mortgages and vacant properties that there is little need for any home building for a few years.  When we look at shadow inventory data we realize that we built for a decade.  Some areas are now talking about bulldozing places!  This is what constitutes a solution like destroying food in the Great Depression while people starved.  The above chart shows where people are putting their money and it isn't into real estate construction.
Chart #7 – Pending Home Sales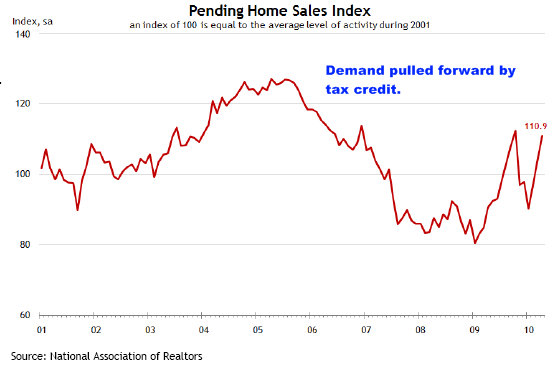 I've seen the above chart used many times as well to show how the housing market is recovering.  Only looking at this chart, you might be able to spin it that way.  But putting all the other data into context, you realize this chart is an anomaly.  In fact, this recent jump in home sales is all thanks to the tax credit.  That is gone and leads us into the next chart which shows the next trend.
Chart #8 – Mortgage Applications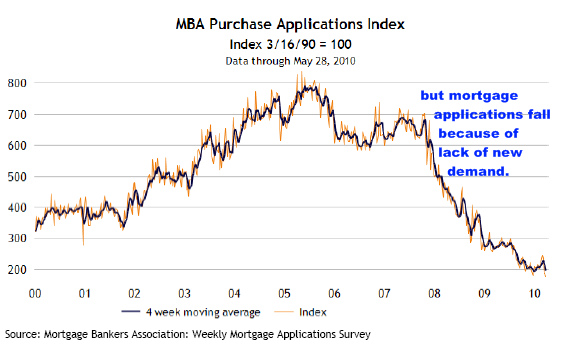 Mortgage applications have collapsed.  It should come as no surprise given the pull forward.  In fact, activity is so low because we have to remove all of the refinancing activity that we had during the housing bubble days.  So now, mortgage applications are for home sales typically.  Many times, these are one and done deals.  That is, someone buys a foreclosed home and that is it.  In the bubble days, you had someone selling a home and then buying one at the same time (two mortgages compared to one).  There is little reason to believe this will be booming anytime soon.
Chart #9 – Nationwide Foreclosures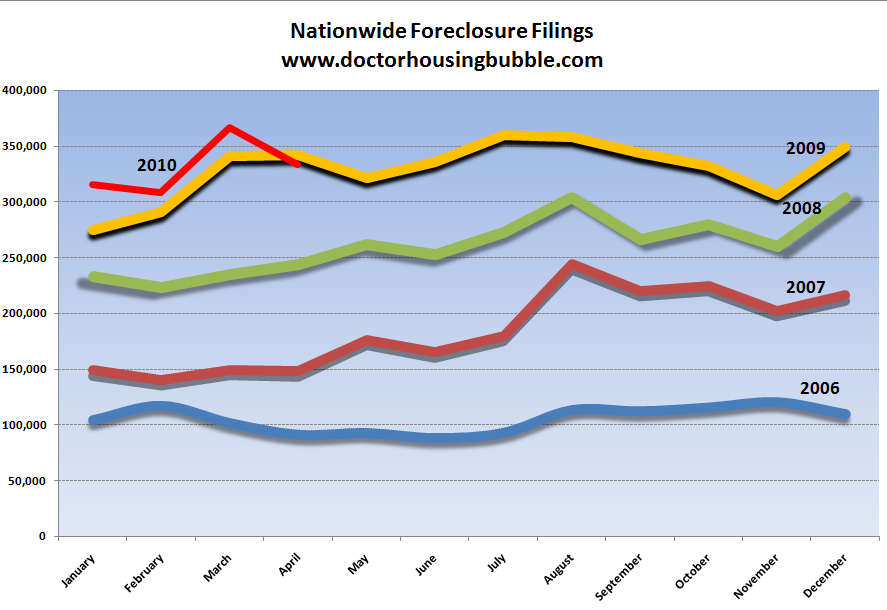 Contrary to what we hear, foreclosures are still at record levels.  We are on pace to seeing 3.5 to 4 million foreclosure filings in 2010.  And this is good news how?  Now we are seeing foreclosures dominate prime markets just like we saw in toxic mortgage markets a few years ago.  FHA insured loan defaults are at record highs and Fannie Mae and Freddie Mac have quarterly billion dollar losses as if this were a common theme.  Until we see foreclosure filings dip to the 100,000 to 150,000 range per month, any housing recovery talk is nonsense.
Chart #10 – Homeowner Equity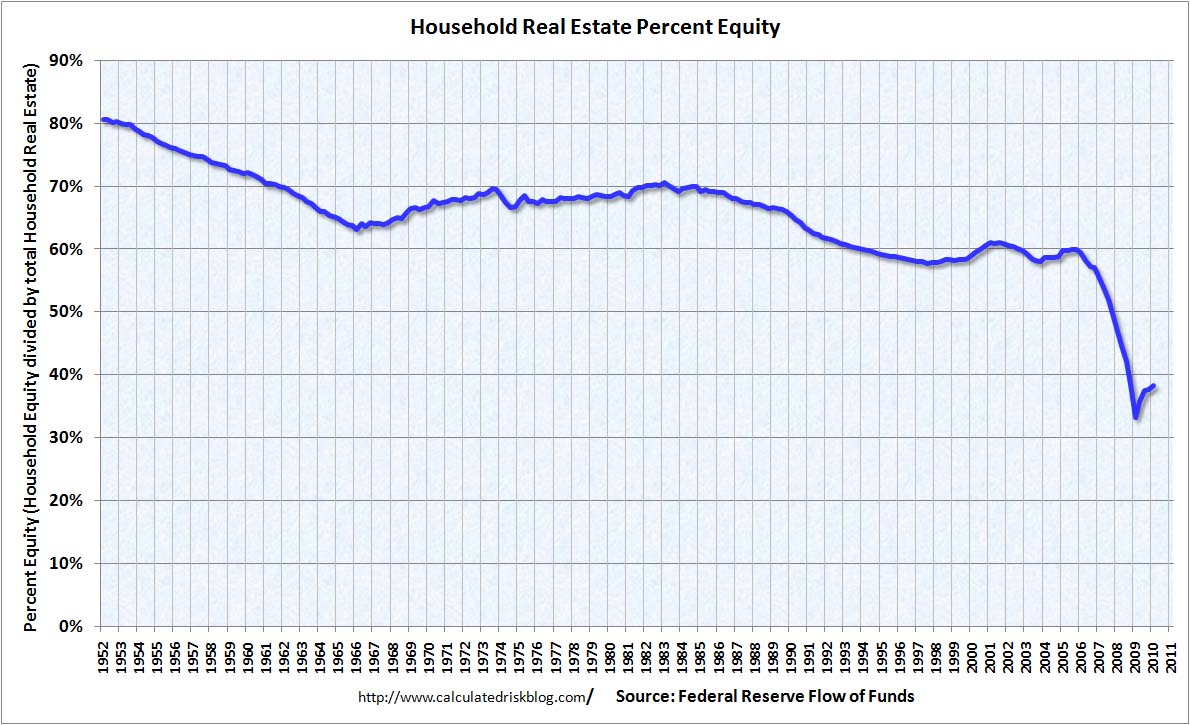 Source: Calculated Risk
This chart tells it all.  Homeowners are tapped out.  Keep in mind the above chart also includes the one-third of homeowners that actually own their homes free and clear.  So the reality is, those that own a home with a mortgage have much lower equity than the current headline.  With one third of mortgage holders underwater, there is little HELOC and home equity loans to be tapped out which supported our economy for the entire bubble decade.
The above charts don't show any signs of a housing recovery.  The only sugar high jump came from the tax credit but even with that, you can see how little it did to impact the overall mega-trend.  Focus on the facts and don't get caught up by the gimmicks.  We are a long way from any recovery.

Did You Enjoy The Post? Subscribe to Dr. Housing Bubble's Blog to get updated housing commentary, analysis, and information.